Scouting the Technological Horizon: Leveraging Patents for Future Growth
In this age of knowledge, much of our success rests on how we produce, preserve, and put knowledge to practical use. Therefore, it is crucial for businesses to monitor their technology and continuously develop it in order to reap the greatest benefits.  
Putting together an internal team of technologists, scientists, and inventors with experience in a given field is the easiest way to build a strong patent portfolio. It may be a difficult effort for a single organization, though, as it calls for significant financial and human resources. 
However, there is a substitute for that called "Technology Scouting". By doing this, businesses can make the most of their resources while still creating a strong patent portfolio, whether through licensing or purchasing the patent(s) of another party. 
One powerful approach that has gained traction is patent technology scouting. This proactive strategy involves identifying and leveraging cutting-edge technologies through patent analysis, enabling companies to enhance their competitive edge, foster innovation, and expand their market presence.  
In this blog post, we'll delve into the world of patent technology scouting, exploring what it is, why it matters, and how businesses can effectively integrate it into their innovation endeavors. 
Understanding Patent Technology Scouting

 
At its core, patent technology scouting is the systematic process of identifying, evaluating, and incorporating innovative technologies disclosed in patents from various sources. This approach goes beyond the realm of traditional research, allowing companies to tap into a wealth of knowledge that has been legally protected and made publicly available. 
By analyzing patents, businesses can gain insights into emerging trends, novel technologies, and potential collaborators in their respective industries. 
Why Patent Technology Scouting Matters

?

 
Innovation Acceleration

:

Patent technology scouting

offers a shortcut to innovation by providing a structured approach to identifying groundbreaking technologies. Instead of starting from scratch, companies can build upon existing ideas to create more advanced solutions.
Market Advantage

: Staying ahead of technological trends allows businesses to enter new markets or expand their presence in existing ones with a competitive edge. By integrating cutting-edge technologies, companies can offer products and services that meet evolving customer needs.
Risk Mitigation

: Patent analysis provides a clearer picture of existing intellectual property landscapes. This insight helps companies avoid potential legal pitfalls and reduces the risk of inadvertently infringing on existing patents.
Partnership Opportunities

: Through patent technology scouting, companies can identify potential partners or collaborators who are actively working on similar technologies. This can lead to strategic alliances that amplify the impact of innovation efforts.
Effective Strategies for Patent Technology Scouting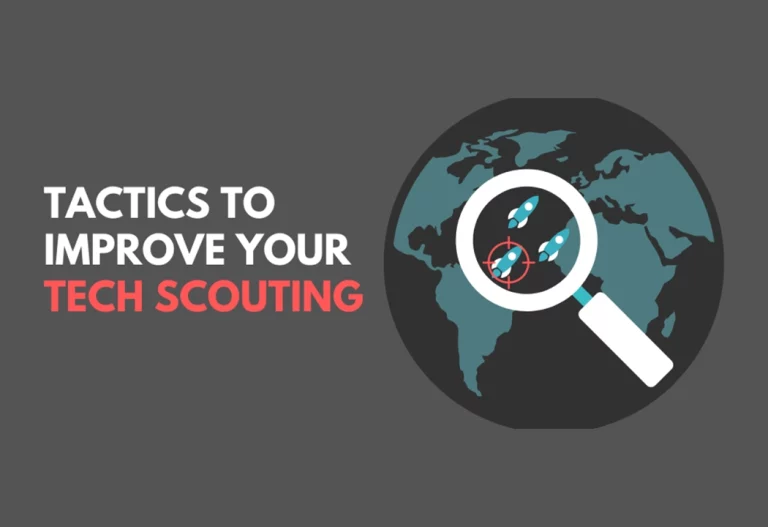 Define Objectives

: Clearly outline the goals of your technology scouting efforts. Are you looking to enhance your current products, explore new markets, or diversify your offerings? Setting objectives will guide your search.
Utilize Tools and Databases

: Various patent databases and tools are available to streamline the scouting process. Platforms like Google Patents, Espacenet, and commercial tools offer advanced search capabilities to pinpoint relevant patents.
Keyword Optimization

: Choose keywords and phrases that accurately represent the technologies you're interested in. This will help you refine your search and uncover patents that align with your goals.
Analyze Patent Landscapes

: Once you've identified relevant patents, analyze the broader landscape. Look for patterns, trends, and white spaces that indicate opportunities for innovation.
Evaluate for Fit

: Not every identified technology will be a perfect fit. Evaluate patents based on their alignment with your objectives, feasibility of integration, and potential impact on your business.
Stay Future-Focused

: Embrace emerging technologies that might not have immediate applications, but could shape the future of your industry. Being forward-looking is a key aspect of successful technology scouting.
Patent Technology Scouting Insights Report

 
A patent technology scouting report serves as a comprehensive analysis of relevant patents in a specific technology domain. This report assists businesses in identifying emerging trends, potential innovations, and opportunities for collaboration or market expansion.  
Here's a general structure you can follow when creating a patent technology scouting report: 
Executive Summary

:

Provide a concise overview of the report's key findings, highlighting the most significant patents, trends, and potential implications for your business.

 
Introduction:

Explain the purpose of the report, the technology domain under consideration, and the importance of patent technology scouting in your industry.

 
Methodology:

Detail the approach you used to gather and analyze patents. This may include the patent databases searched, keywords used, and any filters applied to refine the search.

 
Technology Landscape

:

Describe the broader landscape of the technology domain, discussing its current state, challenges, and potential areas for innovation.

 
Emerging Trends

:

Highlight the emerging trends and technological developments observed in the patents. Discuss how these trends could impact your industry and provide opportunities for growth.

 
Competitive Analysis

:

Identify key players and companies that are actively patenting in the domain. Analyze their patent portfolios, areas of focus, and potential strengths and weaknesses.

 
Novel Technologies

:

Present a detailed analysis of the most innovative and novel technologies found in the patents. Explain their significance, potential applications, and how they align with your business objectives.

 
White Spaces and Opportunities

:

Identify areas where there is a lack of patent activity (white spaces). Discuss the potential opportunities for your business to fill these gaps with new innovations or products.

 
Collaboration Prospects

:

Highlight any patents or inventors that could be potential collaboration partners. Explain how partnering with these entities could accelerate your innovation efforts.

 
Intellectual Property Insights

:

Discuss any intellectual property issues or challenges revealed through the patent analysis. This could include potential patent infringement risks or opportunities to strengthen your own patent portfolio.

 
Future Implications

:

Discuss how the insights from the patent technology scouting report could shape your company's future strategies, R&D efforts, and overall innovation roadmap.

 
Recommendations:

Summarize the key takeaways from the report and provide actionable recommendations for how your company can leverage the patent insights to drive innovation and maintain a competitive advantage.

 
Conclusion

:

Sum up the main points of the report, emphasizing the significance of patent technology scouting and the potential impact on your business.

 
References

:

List the sources, patent databases, and any other references used in the report.

 
Remember that the specific content and structure of the report can vary based on your industry, goals, and the depth of analysis required. Tailor the report to meet your organization's unique needs and objectives. 
Top Patent Technology Scouting Tools for Businesses

 

 
Patent technology scouting tools are essential resources that help individuals and businesses efficiently identify and analyze relevant patents within a specific technology domain. These tools offer advanced search capabilities, data visualization, and insights to support informed decision-making. 
Here are some prominent patent technology scouting tools: 
Google Patents

: A user-friendly and free platform that allows users to search and explore patents from around the world. It offers advanced search options, including keyword searches, filters, and citation analysis.
Espacenet

: Provided by the European Patent Office (EPO), Espacenet offers a vast collection of patent documents. It provides powerful search features, including keyword searches, classification searches, and family patent information.
PatentScope

: Developed by the World Intellectual Property Organization (WIPO), PatentScope provides access to international patent documents. It offers advanced search options, PCT-related information, and machine translation for patent documents.
Derwent Innovation

: This commercial tool offers comprehensive patent data and analytics. It provides advanced search and analysis features, including semantic search, citation analysis, and visualizations.
PatSnap:

A commercial platform that combines patent data with business and market information. It offers advanced search capabilities, technology landscapes, competitive intelligence, and innovation tracking.
Questel Orbit

: A comprehensive IP management and analysis platform that offers patent search, analytics, and competitive intelligence tools. It provides advanced search options, legal status information, and family patent data.
Thomson Innovation

: This platform offers patent data, analytics, and collaboration features. It provides tools for patent searching, analysis, and portfolio management.
IP.com

: An intellectual property platform that offers patent search, analytics, and collaboration tools. It includes features like semantic search, prior art searches, and intellectual property intelligence.
Patent Inspiration

: This tool offers visualizations and analytics to explore patent data. It helps identify trends, potential collaborators, and white spaces in technology domains.
InnovationQ

: A platform that combines patent data with business insights. It offers advanced search, technology landscapes, competitive intelligence, and ideation tools.
When selecting a patent technology scouting tool, consider factors like the comprehensiveness of the patent database, search capabilities, data visualization features, user interface, and pricing.  
Choose a tool that meets your unique requirements and budget. Additionally, keep in mind that the landscape of patent technology scouting tools may change, so it's a good idea to research and evaluate options based on your current requirements. 
In an age of rapid technological evolution, patent technology scouting emerges as a potent strategy for businesses seeking to innovate and thrive. By harnessing the insights hidden within patents, companies can accelerate their innovation efforts, gain a competitive edge, and foster collaborations that shape the future.  
As industries continue to evolve, mastering the art of patent technology scouting could very well, be the compass that guides businesses toward success in an increasingly dynamic landscape. 
About TTC
At TT Consultants, we're a premier provider of custom intellectual property (IP), technology intelligence, business research, and innovation support. Our approach blends AI and Large Language Model (LLM) tools with human expertise, delivering unmatched solutions.
Our team includes skilled IP experts, tech consultants, former USPTO examiners, European patent attorneys, and more. We cater to Fortune 500 companies, innovators, law firms, universities, and financial institutions.
Services:
Choose TT Consultants for tailored, top-quality solutions that redefine intellectual property management.
Contact Us