All You Need To Know About Technology Scouting
All About Technology Scouting
'Innovate or Perish' is the new mantra for companies. In a world of rapidly evolving technologies that continually produce new and innovative tools and processes, it is imperative for an organization to maintain a solid patent portfolio in order to survive.  
It is no surprise then that many companies are engaging in "Open Innovation" to adapt and welcome new ideas and resources. And Technology Scouting is an essential component of this model.  
What is Open Innovation? 
Open Innovation refers to a business management model based on the belief that a company would benefit from collaborations with external sources, be it individuals or other companies.  
By connecting to an external pool of knowledge and ideas, companies can keep innovating and prospering. Proctor & Gamble's "Connect & Develop" and Philips' High Tech Campus Eindhoven are a few examples of the successful implementation of Open Innovation.  
What is Tech Scouting in Open Innovation 
At the heart of Open Innovation lies a company's ability to identify the right patent collaborations that are in tune with its goals and objectives. And this is where Technology Scouting steps in. The Technology Scouting Services at T&T help you in identifying the right partners and technologies for licensing through our detailed methodology and expert team of consultants.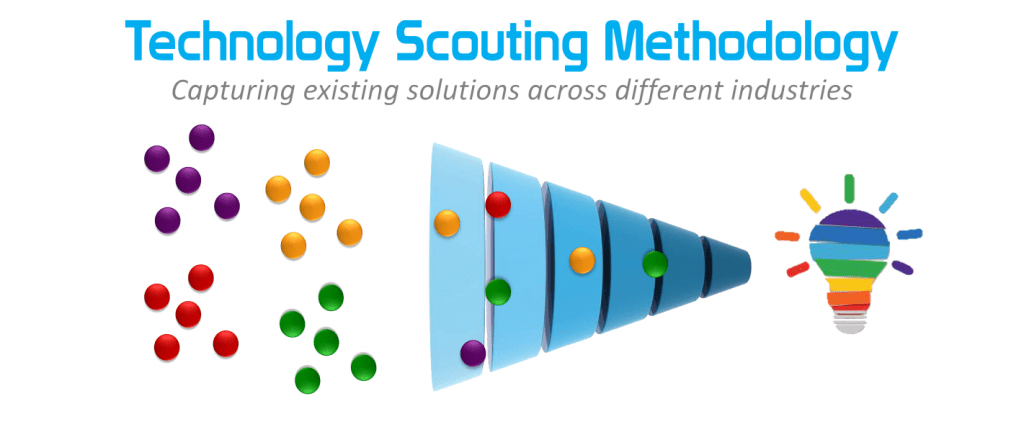 Steps involved in Tech Scouting 
The technology scouting definition(meaning) involves identifying emerging technologies for patent acquisition, evaluating them, and building collaboration networks with sources external to the company. 
Technology Scouting Methodology 
 At TT Consultants, we aim to deliver the most accurate results each time with our advanced Tech Scouting Methodology. The technology scouting process involves carefully evaluated steps that promise a sound and consistent delivery of a healthy and evolving patent portfolio.  
Technology Scouting Benefits 
Adopting an active tech scouting model prevents disruptive technologies from damaging a business. By keeping an eye out for budding tech, businesses can prepare and upgrade themselves to face the challenge.  
Tech Scouting helps businesses maintain a healthy patent portfolio that keeps them ahead in the tech-race. While no one can predict the future, companies can definitely be ready to spot opportunities, eliminate threats, and gain a first-mover advantage in their decisions.  
Challenges in Technology Scouting

 
How We Can Help
While above challenges pose a huge deterrent to the tech-scouting process, shying away from it may take away the competitive advantage of even the most established companies.  
This is where we step in. When you partner with us for technology scouting best practices, you get a dedicated team with over 15 years of experience equipped with the right tools to help you recognize emerging technology and assist with all the paraphernalia in incorporating it into your business.