Who Led The Patent Race In 2021
All big crises provide unique opportunities for inventors to think creatively and develop innovations that result in positive change. And the COVID-19 pandemic was also no different. Despite the fact that it has slowed business, it has not deterred organizations or academia from inventing and obtaining patent protection. Indeed, our research indicates that during the pandemic, patent filings increased significantly in China and other countries, with more than 9 million patent publications in 2021, a significant increase from over 8 million publications in 2020. The top 20 companies received nearly 5% of those patents/applications, including Samsung, IBM, Bosch, Qualcomm, Philips, and Apple. 
Global Filing Trends in 2021
A total of 4.7 million patent applications were filed in year 2021 out of which 2.6 million awarded with the grant status with an application to patent grant ratio of 59%. 
Our internal research, which used our own proprietary databases i.e., XLSCOUT, found that China is on a patent filing streak. It has surpassed some of the most active patent filing nations, including the United States, Japan, South Korea, and Germany, to become the largest patent filer in 2021. The country accounted for nearly 80% of all filed applications in 2021. The United States came at second with 7% of all pending applications, followed by Japan and Korea. 
Out of these applications, few were awarded with grant status as shown in Fig below: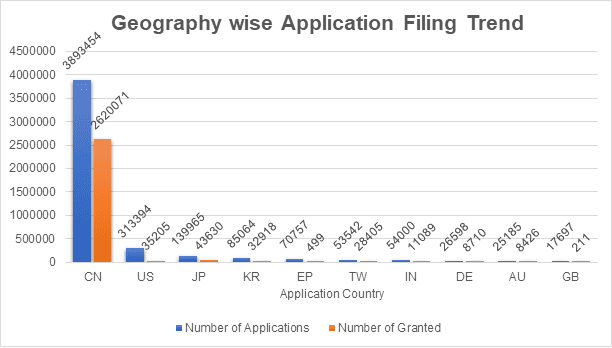 China is still ruling here, where out of 3893454 applications, 22620071 were granted with an application to grant ratio of 67%. US comes after China with a total number of applications at 313394 million and about 35204 of them got granted with an application to patent ratio of 11%. If we talk specifically about application to patent ratio, Taiwan comes at #2, followed by Korea at #3, Japan at #4, and then Australia, Germany followed by US at 11%. 
From this, it seems clear that China leads the patent space in 2021 with the greatest number of applications filed and with a great success ratio of 67% which means that every 1 of 3 patent application gets a grant. 
Leading Patent Filers in 2021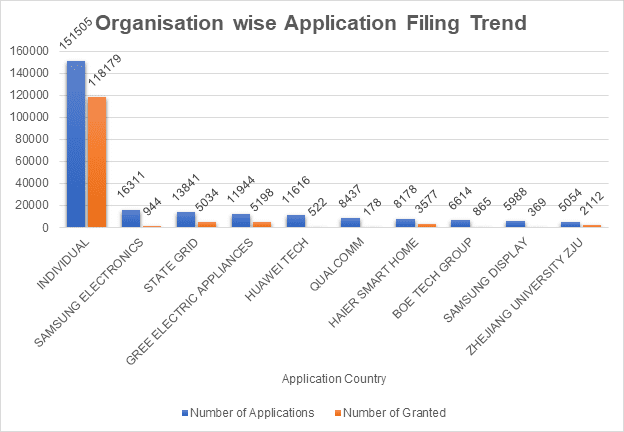 Individual inventors play an important role in the development of innovative entities. As a result, it is not surprising that individual inventors top the list of leading patent filers in 2021. Universities have continued to invest in patents and have acquired a significant share of global publications. 
If we leave individual inventors aside, Samsung tops the list among the top patent filers with a total number of patent application filings at nearly 16310 applications, out of which 941 got granted till now.  
State Grid Corporation of China comes at #2, which is a Chinese state-owned electric utility corporation. It is the largest utility company in the world, and as of 2022, the world's third largest company overall by revenue, behind Walmart and Amazon. State Grid Corporation has filed a total of 13839 patent applications in 2021. 
At #3, comes GREE Electric Appliances Inc. of Zhuhai, which is a Chinese major appliance manufacturer headquartered in Zhuhai, Guangdong province. It is the world's largest residential air-conditioner manufacturer. GREE Electric Appliances has filed a total of 11944 patent applications in 2021. 
Following GREE Electric in the race, there is Huawei at #4, Qualcomm at #5, followed by Haier and BOE Tech respectively. 
Leading Patent Filers in Top Filing Jurisdictions in 2021
Same as the international market, Samsung once again tops the list of leading patent filers in the US. Samsung Electronics captures most of the patent filing space in US with a total number of patent applications filed at 8556, out of which, 670 got awarded by a grant status by the patent office. Qualcomm, a major player in chip manufacturing, comes at #2 in the list of leading patent filers in 2021. Qualcomm has filed a total of 6211 patents in US in 2021. Following Qualcomm, Canon, Huawei, and Toyota secured the #3, #4 and #5 position respectively. 
However, if we talk about China, the biggest player of patent filing in 2021, companies like State Grid, Gree Electric, and Haier came out as top 3 players securing a ranking of #1, #2, and #3 respectively. Huawei, Zhejiang University Zju, Boe Tech Group, Tencent Tech., VIVO Mobile, and Tsinghua University follows the list further. 
In Japan, Panasonic IP Man is securing the #1 position in patent filing with a total number of filings at 2513 in year 2021.  Sanyo Product and Sony Group is securing #2 and #3 positions as leading patent filers in Japan. CANON, Fujifilm, Denso, Murata Manufacturing, Semiconductor Energy Lab, Mitsubishi Electric follows the leading list further. 
The 4th major patent filing country, i.e., Korea has its own list of top patent filing companies with "Samsung" leading the list by securing a position of #1 with a total number of patent filings at 6575. Sanyo product is followed by LG with a total number of filings at 5324 from its various subsidiaries.  Electronics & Telecommunications Research Institute, Taiwan Semiconductor, Korea Electric Power, And Tokyo Electron follows the list further. 
About TTC
We've constantly identified the value of new technology carried out by our pretty skilled executive crew with backgrounds as our professionals. Like the IP professionals we empower, our starvation for development is never-ending. We IMPROVISE, ADAPT, and IMPLEMENT in a strategic manner.
TT Consultants offers a range of efficient, high-quality solutions for your intellectual property management ranging from
and much more. We provide both law firms and corporations in many industries with turnkey solutions.
Contact Us