Innovations in Football That Completely Changed the Game
With an estimated 5 billion people watching the FIFA World Cup in Qatar this year, football is by far the most popular sport in the world. Football has evolved significantly over the years, and several modifications have been implemented to improve player and spectator enthusiasm.  
Several of the innovations that have elevated the game are covered in this article. 
Modern Cleats or boots

 
The credit for the invention of football cleats belongs to Cornelius Johnson who was the personal shoemaker of England's King Henry VIII in 1525.  
Despite many other improvements, Adidas' boots from 1954 are considered the first modern boots. These boots were lighter, featured a non-leather sole, an upper made of kangaroo leather, and removable rubber or plastic studs that could be screwed in at varied lengths.  
Modern cleats have substantially improved over their predecessors and give players a top-of-the-line experience in terms of comfort and performance. 
Patent number DE102015200523B4 is a recent patent by Adidas for a modular football shoe that shows the current situation of modern cleats.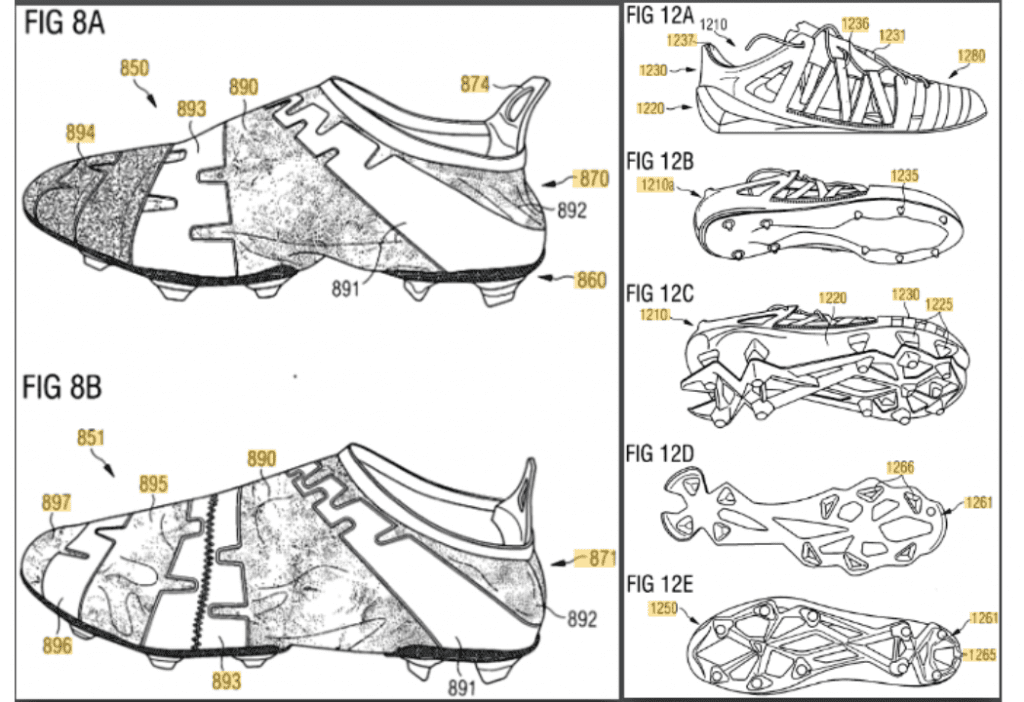 Keeping the field in reasonable shape for 90 minutes so that the players could give their maximum effort without regard for their safety or disruption caused by wear and tear on the ground has been an ongoing challenge for ground staff and the organizing committee throughout the history of football. 
In the late 1960s, a multilayered artificial ground system comprised of an artificial grass top layer, a shock dispersing layer, a shock absorbing layer, and a bottom layer was developed and patented (US3661687) as a solution to the problem of wear and tear of the ground.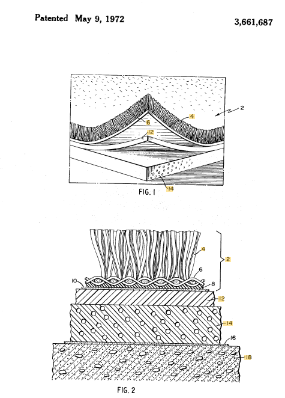 Today, hybrid turf combines the benefits of artificial turf with the outstanding playing quality of natural grass. Because of the synthetic fibers injected, the lawn keeps the pleasant features of a natural lawn while also being far stronger.  
To accomplish this, patented equipment (EP3029199B1) is used to implant individual artificial lawn threads into natural grass. 
Goalpost Net
Consider a football game without a goalpost net. Doesn't it seem odd? While it may appear strange, there was a period when football was played without nets. In 1889, John Alexander Brodie, a Liverpool engineer, became upset while watching a game because a goal seemed questionable. As a result, he came up with nets as a remedy. In 1990, he got a patent for nets.  
For the first time, goalposts with nets were used in the FA Cup in 1891, and they were mandatory the following season.  
Goal-Line Technology (GLT)

 
Given how difficult it has been to deal with the ball crossing (or not crossing) the line throughout the sport's history, this has been among the finest. Complete ball-crossing line arguments have been rendered obsolete by the development of goal-line technology.  
At the 2014 FIFA World Cup in Brazil, goal-line technology made its debut. It has been regularly employed since then.  
The innovation of an object passing through a goal plane was invented under patent EP1596945B1.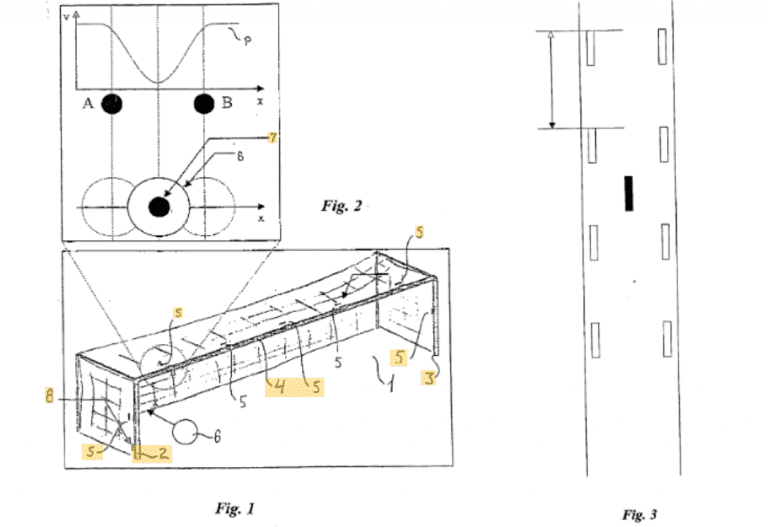 Smart

B

all

T

echnology

 
German businesses Cairos Technologies and Adidas collaborated to develop a "smart ball" that uses an NFC chip as a sensor. In order to track the ball's precise location in real-time, including with high precision when it has fully crossed the goal line, the system makes use of a network of receivers positioned across the field. The information will be shown on the official's smartwatch receiver, which will also alert match officials when the ball has precisely crossed the goal line.  
In addition to determining position, this technology may also be used to assess shot power, predict ball flight trajectories, and determine curls. 
Video Assistant Referee (VAR)

System

 
VAR technology was successfully written into the 2018-19 edition of the international football laws and was used in FIFA 2018. VAR uses video monitoring technology to slow down and replay videos of the game and inform the on-field referee of any errors or unclear or questionable moments in the game.  
There has been an increase in fouls and penalties given during the ongoing FIFA World Cup 2022 due to the use of VAR. This became the reason for major upsets such as Argentina vs. Saudi Arabia and Germany vs. Japan.
Semi-Automated Offside Technology (SAOT)

 
Semi-automated offside technology was used for the first time in soccer history during the FIFA World Cup 2022 in Qatar following successful experiments at earlier FIFA tournaments. To accurately determine in real-time whether an offside has occurred, this offside decision-making technology relies on 12 cameras mounted around the field that track multiple data points on the ball and each player 50 times per second. It also uses a signal from a sensor in the ball to calculate their exact position on the pitch. The video match officials get this information, and they can pass it along to the central referee. 
The game of football is becoming better and better with each passing year, thanks to technical revolutions and novel technologies. So, when you watch this year's FIFA World Cup in Qatar, keep an eye out for more of the game's oncoming transformation via new patented and non-patented inventions. 
About TTC
We've constantly identified the value of new technology carried out by our pretty skilled executive crew with backgrounds as our professionals. Like the IP professionals we empower, our starvation for development is never-ending. We IMPROVISE, ADAPT, and IMPLEMENT in a strategic manner.
TT Consultants offers a range of efficient, high-quality solutions for your intellectual property management ranging from
and much more. We provide both law firms and corporations in many industries with turnkey solutions.
Contact Us