What is Patent Cooperation Treaty (PCT) – An Explainer
What is Patent Cooperation Treaty (PCT)?
The Patent Cooperation Treaty (PCT) is an international patent (IP) law agreement between a number of contracting states/countries which provides patent protection across several selected countries by submitting a single joint patent application through WIPO (World Intellectual Property Organization).
Using the Patent Cooperation Treaty an inventor/applicant can file a single international patent application, which, in turn, helps in getting patent protection for his/her invention in multiple countries simultaneously. Under the patent cooperation treaty, a claimant may file one international patent application at one competent receiving office (such as the USPTO or Indian Patent Office) and specify several PCT member countries to be covered as the Designated States.
Without Patent Cooperation Treaty, an applicant/inventor has to file several patent applications i.e., one in each desired country. So, instead of filing numerous separate patent applications for foreign patents, one can file a single international patent application, or PCT, as long as all the required/desired countries/regions are members of the PCT. 
From May 25 to June 19, 1970, Washington hosted the Washington Diplomatic Conference on the Patent Cooperation Treaty. On the last day of the conference, June 19, 1970, the Patent Cooperation Treaty was signed.
The Treaty went into effect on January 24, 1978, having 18 contracting states at that time. On June 1, 1978, the first international application was submitted. Currently, a total of 156 contracting states/countries are members of the PCT as of 2022.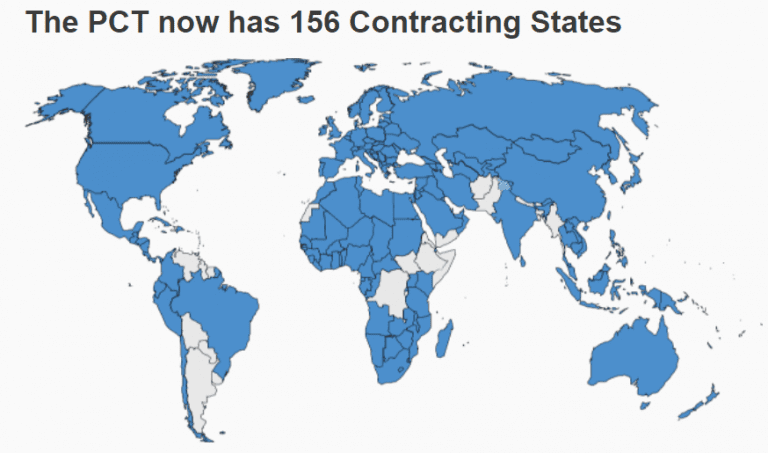 There are two key phases to the PCT procedure : an international phase and a national phase. 
International phase

Filing An International Application
Applicants who want to protect their innovation in more than one country usually start by filing a national or regional patent application with their local patent office.
Applicants must file an international patent application under the PCT with the RO (Regional Office) or the IB (International Bureau) – within 12 months after the filing date of the initial patent application (a time restriction stipulated by the Paris Convention), therefore initiating the international phase.
A PCT application can only be filed by a national or resident of a Patent Cooperation Treaty (PCT) Contracting State or Country. Only one applicant needs to comply with these criteria if multiple applicants are named in the PCT application. 
The contents of the international patent application, as well as the international search report, are disclosed/published shortly after 18 months from the earliest priority date of the patent application. 
If you wish to continue the application process, you must first determine the course you want to take: 
A. Chapter I of the PCT – This is how it's performed by default. If you choose to continue with Chapter I of the PCT, the application will automatically go to the national phase.
After receiving the findings of the international search report, you are entitled to a one-time revision of the claims under Article 19 of the Treaty. Any modifications must be filed with the International Bureau.
A written opinion as an international preliminary report on patentability will be sent to the applicant and PCT Member states where you are seeking patent protection. "Designated" states are the names given to these states/countries. 
B. Chapter II of the PCT – File a PCT/IPEA/401 form (also known as a "demand") with an International Preliminary Examining Authority (IPEA) if you like. If you are unsure about your possibilities of obtaining patent protection, you should consider filing a demand.
An additional patentability examination will be conducted by the IPEA (referred to as a written opinion of the IPEA). You may alter any portion of the specification in accordance with Article 34 of the PCT, and all amendments will be sent directly to the IPEA for analysis.
You and the states where you are seeking patent protection will receive a final report called the international preliminary report on patentability (IPRP). The IPRP provides a non-binding opinion on whether or not the invention is patentable. 
Communication With National Offices 
A copy of the published international application and the international search report will be requested from the International Bureau by the national or regional intellectual property offices of the designated states. It will also request the preliminary international report on patentability (Chapter I or Chapter II, as required). 
You can now file a patent application with the national or regional intellectual property offices of the states you chose during the application procedure. You must also pay any appropriate fees and supply any necessary translations at each national or regional office. 
It's worth noting that during the national phase, any intellectual property office can use its own national or regional laws to evaluate patentability. Prior art (information that could enable a patent examiner to allege a fault in one or more of your claims) and any other conditions of patentability that are not required by the international application will be examined by the regional intellectual property offices. 
Each PCT Member state has provided a full description of the prerequisites for entering their national phase. However, because practices and standards are subject to change, the only reliable sources of information on requirements are each state's laws, rules, and regulations.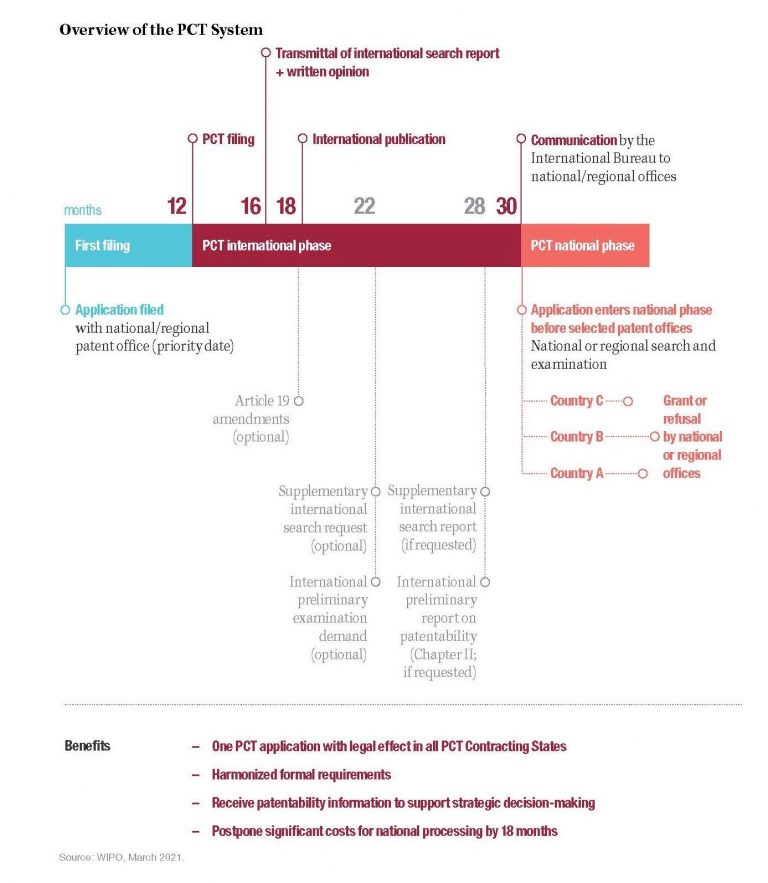 PCT Filing Eligibility and Fees
If you are a national or resident of one of the PCT contracting Member states, you are eligible to file an international patent application. If more than one applicant is listed in the international application, only one of them must meet this condition.
The PCT and its regulations stipulate that an international patent application must be completed in accordance with certain formal standards. These requirements are outlined in WIPO's PCT Applicant's Guide – International Phase (PDF version). You will not have to adapt to varied national or regional formality standards if you follow these guidelines. 
The application must also be accompanied by the requisite fees in order for the International Bureau (WIPO) to acknowledge it. All relevant costs must be paid within one month of receiving the international application; late payments will incur an extra fee. The following fees must be sent: 
Advantages of PCT 
Examination procedures at national patent offices and the payment of associated legal fees and translation costs can be delayed by the applicant. 

Applicants gain time to consider the potential commercialization of their invention and the markets in which to seek patent protection by postponing national and regional procedures. 

When a patent application is filed with WIPO under the PCT, the organization conducts a global patent search to determine whether the invention is patentable around the world. This information can have a substantial impact on the applicant's decision to patent the innovation. For example, if a patent is discovered to be unpatentable after disclosure in a PCT application, the application may be withdrawn by the applicant, avoiding the cost of national phase submission.  

The PCT System eliminates excessive duplication across patent offices and encourages work exchange among them. 
How much does it cost to submit a PCT application? 
A PCT application will cost around $3,500 & $4,500 for a US applicant. However, this is only for reference purposes and the actual cost may differ for different states/countries. 
What if the applicant wants to file a patent in a country that is not a member of the PCT?  
While most industrialized countries are PCT members, you should be aware of those that aren't (for example, Taiwan). And if you want to seek patent protection in those states/countries, you must file multiple separate patent applications in those non-PCT-member states/countries. The overseas filing deadline for non-member nations is 12 months from the priority date. 
TOP 10 PCT Applicants 
In 2020, Huawei Technologies remained the leading PCT applicant followed by Samsung Electronics Co. LTD. 

Author
Khem Raj, Sumit & Harvinder Singh