The Transformation of Food Industry: Innovative Food Robotics Companies & Startups
The food industry, often dubbed the "heart" of human sustenance, has witnessed an astonishing metamorphosis in recent years. This remarkable transformation is powered by two pivotal forces: technological innovations and evolving consumer demands that prioritize convenience, quality, and sustainability.  
At the forefront of this culinary revolution stands the integration of robotics and automation into the very fabric of food production and processing. Innovative food robotics companies and ambitious startups are championing this technological vanguard, catalyzing unprecedented changes across the entire food supply chain.  
In this exploration, we'll journey through the profound ways in which these visionary entities are reshaping the food industry, while also highlighting some of the notable players leading this transformation. 
A Future Defined by Food Robotics

 
As technology continues to advance, the role of robotics in the food industry will only expand further. Upcoming innovations include 3D-printed food, drone-assisted precision agriculture, AI-powered recipe development, and more.  
Challenges, such as regulatory hurdles and ethical considerations, will need to be navigated thoughtfully. Still, the horizon is bright, promising a food industry characterized by enhanced efficiency, sustainability, and accessibility to a growing global population. 
Innovative food robotics companies and startups are the architects of a culinary revolution. Their groundbreaking advancements in automation, precision, and sustainability are reshaping the way we produce, process, and consume food.  
While challenges exist on the path forward, the future of food robotics holds the promise of a more efficient, sustainable, and accessible food supply chain, delivering a cornucopia of benefits for producers, consumers, and the planet alike. 
The Rise of Food Robotics: A Revolution in the Food Industry

 
Food robotics is a dynamic and rapidly evolving subfield of robotics with a singular focus: transforming the landscape of the food industry. This revolution spans a wide spectrum of applications, from precision agriculture and automated harvesting to food processing, packaging, and even culinary preparation.  
At its core, the adoption of food robotics is driven by a multitude of benefits that hold the potential to redefine how we produce, process, and consume food. 
Precision and Consistency
Robots are virtuosos of precision and consistency. In the context of the food industry, this means they can flawlessly execute repetitive tasks with meticulous accuracy. Whether it's precisely slicing vegetables, evenly distributing toppings on a pizza, or assembling intricate sushi rolls, robots can consistently maintain the highest standards of quality.  
This precision reduces the risk of human errors, resulting in products that meet or even exceed consumer expectations. As a result, food manufacturers can produce uniform, high-quality items at scale, enhancing their brand reputation and customer satisfaction. 
Automation and robotics can operate tirelessly, 24/7, without the need for breaks or rest. This tireless work ethic translates into increased production efficiency and quicker delivery times.  
Manufacturers can significantly reduce production lead times, respond swiftly to market demands, and optimize their output schedules. This agility is especially crucial in the fast-paced world of food production, where freshness and timely delivery are paramount. 
Labor Shortages Mitigation
The food industry, like many others, is grappling with labor shortages, a challenge that has been exacerbated by factors such as demographic shifts and changing labor market dynamics. Robotics provides a viable solution to this pressing issue.  
Robots can handle tasks that would traditionally require a substantial workforce, freeing up human workers to focus on more complex and creative aspects of food production. This synergy between human and machine is not only a practical solution to labor shortages but also an opportunity to upskill and reassign workers to roles that require ingenuity and problem-solving. 
Maintaining impeccable food safety standards is non-negotiable in the food industry. Robots, with their stainless steel and easily sterilized surfaces, are well-suited to environments that demand uncompromising hygiene.  
They reduce the risk of contamination by minimizing human contact with food during production and packaging. This not only safeguards consumers but also helps food manufacturers avoid costly recalls and protect their brand reputation. 
Sustainability has become a central concern in the food industry. Food robotics can play a pivotal role in advancing sustainable practices. For instance, in precision agriculture, robots can optimize resource use by precisely applying fertilizers and pesticides only where needed, reducing waste and environmental impact.  
In food processing, automated systems can minimize product waste by consistently using the exact amount of ingredients required. Furthermore, the reduction in food spoilage and contamination through automation contributes to sustainability by conserving resources and reducing the carbon footprint of food production. 
The rise of food robotics is an extraordinary transformation in the food industry, with far-reaching implications. From the farm to the kitchen, robots are enhancing precision, efficiency, safety, and sustainability across the entire food supply chain.  
These technological advancements are not just reshaping the industry but also promising a future where food is not only more readily available but also of higher quality, safer, and produced with greater consideration for the environment and the changing dynamics of the labor force. The fusion of technology and food is giving rise to a culinary renaissance that benefits producers, consumers, and the planet alike. 
Notable Food Robotics Companies & Startups: Pioneers of Culinary Automation

 
Several companies and startups have emerged as pioneers, driving innovation and reshaping how we interact with food across the entire supply chain. These visionary entities are pushing the boundaries of technology to revolutionize agriculture, food processing, and culinary preparation. Let's delve deeper into their impactful contributions: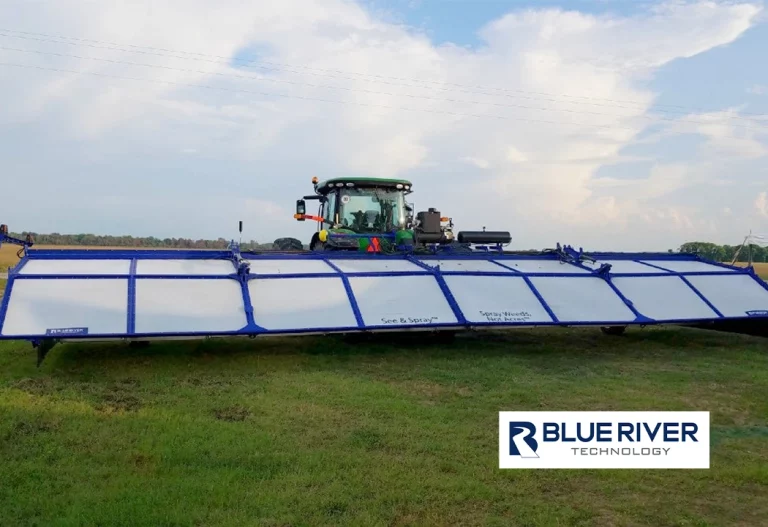 Blue River Technology, now under the umbrella of John Deere, stands as a trailblazer in precision agriculture. Their groundbreaking "See & Spray" technology represents a watershed moment in sustainable farming practices.  
By leveraging computer vision and machine learning, this technology can discern individual plants from weeds and precisely target them with herbicides. This remarkable precision minimizes the need for chemical usage in farming, reducing environmental impact and promoting sustainable agriculture.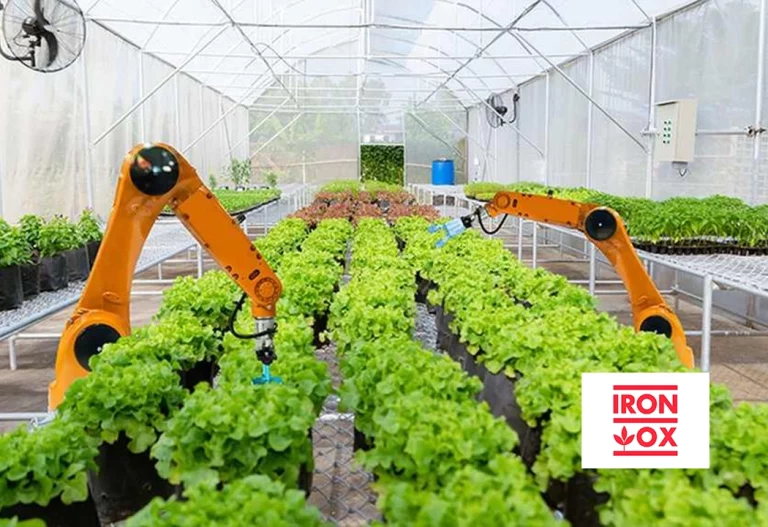 Iron Ox has embarked on a mission to transform traditional farming through indoor cultivation. Their robotic systems are designed to plant, nurture, and harvest crops in compact urban settings, redefining the future of agriculture.  
Not only does this approach save space, but it also reduces the carbon footprint associated with food production, ultimately contributing to a more sustainable and efficient food supply.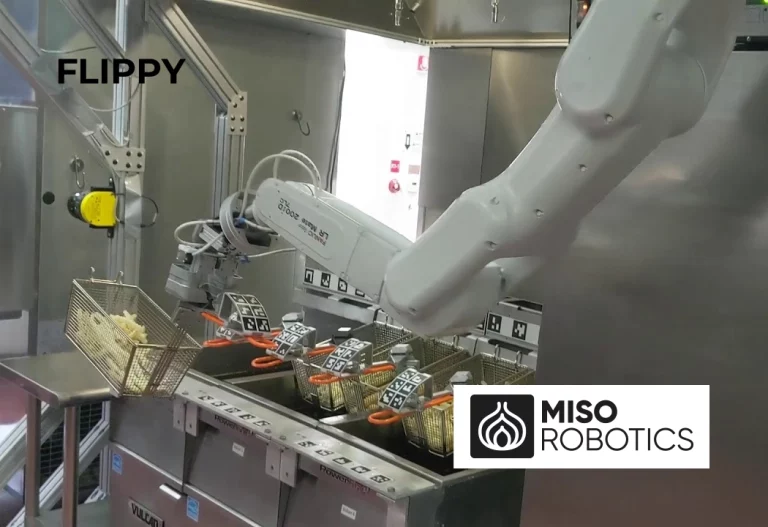 Miso Robotics has brought automation to the culinary world with its innovative robotic kitchen assistant, "Flippy". This versatile robot can perform a range of tasks, from flipping burgers and frying food to assembling meals.  
By automating these repetitive and labor-intensive processes, Flippy not only reduces operational costs for restaurants but also ensures consistent food quality and kitchen efficiency.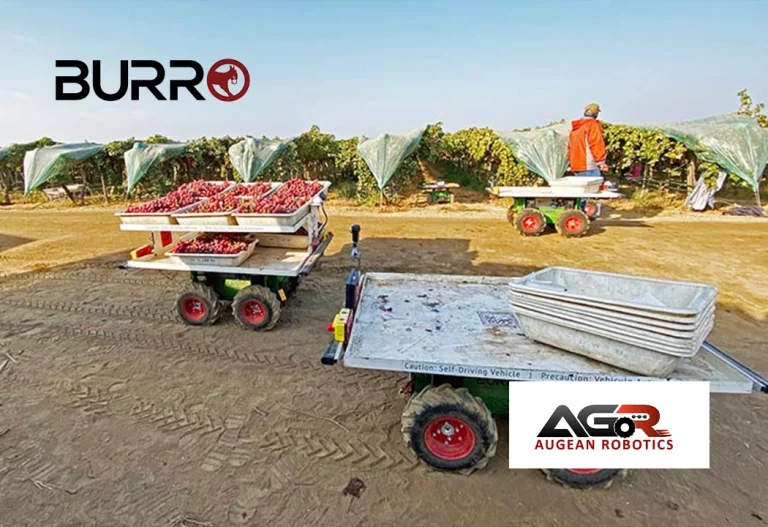 Augean Robotics' "Burro" is an autonomous farm companion that has been engineered to assist farmworkers during the arduous process of harvesting. By carrying heavy loads of produce, Burro alleviates physical strain on workers and enhances overall productivity, addressing the labor challenges faced by the agricultural industry. 
Wageningen University & Research
While not a startup, Wageningen University & Research is a venerable institution renowned for its pioneering work in food robotics. Their robots, equipped with gentle hands and advanced computer vision, are designed to pick ripe fruit with the utmost care. This attention to detail ensures minimal damage to the produce, reducing waste and preserving the quality of harvested fruits.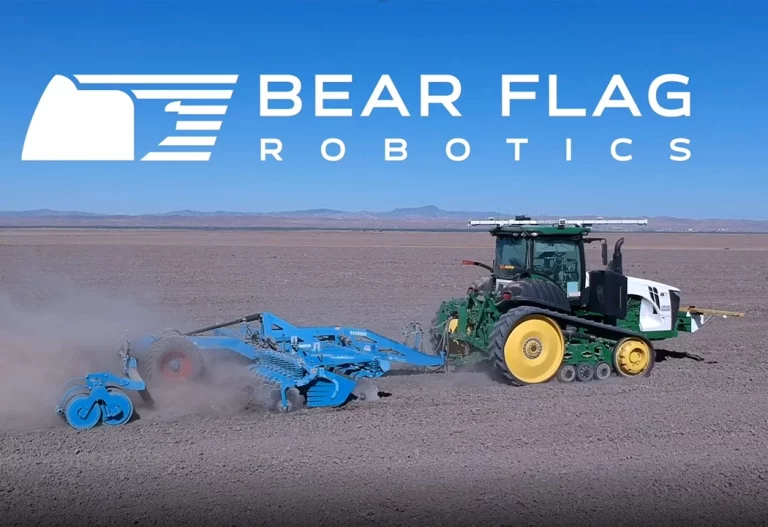 Bear Flag Robotics focuses its efforts on autonomous tractors and farming equipment. Their technology enables tractors to operate autonomously in the field, performing tasks such as plowing, seeding, and harvesting with remarkable precision and efficiency. This innovation not only optimizes resource utilization but also addresses labor shortages in agriculture.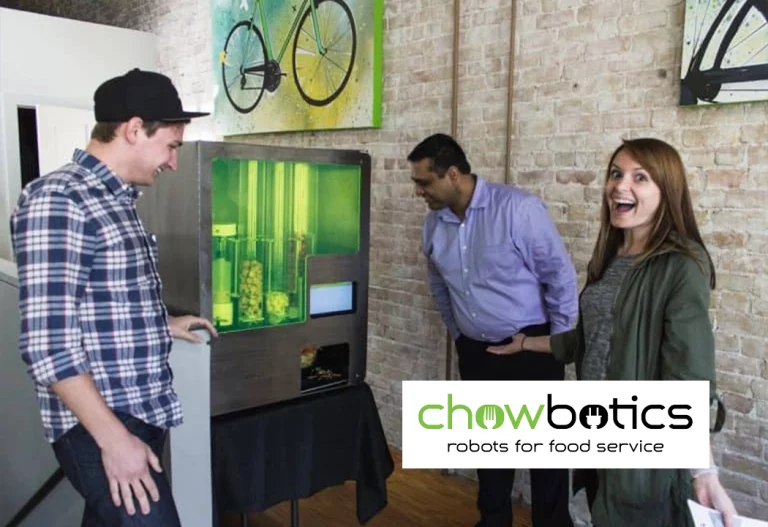 In the commercial food sector, Chowbotics has made waves with its salad-making robots. These robots cater to the demand for custom salads in settings such as cafeterias, restaurants, and food service providers. With precision and consistency, they prepare salads tailored to individual preferences, offering a delightful blend of convenience and quality. 
Ripe Robotics specializes in the automated harvesting of fruit. Their robots are meticulously designed to identify and pick fruit at the peak of ripeness. By doing so, they minimize waste and enhance the overall quality of harvested fruits, promising a more sustainable and efficient fruit supply chain. 
These notable food robotics companies and startups are at the forefront of an extraordinary transformation in the food industry. Their innovative technologies and solutions are not only enhancing precision, efficiency, and quality but also driving sustainability across various facets of the food supply chain.  
As they continue to innovate and evolve, the future of food robotics holds the promise of a culinary landscape that is not only more automated but also more sustainable, efficient, and responsive to the evolving needs of consumers and the environment. 
The Future of Food Robotics

 
As technology continues to advance, the role of robotics in the food industry will likely expand even further. Innovations in areas such as 3D printing of food, drone-based precision agriculture, and AI-driven recipe development are already on the horizon. These developments not only offer increased efficiency but also hold the promise of making fresh and healthy food more accessible to a growing global population. 
However, challenges remain, including regulatory hurdles, cost considerations, and the need for ongoing research and development. Additionally, the ethical and social implications of a more automated food industry must be carefully considered, particularly in terms of job displacement and the equitable distribution of benefits. 
Innovative food robotics companies and startups are at the forefront of transforming the food industry. Their advancements in automation, precision, and sustainability are reshaping the way we produce and consume food.  
As these technologies continue to evolve, they have the potential to address some of the most pressing challenges facing the food industry, from labor shortages to environmental sustainability. While there are challenges ahead, the future of food robotics holds great promise for a more efficient, sustainable, and accessible food supply chain. 
About TTC
At TT Consultants, we're a premier provider of custom intellectual property (IP), technology intelligence, business research, and innovation support. Our approach blends AI and Large Language Model (LLM) tools with human expertise, delivering unmatched solutions.
Our team includes skilled IP experts, tech consultants, former USPTO examiners, European patent attorneys, and more. We cater to Fortune 500 companies, innovators, law firms, universities, and financial institutions.
Services:
Choose TT Consultants for tailored, top-quality solutions that redefine intellectual property management.
Contact Us