TT Consultants Founder Jitin Talwar Recognized as one of the World's Leading IP Strategists by IAM
October 6, 2023 — TT Consultants proudly announces that its founder, Jitin Talwar, has been once again honored in the IAM 300 2023 edition as one of the World's Leading IP Strategists. This illustrious accolade underlines Mr. Talwar's unwavering dedication to spearheading advancements in the intellectual property (IP) sector. 
IAM 300, year after year, has been highlighting the brightest minds in the IP landscape whose strategies and innovations are reshaping the industry. Being a part of this esteemed list is a testament to Mr. Talwar's forward-thinking approach and his drive to consistently surpass expectations in the realm of IP.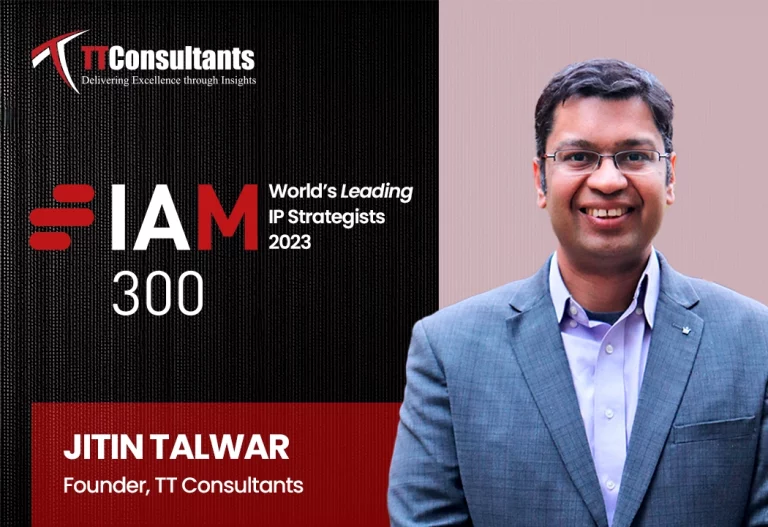 On this remarkable achievement, a spokesperson for TT Consultants commented, "The entire TT Consultants family is elated and profoundly proud of Mr. Talwar's recognition. His visionary leadership and tireless commitment to the field have placed us on the global map. We heartily congratulate him on this well-merited accolade." 
TT Consultants, under Mr. Talwar's guidance, has consistently been a trailblazer in the industry. One of its standout achievements has been the seamless integration of Artificial Intelligence (AI) and Large Language Models (LLMs) into its solutions. This incorporation has resulted in revolutionary tools and solutions for IP, R&D, and business research. 
In an era where the vast volume of data can be overwhelming, the use of AI and LLMs ensures that data is processed, analyzed, and used most efficiently, resulting in more precise and timely insights for clients. TT Consultants' endeavor to leverage cutting-edge technology demonstrates the company's commitment to staying at the forefront of innovation. 
Furthermore, the integration of these advanced technologies has empowered TT Consultants to provide unparalleled services that are both efficient and accurate, setting new standards in the IP, R&D, and business research sectors. Clients across the globe have immensely benefited from these innovative solutions, which are tailored to meet their unique needs and challenges. 
Jitin Talwar's recognition in the IAM 300 2023 edition not only shines a light on his personal achievements but also underscores TT Consultants' ethos of constant innovation and commitment to delivering excellence. This accolade is a reminder of the company's unwavering dedication to setting benchmarks in the IP industry. 
As the IP landscape continues to evolve, TT Consultants, with Jitin Talwar at the helm, is poised to keep redefining boundaries, ushering in a new era of IP strategy and solutions. 
About TTC
TT Consultants has been at the forefront of AI-driven innovation, leveraging the power of LLM and generative AIs to provide comprehensive IP consulting services to clients worldwide. By combining their deep domain expertise with advanced technologies, TT Consultants empowers inventors, businesses, and organizations to optimize their patent portfolios, protect their intellectual assets, and successfully monetize their inventions in the global marketplace. 
TT Consultants offers a range of efficient, high-quality solutions for your intellectual property management ranging from
and much more. We provide both law firms and corporations in many industries with turnkey solutions.
Contact Us