Why Has Sweden Become Europe's Den Of Innovation?
In this modern era, the world of innovation and technologies has revolutionized our life, making it simple and yet so advanced. The growth we display, boosted with new life–changing ideas and technologies entering our daily life every day enables us to live an easier life and provides us with the information never expected to be achieved. One such country contributing which is now considered to be the den of innovation nicknamed "det avlånga landet Sweden". 
The rise of Sweden in the field of innovations has been credited to its very strong R&D investment and strong political support focusing on modern technologies and innovation which in the 21st century has provided us with many useful techs and entertainment resources such as Spotify, a music app with an impressive algorithm to enhance your music experience or IKEA world's largest seller of furniture. Skype and True Caller apps for improved connectivity and information they provide us in day-to-day life or H&M, a shopping destination for kids and children. Even the most famous on the list of many would be TETRA PAK for paperboard cartons for milk, juice, and other drinks. 
Did we mention Bluetooth? Coke bottle? Computer mouse? Zipper? Three-point seatbelt? the list goes on because we are so aware of the products but not the origin, the country with the 99% of literacy rate has been greatly helpful in the innovation sector. 
History
Sweden has a long tradition of recognizing innovators and providing them with opportunities and having access to government support. The country has a great belief in gender equality and equal education opportunities. In 1842, the country introduced compulsory schooling for 7yrs to 13yrs old which now has been changed to 6yrs to 15 yrs. 
This step was a game changer for Sweden as it skyrocketed the overall level of education among the people and became essential in Sweden's journey from an agricultural nation to an innovation leader. 
Presently, about one-third of the population has post-secondary education. The government agency based in Stockholm and Söderhamn i.e., the Swedish Intellectual Property Office handles all the IP fields related to patents, trademarks, and industrial designs. 
The country is known to give us many of the great inventors of the world, looking at the list there would be no doubt why Sweden is where it deserves to be:  
| | |
| --- | --- |
| Inventors  | Innovations  |
| Anders Celsius  | 100-Point Thermometer Scale  |
| SEGustaf Erik Pasch  | Safety Match.  |
| Alfred Nobel  | Dynamite  |
| Jaap Haartsen  | Bluetooth  |
| Erik Wallenberg  | Tetra Pak  |
| Johan Petter Johansson  | Adjustable Spanner  |
| Bengt Ilon  | Mecanum Wheel (A Wheel Which Is Capable of Moving in Any Direction.)  |
| Adam Dunkels  | Allows Tiny Gadgets Such as Car Keys and Credit Cards to Communicate Using Internet Protocols  |
Sweden's strategy has been robust which helps the country on focusing on all the necessary things needed to make the nation innovative and keep up with the state of the art.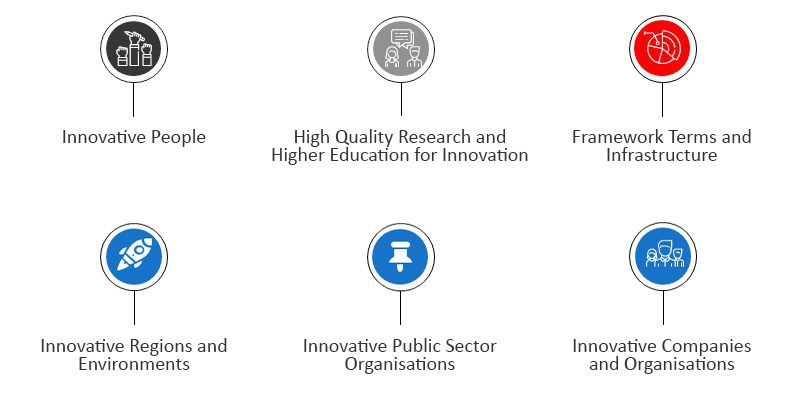 Sweden

's

 Relation With Intellectual Property Rights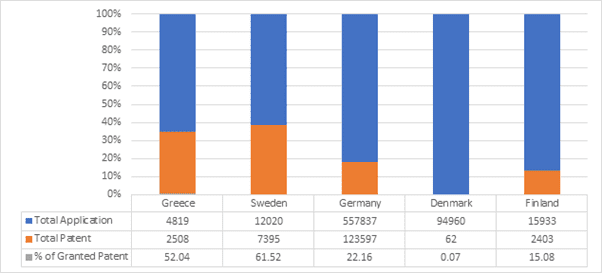 The graph represents applications and patents granted in the last 10 years (2012-2022), compared to other countries, where out of 12020 applications 7395 patents (more than 60%) were granted for Sweden whereas Denmark shows the lowest grant rate. 
In the year 2019, Sweden made a record number of granted patents which peaked at over 3800 which is the highest to date.

 

Sweden finished second place in the Global Innovation Index (GII) and has

the largest number of European patent applications per capita

of the European countries in 2020.

 

In the same year, Sweden took the lead as the EU Innovation leader and it was followed by Finland, Denmark, and the Netherlands.

 

Scania CV

has the highest number of patents in Sweden.

 
Major Factors Influencing

Sweden's

IP

Success
Government –

The success of Sweden as a well-groomed innovative country can be credited to its well-judged government and its policies. The government focuses on well-planned and strategic investment focusing on areas such as medicine and bioscience, technology, and climate. The government

invested 3.6 percent of GDP in research and development

in the year 2009. 

 

Innovation-focused Agencies

– Innovation agency

Vinnova

has played a vital role in Swedish research fields. They are known to

promote and fund research projects

in different fields such as health, transportation, and the development of smart cities.

The Knowledge Foundation

has also been crucial

which promotes and providing funds to innovation-focused colleges, universities, and schools

, promoting entrepreneurship.

 

Geography:

Sweden's vast territory and small population have provided the people an opportunity to think beyond the box, the focus has been on the efficient steps to fulfill

the need not only on small scale but in consideration of the global market. One such example is Lars Magnus Ericsson, founder of Sony Ericsson created telecommunications systems that enabled people to communicate remotely rather than travel on foot in dense forests.

 

Education:

One of the most important parts of Sweden's achievement in the field of innovation and technologies has been its infrastructure regarding the introduction to thinking and belief in the early stage of a child's development. Many schools promote and educate children in a way that they can be innovative, accepts and encourage the novel ideas one may present hence creating minds able to think out of the box. Commitment to gender equality and free education for all have all played a vital role in the development of the nation.

 
About TTC
We've constantly identified the value of new technology carried out by our pretty skilled executive crew with backgrounds as our professionals. Like the IP professionals we empower, our starvation for development is never-ending. We IMPROVISE, ADAPT, and IMPLEMENT in a strategic manner.
TT Consultants offers a range of efficient, high-quality solutions for your intellectual property management ranging from
and much more. We provide both law firms and corporations in many industries with turnkey solutions.
Contact Us