Cross-Domain Implementation of SEP Patents
Introduction
Diverse smart devices or communication machines in the modern era necessitate varied communication technology for different communication aims, such as wireless communication systems/networks in 4G/5G networks, Wi-Fi (wireless fidelity) Networks, Bluetooth Network systems, and many more.
Automotive Industry

IoT Industry

Remote Health Monitoring Industry

Wearable Industry
Quick SEP Insight
As connectivity technologies are gradually integrated into mechanical products, the next industrial revolution will see increasing technological convergence. While connectivity modules in cars may be little now, experts anticipate that in the future, connected vehicles will divert customer attention away from the automotive and onto the larger issue of transportation.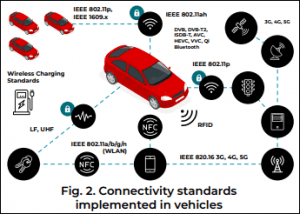 Conclusion
Read the full report of Cross-Domain Implementation of SEP Patents to analyze the detailed breakdown in multiple domain like Automotive Industry, IoT Industry, Remote Health Monitoring Industry and Wearable Industry. All these industry domain has overall SEP (Standard Essential Patent) Insights with technologies like 5G, Wi-fi (Wireless-Fidelity), BT (Bluetooth) and others.
About TTC 
We've constantly identified the value of new technology carried out by our pretty skilled executive crew with backgrounds as our professionals. Like the IP professionals we empower, our starvation for development is never-ending. We IMPROVISE, ADAPT, and IMPLEMENT in a strategic manner. 
You also can Contact Us to set up a consultation. 
TT Consultants offers a range of efficient, high-quality solutions for your intellectual property management ranging from Patentability Search, Invalidation Search, FTO (Freedom to Operate), Patent Portfolio Optimization, Patent Monitoring, Infringement Search, Patent Drafting & Illustrations, and much more. We provide both law firms and corporations in many industries with turnkey solutions. 
Cross-Domain Implementation of SEP Patents
*We'll never share your email with anyone else.