Generating and Analysis Innovation Idea Strength with Ideacue- A Generative AI Tool
In the ever-evolving landscape of innovation, the ability to generate fresh ideas and analyze their potential strength is crucial for businesses seeking to maintain a competitive edge. But how can organizations navigate the vast expanse of creativity and identify the most promising avenues for growth? How can they harness the power of cutting-edge technology to spark innovation and chart new courses for their future success?
These questions form the crux of the challenges faced by companies in today's innovation-driven world. This is precisely where TT Consultants steps in, armed with its innovative in-house Ideacue tool, merging the prowess of generative AI and inventive principles.
In today's fast-paced and competitive business landscape, innovation is the driving force behind successful companies. Patents play a crucial role in protecting these innovations, granting inventors exclusive rights to their creations.  
However, not all patents are valid, and sometimes, these questionable patents can hinder innovation and stifle progress. This is where patent invalidity searches come into play – a powerful tool that can help businesses and inventors challenge and potentially invalidate patents that lack novelty, non-obviousness, or proper disclosure.  
Ideacue: A Generative AI based Tool for Idea Generation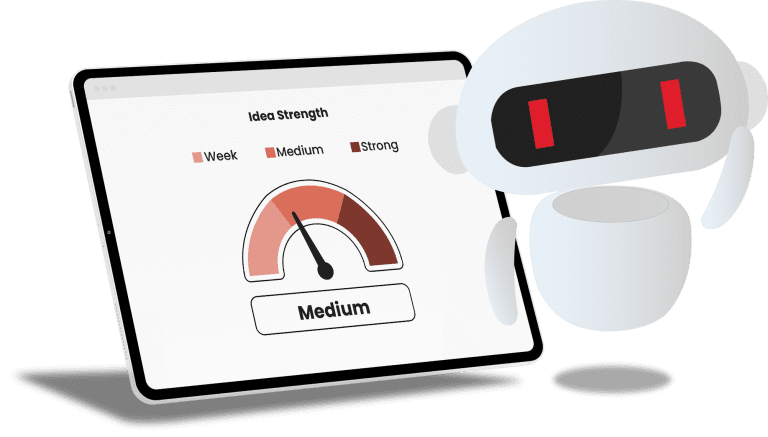 Ideacue, the ideation engine- an in-house Generative AI enabled tool at TT Consultants, taps into the power of advanced language models, particularly GPT-3. This state-of-the-art tool serves as a catalyst for innovation, offering a dynamic and intelligent approach to idea generation.
By utilizing a vast reservoir of knowledge and creativity, Ideacue suggests a multitude of innovation pathways, sparking the imagination of individuals and teams alike.
Understanding the Role of Ideacue at TT Consultants
At TT Consultants, Ideacue serves as an indispensable tool in their repertoire for intellectual property research. TT Consultants leverages Ideacue to generate innovative ideas for its clients. Whether a client is seeking to develop a new product or improve an existing one, Ideacue assists in brainstorming sessions by generating a wide range of ideas. These ideas serve as a foundation for further research and development, helping clients stay ahead of the competition.
Practical Applications of Ideacue at TT Consultants
Now that we understand the capabilities of Ideacue, let's explore how TT Consultants utilizes this powerful tool in its day-to-day operations.
1. Patentability Search: Crafting Innovation with Ideacue
Leveraging Ideacue's cutting-edge capabilities, TT Consultants transforms the patentability search process into a dynamic and insightful journey. As you input your idea, Ideacue's Idea Playground comes into play, offering a playground of subdomains and concepts that align with your vision.
This step sets the stage for a targeted exploration of patent landscapes. Ideacue's AI-driven prowess delves deep into patent databases, searching for existing patents related to your idea's subdomains. Through this process, TT Consultants not only identifies potential challenges but also suggests avenues for enhancement.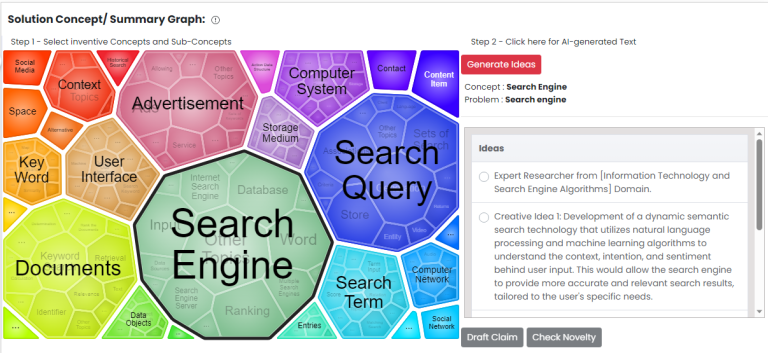 The subsequent Dashboard Analysis goes beyond mere patent counts, providing a holistic view of your idea's potential.
Idea Demographics offers insights into patent grant ratios, top countries, major filing years, and even the key players in the field.
The subsequent Dashboard Analysis goes beyond mere patent counts, providing a holistic view of your idea's potential.
Idea Demographics offers insights into patent grant ratios, top countries, major filing years, and even the key players in the field.

2. Technology Scouting: Unearthing Opportunities with Ideacue
Ideacue takes Technology Scouting to the next level by intelligently exploring emerging technologies and potential collaborations. As TT Consultants deploys Ideacue for Technology Scouting, the Idea Playground assists in refining your focus, aligning with specific areas of interest.
Ideacue's AI engine combs through vast repositories of research publications and data sources, unveiling hidden gems that align with your chosen domains. Through this process, TT Consultants identifies promising opportunities and innovation pathways that you might have otherwise missed.
The Dashboard Analysis that follows provides actionable insights beyond the surface, including the strength assessment of these scouted technologies. This fusion of AI-driven scouting and expert analysis ensures that your business remains at the forefront of technological advancements.
3. Whitespace Analysis & Technology Forecasting: Illuminating Unexplored Avenues
In the realm of Whitespace Analysis and Technology Forecasting, Ideacue becomes your compass to uncharted territories. As TT Consultants embarks on a journey of Whitespace Analysis, Ideacue's Idea Playground aids in defining the scope of exploration.
Ideacue's AI prowess then dives into the depths of information, uncovering areas that are yet to be explored in the technological landscape. This not only highlights untapped markets and unmet needs but also showcases potential areas for expansion. The subsequent Technology Forecasting takes the crystal ball approach, using Ideacue's predictive capabilities to anticipate future trends.
TT Consultants combines this foresight with strategic analysis, enabling businesses to position themselves for sustainable growth. The fusion of Ideacue's AI-powered exploration and TT Consultants' expertise ensures that your business doesn't just follow trends but shapes them.
Benefits of Using Generative AI-enabled Services by TT Consultants
Suggests new & innovative ideas: Ideacue doesn't just give you generic suggestions; it provides a wide array of creative and tailored ideas that can spark real innovation.
Helps you save time and resources: The ideation process can be time-intensive and resource-draining. Ideacue streamlines this process, allowing your team to focus on refining and executing ideas rather than spending excessive time brainstorming.
Combines Generative AI & Inventive Principles: By combining advanced AI capabilities with tried-and-true inventive principles, Ideacue ensures that the generated ideas are not only creative but also practical and implementable.
Pathways for Continuation & Continuation-in-part: Ideacue doesn't just stop at generating ideas; it provides pathways for continuation and expansion. This means that your innovation journey can be continuous and adaptable.
Supports brainstorming and innovation: Ideacue isn't a replacement for human creativity; it's a tool that amplifies it. It aids in brainstorming sessions, providing fresh perspectives that can stimulate innovation within your team.
Real-World Examples of Success
The true value of Ideacue becomes apparent when we examine the real-world examples of how TT Consultants has harnessed the capabilities of this powerful tool to empower their clients.
A technology startup approached TT Consultants with an idea for a smart home security system. Leveraging Ideacue's idea strength analysis, TT Consultants evaluated the uniqueness and potential market impact of the concept.
They discovered that while the idea had some similarities to existing solutions, it offered an innovative feature that set it apart. Armed with this information, the startup further refined its idea, obtained a patent for the innovation, and secured funding from investors impressed by the innovation's strength and market potential.
TT Consultants worked with an automotive manufacturer seeking to enhance vehicle safety features. By utilizing Ideacue, TT Consultants generated a range of ideas related to collision avoidance systems. The Idea Playground within Ideacue allowed our experts to explore and select the most promising concepts.
Through detailed idea strength analysis, we identified a unique approach involving sensor fusion and advanced algorithms to improve vehicle safety. The manufacturer patented this idea and integrated it into their vehicles, receiving critical acclaim for their innovation and contributing to a decrease in accidents.
How does Ideacue leverage AI for idea generation?
Ideacue employs GPT-3, a powerful language model, to generate a wide range of ideas based on your input. It goes beyond simple keyword matching, using contextual understanding to provide creative and relevant suggestions.
Can Ideacue replace human creativity?
Absolutely not. Ideacue is a tool that enhances human creativity. It provides a wealth of ideas and insights that can be a catalyst for innovation. However, the human touch in refining and selecting ideas remains essential.
How does Ideacue ensure patentability of ideas?
Ideacue combines AI-generated ideas with thorough patentability searches and analysis. It examines existing patents and inventive principles to refine and tailor ideas, ensuring they have a higher likelihood of being patentable.
In the dynamic landscape of business, innovation is the driving force behind success. Ideacue, powered by TT Consultants, is poised to be your ally on this journey. With its generative AI capabilities, Ideacue can ignite your creativity, streamline your ideation process, and provide you with a roadmap for innovation.
It's not just about generating ideas; it's about transforming them into real-world success stories. Embrace Ideacue and unlock the potential of your ideas like never before. Your future of innovation starts now.
About TTC
At TT Consultants, we're a premier provider of custom intellectual property (IP), technology intelligence, business research, and innovation support. Our approach blends AI and Large Language Model (LLM) tools with human expertise, delivering unmatched solutions.
Our team includes skilled IP experts, tech consultants, former USPTO examiners, European patent attorneys, and more. We cater to Fortune 500 companies, innovators, law firms, universities, and financial institutions.
Services:
Choose TT Consultants for tailored, top-quality solutions that redefine intellectual property management.
Contact Us