Komal Sharma Talwar Explores Patent Monetization with LLMs and Generative AI at World Digital Summit 2023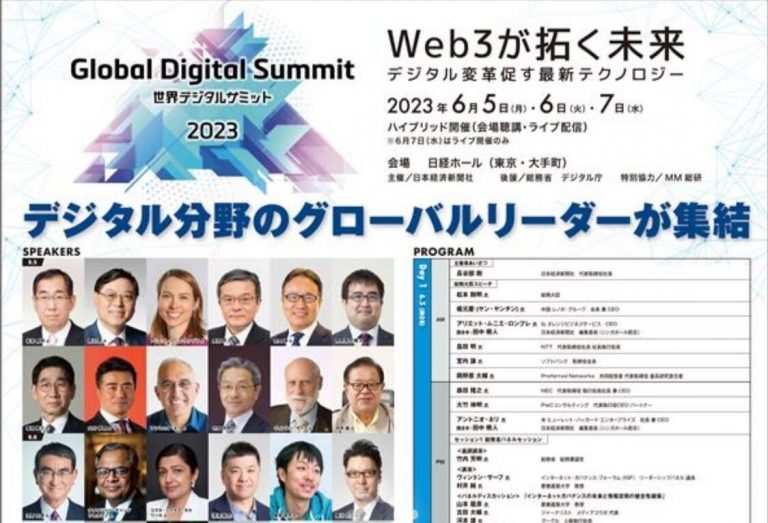 Komal Sharma Talwar, the esteemed founder and representative of TT Consultants, delivered a keynote at the prestigious World Digital Summit 2023, held on June 6, 2023. The event, sponsored by Japan Keizai Inc. and supported by the Ministry of Internal Affairs and Communications and the Digital Agency, provided a platform for industry leaders to discuss the latest advancements in technology and its impact on various sectors.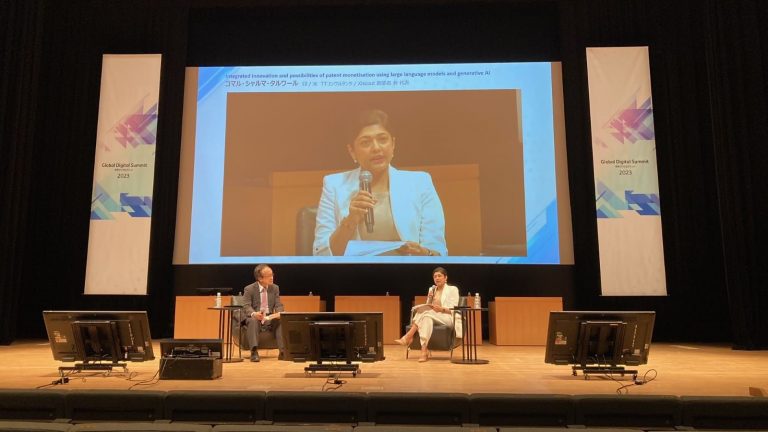 During her captivating presentation, Komal Sharma Talwar emphasized the immense potential of artificial intelligence (AI) in unlocking new avenues for patent monetization. Drawing upon her expertise and extensive experience in the IP industry, she demonstrated how innovative software solutions powered by LLMs and generative AI can optimize licensing processes, accelerating revenue generation for patent owners.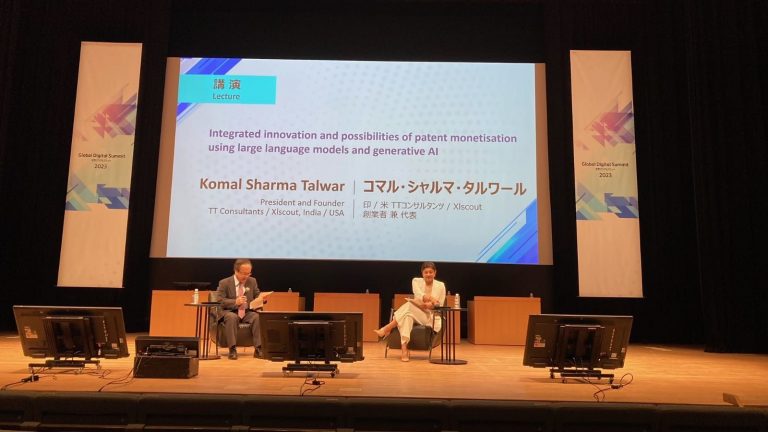 The event brought together a prestigious lineup of distinguished individuals, including CEOs from global and Japanese corporations, top Japanese government officials, and industry experts. Notable attendees included Akira Shimada (NTT), Takayuki Morita (NEC Corporation), Hirokazu Mochizuki (Hewlett Packard Enterprise Japan), Ken Miyauchi (SoftBank Group Corp.), Kunitsumu Ayano (Parliamentary Vice-Minister for Internal Affairs and Communications), and Jun Murai (Keio University).  
The event also featured insightful statements from industry leaders N. Chandrasekaran (Tata Group) and Akio Yamaguchi (IBM Japan), further highlighting the transformative role of AI in the realm of patent monetization.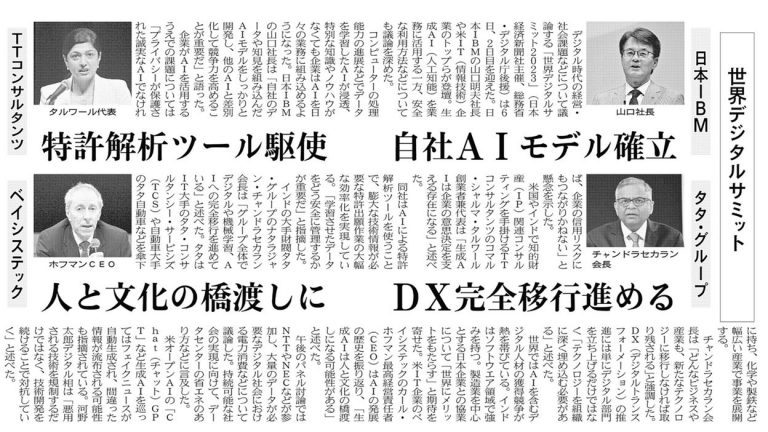 Talwar's presentation at the summit received widespread recognition and was highlighted in the digital edition of the esteemed Nikkei Newspaper. For more details, please refer to the article available at: https://bit.ly/3WZ5YU0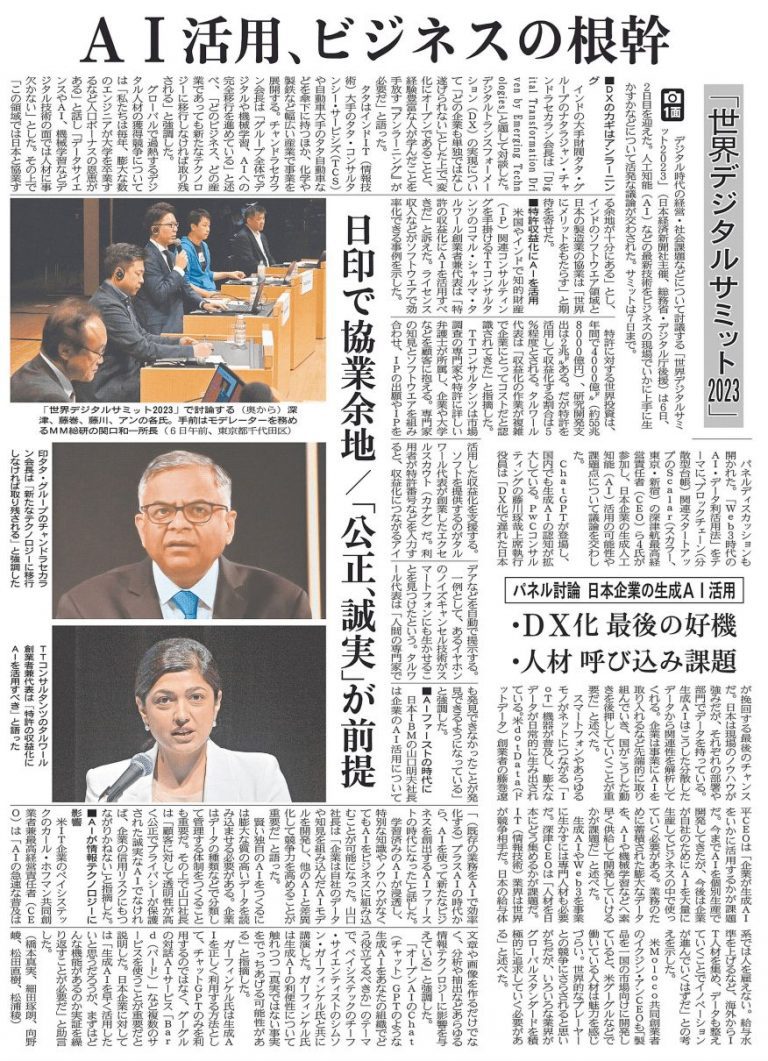 For more information on Komal Sharma Talwar's speech and TT Consultants' AI-driven patent monetization strategies, please refer to the article available at: https://bit.ly/3WZ5YU0
The sustainable initiatives undertaken by these remarkable companies have not only raised the standard for the whole food packaging sector but also served as a model for businesses worldwide. Their unrelenting search for cutting-edge, renewable, and biodegradable materials has altered the way we think about packaging and given us a glimpse of a world in which functionality and sustainability coexist in harmony. 
As consumers become increasingly conscious of the environmental impact of their choices, these green food packaging companies have emerged as champions of change. By embracing sustainable practices and developing groundbreaking solutions, they are reshaping the landscape of food packaging, paving the way for a more sustainable and eco-friendly future. 
About TTC
TT Consultants has been at the forefront of AI-driven innovation, leveraging the power of LLM and generative AIs to provide comprehensive IP consulting services to clients worldwide. By combining their deep domain expertise with advanced technologies, TT Consultants empowers inventors, businesses, and organizations to optimize their patent portfolios, protect their intellectual assets, and successfully monetize their inventions in the global marketplace. 
TT Consultants offers a range of efficient, high-quality solutions for your intellectual property management ranging from
and much more. We provide both law firms and corporations in many industries with turnkey solutions.
Contact Us