Smart Bins: The Key to Efficient Waste Segregation and Sustainability
There is no such thing as 'away', when we throw something away, it must go somewhere. – Annie Leonard 
The current global municipal solid waste generation data show that the world generates approximately 1.3 billion tons of waste annually. According to the World Bank reports, the annual global waste generation will go up by 70% over the next 3 decades. 
In today's era of rapidly advancing technology, even the most mundane aspects of our lives are being revolutionized. Waste management, a critical yet often overlooked facet of our modern society, is no exception. Enter the era of smart bins, a technological marvel poised to transform the way we handle waste. These intelligent waste containers are equipped with sensors, connectivity features, and data analytics capabilities, empowering municipalities and businesses to optimize waste collection, reduce costs, and minimize environmental impact.
According to industry estimates, the global smart trash bin market reached a value of $64.36 million in 2022. As we look ahead, this market is projected to experience a compound annual growth rate (CAGR) of 12.4% between 2023 and 2030. Analysts predict that by 2030, the market value will soar to a staggering $162.02 million. This substantial growth underscores the increasing adoption of smart bins across various sectors, including residential, commercial, and industrial.
The rising popularity of smart bins can be attributed to their numerous advantages, such as optimized waste collection routes, reduced operational costs, and enhanced sustainability practices. With advanced features like fill-level sensors, real-time data monitoring, and IoT connectivity, these intelligent bins offer efficient waste management solutions that minimize environmental impact and promote a cleaner, greener future.
Waste Segregation: Maximizing Efficiency and Sustainability

 
Smart bins have revolutionized waste management, and a key feature that sets them apart is their ability to facilitate waste segregation. By categorizing and separating recyclables, organic waste, and general trash at the source, these intelligent bins streamline the recycling process and promote sustainability. With waste segregation, we can significantly reduce landfill waste and ensure valuable resources are recycled, contributing to a greener and cleaner environment.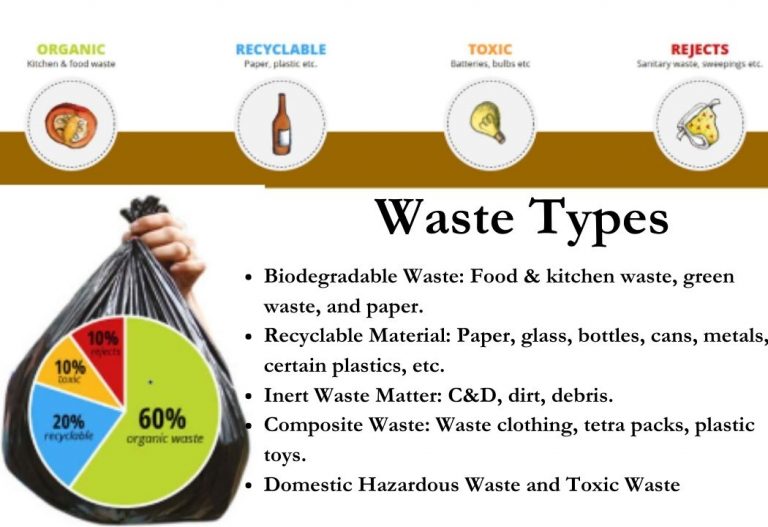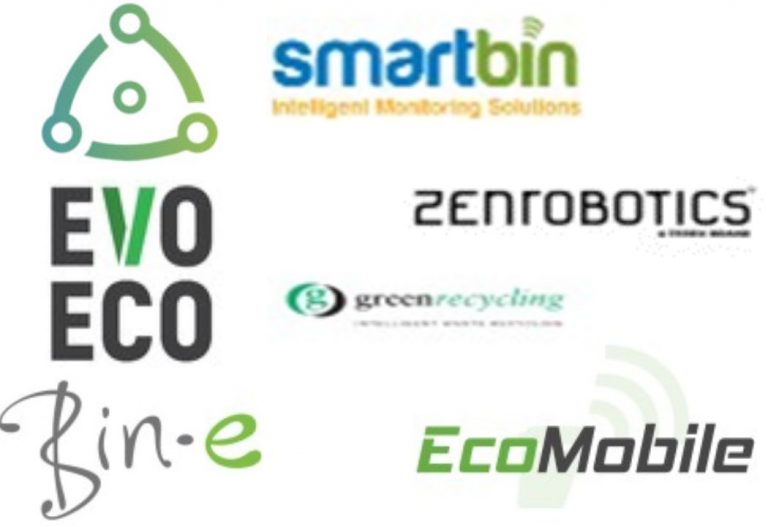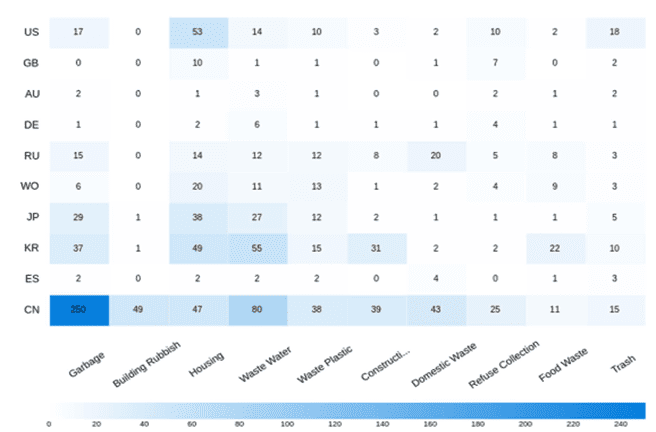 Smart bin with proximity sensors detects contents, sends user data to social media platform and civic agency, aiding in city cleanliness. Encourages citizen response and alerts civic authorities for quick action. 

Categorized waste collection device with monitored display screen. Separate storehouse, dispensing and recovery doors, and automatic weighing device ensure efficient, space-saving, and user-friendly waste sorting. 

A waste management method to capture image of container, extract parameters, characterize content, and route removal vehicle accordingly. 
Existing Waste Segregation Technologies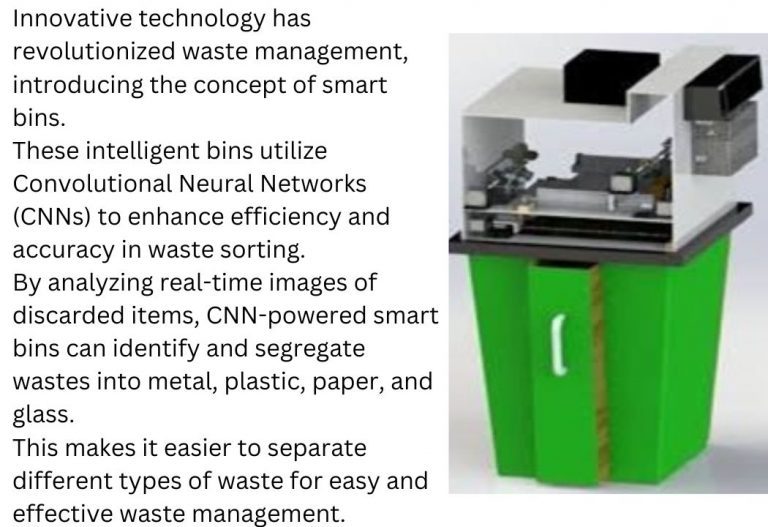 EvoBin

– Interactive Bin With Dashboard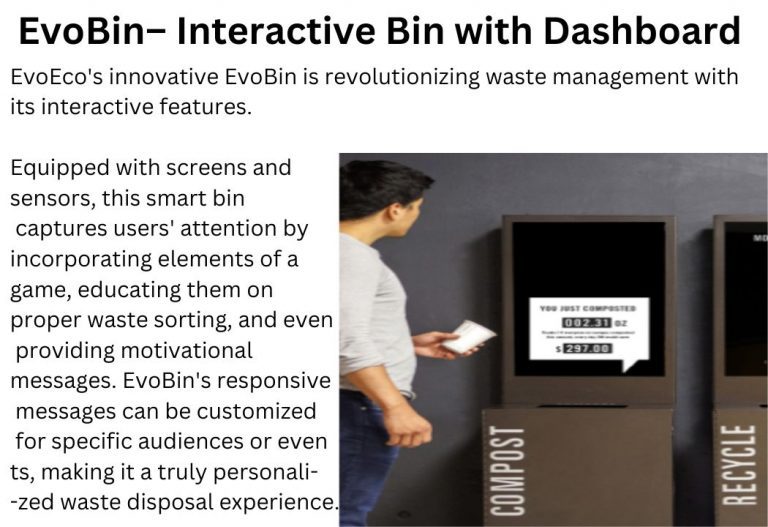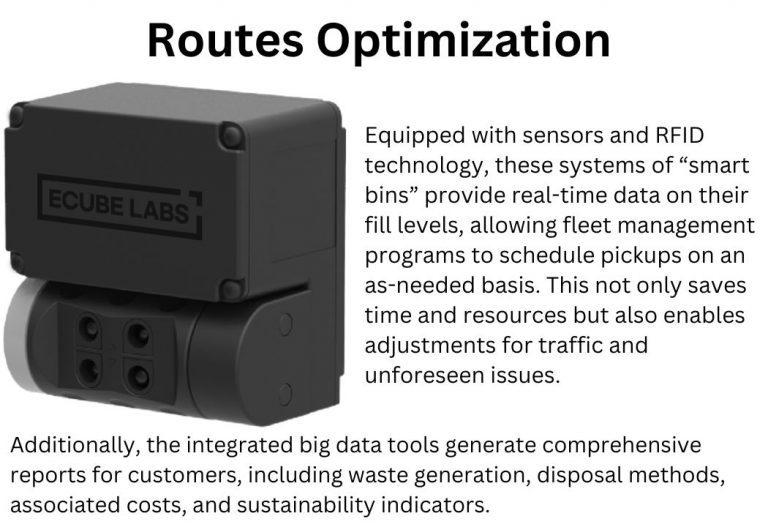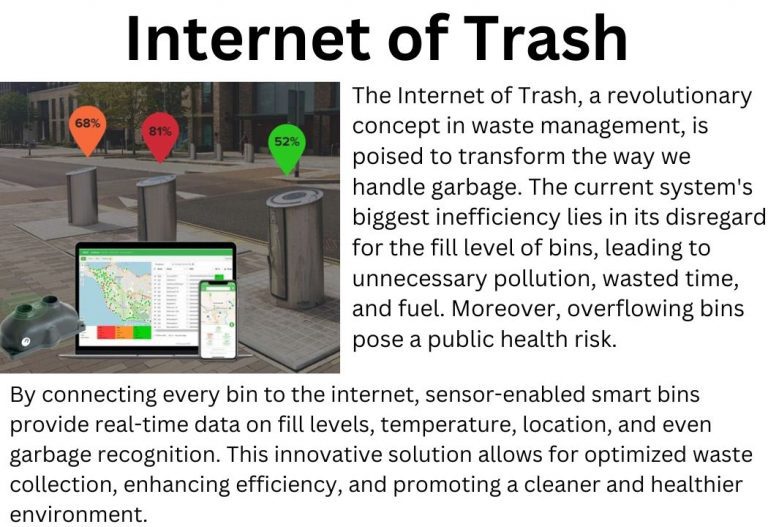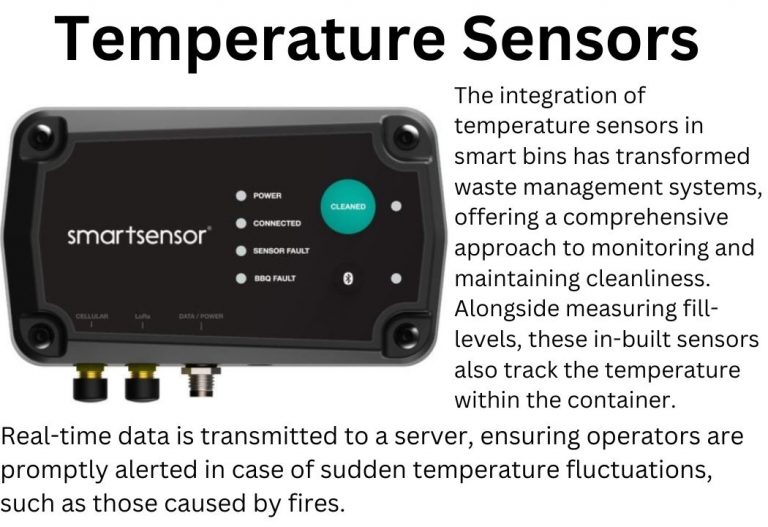 These intelligent systems, exemplified by Australia-based Smartsensor, enable precise monitoring of both fullness and temperature levels in each bin. By providing maintenance alerts tailored to customers' preferences, Smartsensor enhances efficiency, safety, and environmental sustainability in waste management practices. 
Thanks to cutting-edge technologies like computer vision, artificial intelligence, and robotics, we now have smart bins that can revolutionize waste management. These advanced bins employ AI algorithms to visually identify and categorize waste, effectively distinguishing between landfill items and recyclables.
Innovative solutions are revolutionizing waste management, and one such advancement is the integration of robot-based segregators. These smart bins employ AI-powered robots to significantly reduce the need for manual sorting of waste materials.  
Specifically designed for construction, renovation, and demolition debris, these robots efficiently sort and segregate recyclables, contributing to a 20% increase in diversion rates. This automated system is set to transform waste management processes, benefiting both the environment and communities. 
disposal methods, making waste management easier than ever before. 
Roadblocks And Challenges

 
Implementing smart bins is not without its roadblocks and challenges. Here are some key obstacles that need to be overcome: 
Energy Constraints: Smart bins rely on sensors that require energy for data collection, processing, and communication. This necessitates the use of batteries, which need to be regularly recharged or replaced. However, this can be challenging in areas with difficult access or unfavorable demographic conditions. Researchers are actively working on developing energy-efficient hardware and software protocols to address this issue. 
Self-Management: Once deployed, smart bins should operate autonomously, minimizing the need for human intervention. Achieving this level of self-management requires robust systems that can handle various operational tasks without constant oversight. 
Security: Maintaining data confidentiality during transmission is crucial to prevent eavesdropping attacks. Ensuring the security of the information gathered by smart bins is an ongoing challenge that demands effective encryption and authentication mechanisms. 
Quality of Service: Smart bins are often used in real-time applications, necessitating the provision of reliable and timely services. Network providers must ensure that the sensor networks offer a satisfactory quality of service to meet user expectations. 
Fault Tolerance: A resilient sensor network should continue functioning even if individual nodes fail. The network must be capable of adapting and rerouting data to compensate for any difficulties that may arise. 
Limited Memory and Storage Space: Smart bins typically have limited memory and storage capacity, which poses a challenge for implementing effective security mechanisms. The size of security algorithms must be optimized to fit within these constraints. 
Cost-Effectiveness: While smart bins offer long-term benefits, the initial installation costs can be higher than previous waste management systems. Striking a balance between the upfront investment and the overall benefits is crucial. 
Reduced Manpower: The adoption of smart bins may reduce the need for manual waste management, resulting in potential unemployment for unskilled workers. This issue requires careful consideration and planning to address any social and economic implications. 
These challenges highlight the complexity involved in implementing smart bins, requiring collaborative efforts from various stakeholders to overcome them successfully.

To learn more, get our full report on SmartBins at: https://ttconsultants.com/Reports/smartbins/
About TTC
At TT Consultants, our distinctive approach is centered around our hybrid solution that blends the power of AI-enabled XLSOUT technology with human expertise. This unparalleled combination allows us to offer top-notch solutions for your intellectual property management requirements.
Our team comprises skilled professionals, including experienced IP professionals, who are passionate about constant innovation and development. We take pride in our ability to IMPROVISE, ADAPT, and IMPLEMENT customized and strategic solutions that cater to the unique needs of our clients.
TT Consultants offers a range of efficient, high-quality solutions for your intellectual property management ranging from
and much more. We provide both law firms and corporations in many industries with turnkey solutions.
Contact Us