Samsung Sued for Patent Infringement in Wireless Communication Dispute
Case 5:22-cv-00073 – MIMO Research, LLC ("Plaintiff") filed a complaint on June 10, 2022, in the US District Court, Eastern District of Texas against Samsung Electronics America, Inc., and Samsung Electronics Co., Ltd. (collectively, "Samsung" or "defendant") for patent infringement. Samsung Electronics America, Inc. is a wholly owned subsidiary of Samsung Electronics Co. Ltd.  
MIMO Research, a New York-based limited liability company established in 2017 owns a portfolio of diverse patents based on Multiple Input Multiple Output ("MIMO") wireless communication, powerline networking, and ultra-wideband ("UWB") technology. The well-renowned tech giants like Apple, Qualcomm, Sony, Broadcom Inc, ST Microelectronics, and Nokia have cited the patents of the Plaintiff as noticed in the complaint. 
Samsung is a South Korean multinational electronics corporation that has also cited the MIMO Research patents in 22 patents and patent applications as described in the complaint letter. As per the Samsung patent portfolio report, 2018 compiled by Relecura, the top technologies covered by Samsung's current patent assets includes Semiconductor, Solid-state devices, Optics, Digital interface arrangements, and television-related displays and signals. 
Asserted Patents of MIMO Research: The complaint claims that the defendant violated five of the plaintiff's patents ("patents-in-suit") by using patent-protected wireless communications techniques and other technologies in their products.  The patents involved in the case are US7091854B1 ("854 patent"), US7046716B1 ("716 patent"), US7133646B1 ("646 patent"), US7305057B1 ("057 patent"), and US7433382B1 ("382 patent"). According to the complaint, the defendant is offering to sell and/or selling products and/or services that infringe the patents-in-suit.  
Samsung's Infringing Products: The plaintiff asserts that the defendant is commercializing, marketing, selling, distributing, testing, and servicing certain accused products. Samsung Galaxy Z Fold2, Galaxy Z Fold3, Galaxy S21 5G, Galaxy S21+ 5G, Galaxy S21 Ultra 5G, and Galaxy S22 Ultra are the accused products mentioned in the complaint letter. 
Quick Overview of Asserted Patents & Brief Overview of Accused Product Feature(s):
US7091854B1:
The '854 patent' describes the use of a MIMO sensor transmitter coupled to the analog-to-digital converter which is further coupled to the signal processing and data computing unit. The MIMO transceiver is coupled with the output of signal processing and data computing units. This technology reduces intersymbol interference, channel interference, multipath propagation, and fading while enhancing average signal power. The '854 patent' greatly increases the capacity, coverage, and quality of wireless communications.  
The Samsung S21 Ultra device, an accused product contains a MIMO sensor node as disclosed in the complaint letter, which includes MIMO antennas connected to a transceiver as seen in the figure below. Similarly, other accused products include diversity modules supporting MIMO for receiving simultaneous data streams. 
US7046716B1: 
The '716 patent' discloses a dual-mode ultra-wideband (UWB) and wireless local area network (WLAN) communication transceiver which is used to implement two different standards within a single device. This transceiver discloses novel systems for allowing the coexistence of UWB and WLAN standards in an environment.  
Plaintiff claims that the Samsung S22 Ultra device contains a UWB module that is compliant with 802.15.4z standard and FiRa Certified. The antenna which operates in two frequencies is connected to the UWB module in the accused product, thereby disclosing the use of patented technology of Plaintiff. Similarly, the Samsung Galaxy S21 Ultra device has a UWB commuter unit that contains a UWB switch for selecting one of the outputs from two different standards implemented.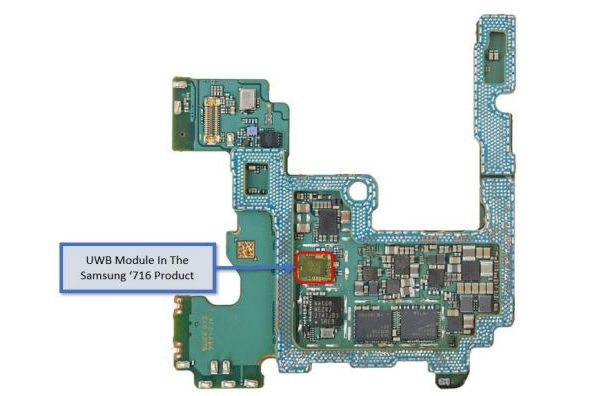 US7133646B1: 
The '646 patent' discloses a novel method implemented on a multimode and multi-band MIMO transceiver system. The transceiver system supports multimode receipt of Wideband Code Division Multiple Access (W-CDMA), Wireless Local Area Network (WLAN), and ultra-wideband (UWB) signals. The transceiver system supports the co-existence of multi-standard applications in a wireless communication environment.  
Plaintiff claims that Samsung Galaxy S21, S21+, and S21 Ultra device datasheet describes that these accused products allow reception and transmission of W-CDMA, WLAN, and UWB signals. These products perform a W-CDMA function and turn off WLAN and UWB functions during W-CDMA mode. Similarly, W-CDMA and the WLAN functions are turned off during UWB mode. 
US7305057B1: 
The '057 patent' discloses a novel system for a multichannel filter-based UWB communication transceiver that is controlled to avoid interference with WLAN 802.11a devices. The invention allows a UWB device to operate in a spectrum already utilized by existing radio services without inference, thereby leading to the effective use of limited spectrum resources.  
The UWB transceiver operating in the frequency band from 3.1GHz to 10.6 GHz has a multichannel control that addresses the problem of interference with another WLAN device by not transmitting UWB signals on one and/or two transmitter channels.  
Plaintiff claims that the Samsung Galaxy S22 Ultra device has a UWB transmitter that can transmit over 6.5 GHz and 8.0 GHz channels. The Korean tech giant accused products supporting the transmission and reception of UWB signals over multiple channels.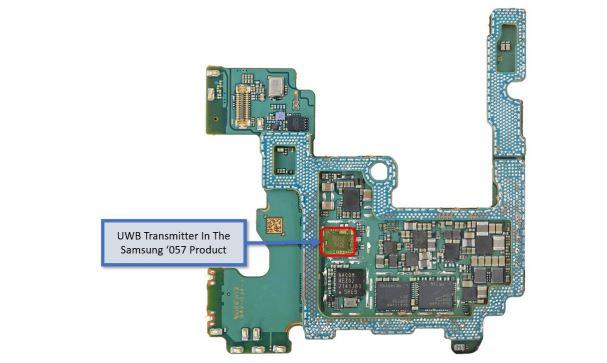 US7433382B1: 
The '382 patent' discloses technologies that allow for the transmission of data using UWB without interfering with the transmission of data using non-UWB signals that use the same frequency band as UWB.  
This technology improves the operation of wireless networks by reducing interference with WLAN signals by employing a multichannel pseudorandom noise look-up table coupled to a multichannel sequence mapping component. The invention describes a novel UWB device that enables the transmission of data while avoiding interference with WLAN 802.11a devices.  
The accused products comprise a spread spectrum-based multichannel modulation UWB communication transceiver. The accused products support UWB channels employed in multichannel modulators with a center frequency of 6489 MHz, 6490 MHz, and 7987 MHz. Each UWB channel has a bandwidth of between 500 MHz and 786 MHz. 
Commercial Stats of Accused Products: 
The global estimated units sold by the Korean Giant for the accused products: 

According to MIMO Research, the defendant is utilizing the patented technology of Plaintiff without paying a reasonable royalty. It is seeking favorable judgment as Samsung has harmed the plaintiff and is liable to Plaintiff for directly infringing its patented technology.  
The plaintiff further alleges that Samsung "specifically intended and was aware that the normal and customary use of the accused products" would directly infringe the patents-in-suit. Plaintiff stated in the complaint that, the infringement was "willful, wanton, malicious, bad-faith, flagrant and deliberate."  Berger & Hipskind LLP is representing MIMO Research in court.