Unleashing the Power of Beacon Technology: Revolutionizing Connectivity and User Experiences
Businesses in today's fast-paced world are continuously seeking ways to better their operations and improve the consumer experience. One technology that is gaining popularity in this regard is Beacon Technology. In simple terms, Beacon Technology involves the use of small, wireless devices called beacons to transmit signals to nearby smartphones or other devices. These signals can be used to trigger various actions, such as sending notifications, providing location-based information, and more. Let's take a closer look at this innovative technology and its impact on businesses.
Market Insights and Dynamics

 
Let's take a closer look at the current market trends and dynamics of Beacon Technology and analyze its growth potential in the future. 
Overview of Current Market Trends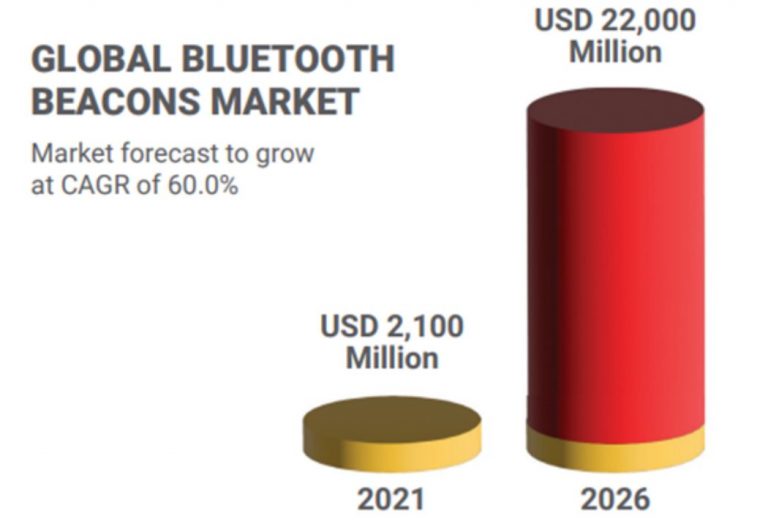 The Beacon Technology market is expected to grow at a steady pace in the coming years, with a projected global market cap of over USD 22,000 million by 2026 with an estimated CAGR of 60%. The growth potential of Beacon Technology is driven by factors such as the increasing adoption of smartphones, the rise of IoT (Internet of Things), and the growing demand for location-based services. However, there are also some challenges that businesses face in implementing Beacon Technology, such as privacy concerns and the need for proper infrastructure.   
 
If you would like to dive deeper into the topic and explore the full report on Beacon Technology and its impact on businesses, you can download it by clicking here.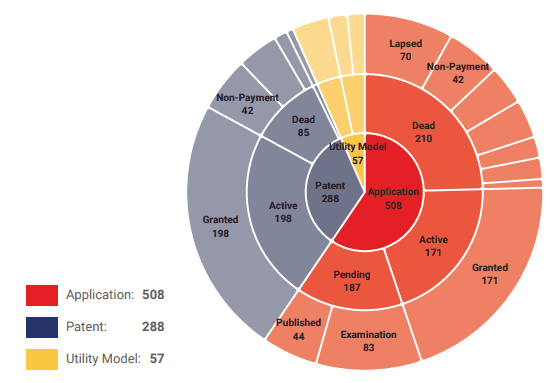 What is Beacon Technology?

 

 
Beacon Technology is a wireless technology that uses small, battery-powered devices called beacons to transmit signals to nearby smartphones and other devices using Bluetooth Low Energy (BLE) technology. These beacons emit signals that are received by compatible devices, enabling proximity-based interactions and location-based services. 
Importance and Relevance of Beacon Technology

 

 
Beacon Technology has gained significant importance and relevance in today's world due to its ability to bridge the gap between the digital and physical realms. By providing context-aware and personalized experiences to users, Beacon Technology has opened up a world of opportunities for businesses across various industries. 
Key Drivers and Challenges

 
Several factors are driving the growth of Beacon Technology: 
Enhanced Customer Engagement:

Beacon Technology enables businesses to deliver personalized and context-aware experiences to customers, improving engagement and satisfaction levels.

 

Improved Operational Efficiency:

By leveraging Beacon Technology, businesses can streamline their operations, optimize workflows, and enhance productivity.

 

Location-Based Marketing:

Beacons enable businesses to target customers with relevant offers and promotions based on their precise location, resulting in higher conversion rates and increased sales.

 

Some other major drivers of the Beacon Technology market include the increasing use of mobile devices, the growing demand for personalized experiences, and the need for real-time data. 

 
Major Global Players in the Beacon

Techno

logy Domain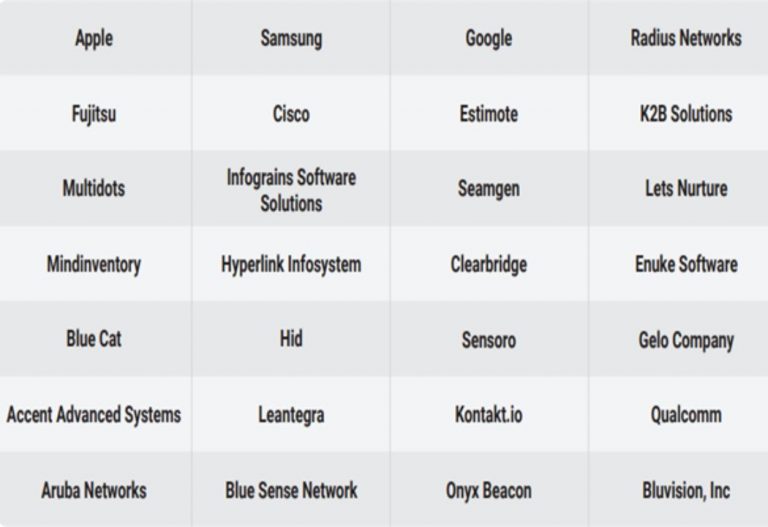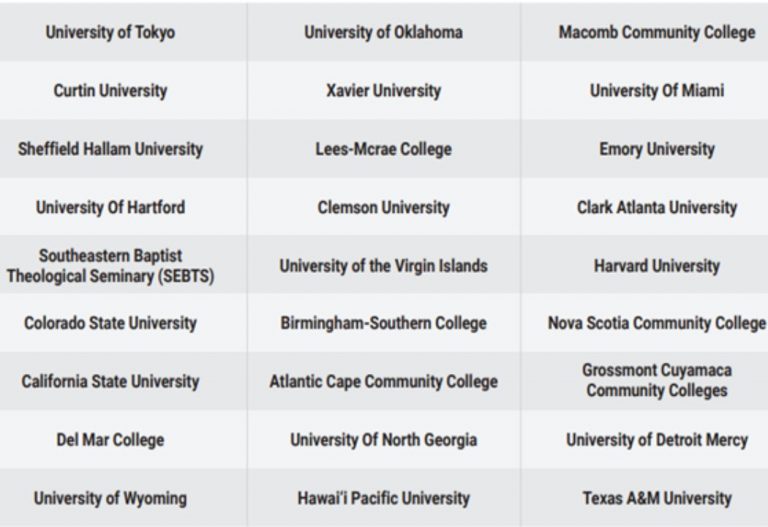 While Beacon Technology presents numerous opportunities, businesses also face certain challenges in its implementation: 
Privacy Concerns:

As Beacon Technology relies on tracking and collecting user data, privacy concerns arise. Businesses must handle user data responsibly and transparently to maintain customer trust.

 

Infrastructure Requirements:

To fully leverage Beacon Technology, businesses need to invest in the deployment of a sufficient number of beacons and ensure proper infrastructure support.

 

Limited Range:

The maximum distance covered by a beacon is often not enough because it depends on the strength of the broadcasting signal. To increase the range, you can boost the broadcasting power, especially when you need to cover a large area like a parking lot or collect temperature data from distant spots in your office building. However, increasing the transmitting power also leads to reduced battery efficiency as the battery drains faster. This creates a trade-off between range and battery life.

 
How Beacon Technology Works

 
To understand Beacon Technology better, let's explore how it works and the different types of beacons available.
Explanation of Beacon Technology

 
Beacon Technology works by using small, wireless devices called beacons that transmit signals to nearby smartphones or other devices using Bluetooth Low Energy (BLE) technology. These signals can be used to trigger various actions, such as sending notifications, providing location-based information, and more.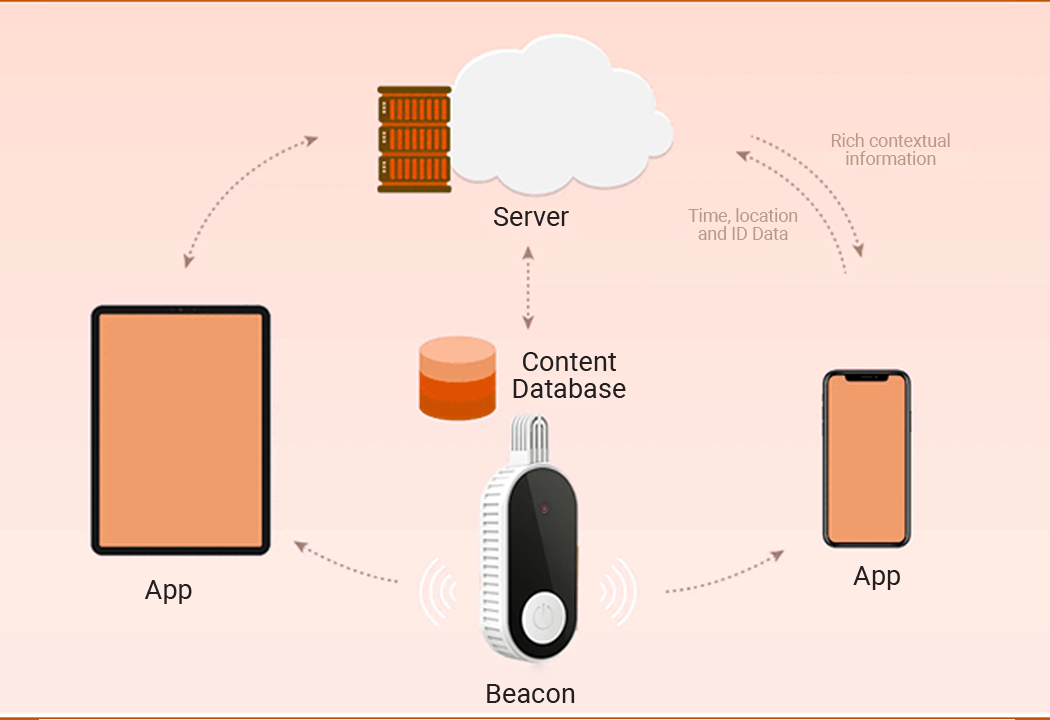 Examples of beacons available in the market include iBeacons (developed by Apple) and Eddystone (developed by Google), each with their own unique features and capabilities.  
Types of Beacons and Their Uses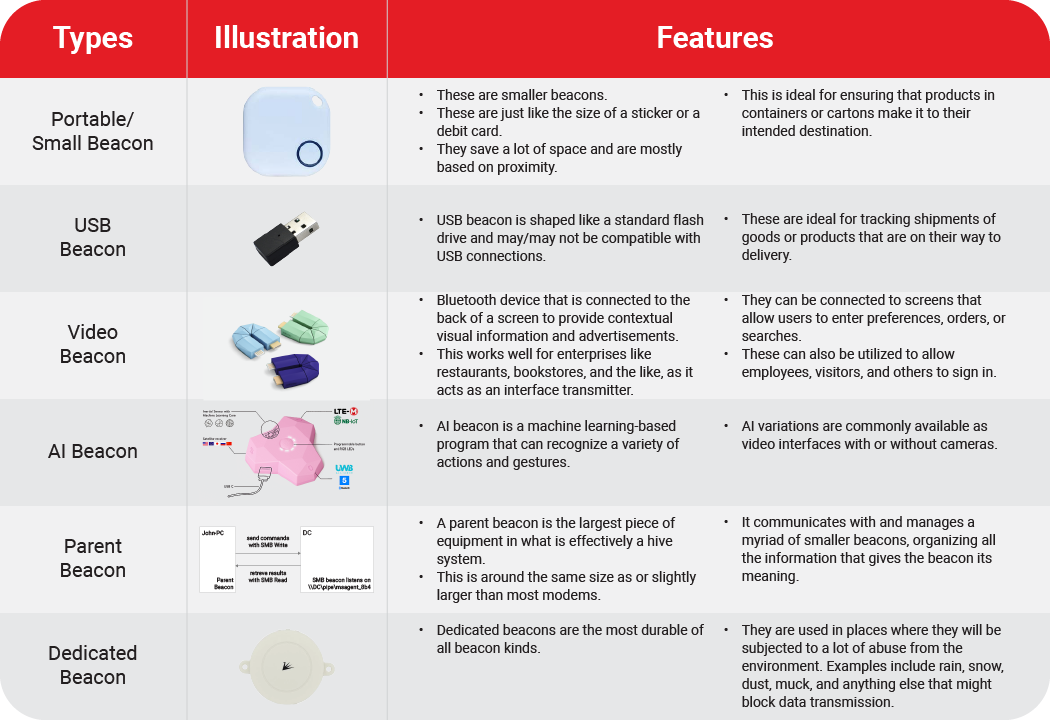 Businesses across various industries have leveraged Beacon Technology for multiple purposes. Let's explore some examples of successful implementation. 
Applications of Beacons in Various Domains

 

 
Beacon Technology has revolutionized the retail industry, providing retailers with valuable insights into customer behavior and enabling personalized shopping experiences. For instance, retailers can send targeted offers and discounts to customers based on their location within the store, driving sales and fostering customer loyalty. 
In the hospitality industry, Beacon Technology enhances the guest experience by providing keyless entry, personalized recommendations, and seamless check-ins. Hotels can send notifications to guests' smartphones with information about nearby amenities and attractions, ensuring a memorable stay. 
In healthcare, Beacon Technology facilitates asset tracking, patient monitoring, and navigation within medical facilities. Hospitals can track medical equipment, send reminders to patients about their appointments, and guide visitors to specific departments, improving operational efficiency and patient care. 
Beacon Technology finds its applications in the transportation industry, enabling contactless ticketing, real-time updates, and personalized navigation. For example, airports can provide indoor navigation to passengers, guiding them through terminals and assisting them in finding their gates or baggage claim areas. 
Beacon Technology has emerged as a game-changer in today's digital landscape. By bridging the gap between the physical and digital worlds, Beacon Technology offers businesses endless possibilities for customer engagement, operational efficiency, and personalized experiences. Despite the challenges it presents, the future of Beacon Technology looks promising, with its continued growth and widespread adoption across various industries. So, embrace the power of beacons and unlock new dimensions for your business success! 
About TTC
At TT Consultants, our distinctive approach is centered around our hybrid solution that blends the power of AI-enabled XLSOUT technology with human expertise. This unparalleled combination allows us to offer top-notch solutions for your intellectual property management requirements.
Our team comprises skilled professionals, including experienced IP professionals, who are passionate about constant innovation and development. We take pride in our ability to IMPROVISE, ADAPT, and IMPLEMENT customized and strategic solutions that cater to the unique needs of our clients.
TT Consultants offers a range of efficient, high-quality solutions for your intellectual property management ranging from
and much more. We provide both law firms and corporations in many industries with turnkey solutions.
Contact Us