Cyber-Security – Types and Patent trends
Cybersecurity is the practice of protecting networks, computers, servers, portable devices, electronic systems, and sensitive data against hostile intrusions. These cyberattacks often try to gain access to, alter, or delete sensitive data, demand money from users, or obstruct regular corporate operations. It is often referred to as electronic information security or information technology security. The phrase may be broken down into a few basic categories and is used in a wide range of applications, including business and mobile computing.
Based on the attack or imminent threat, multiple types of security features are available to secure the environment. Some of the security types are: 
Network Security

:

The act of protecting a computer network against intruders, including malicious software that seizes opportunities or targeted attacks, is known as network security.

 

Application security

: Application security aims to keep devices and software safe from harm. The data that an application is meant to safeguard may be accessible if it is hacked. Effective security starts at the design phase, long before a program or gadget is put into use.

 

Cloud Security

: Securing the cloud becomes a top concern as businesses utilize cloud computing more and more. An organization's whole cloud deployment (applications, data, infrastructure, etc.) may be protected from attack with the aid of cyber security solutions, controls, policies, and services.

 
Endpoint Security

: Using endpoint security with a mobile workforce will provide enhanced threat prevention techniques like anti-phishing and anti-ransomware, as well as technologies that offer forensics like endpoint detection and response (EDR) solutions, businesses may safeguard end-user devices like desktops and laptops.

 

Mobile Security

: Mobile devices, like tablets and smartphones, are frequently disregarded but have access to corporate data, putting firms at risk from phishing, malicious software, zero-day vulnerabilities, and IM (Instant Messaging) assaults. These assaults are stopped by mobile security, which also protects operating platforms and devices from rooting and jailbreaking. This enables businesses to guarantee that only compliant mobile devices have access to company assets when combined with an MDM (Mobile Device Management) solution.

 

IoT Security

: Although deploying Internet of Things (IoT) devices undoubtedly increases productivity, it also exposes businesses to new online risks.

With the help of auto-segmentation to manage network activity, detection and categorization of connected devices, and the use of IPS as a virtual patch to thwart attacks on susceptible IoT devices, IoT security safeguards these gadgets. To guard against vulnerabilities and runtime assaults, the firmware of the device may in some situations be supplemented with tiny agents.

 

Application Security

: Application security aims to keep devices and software safe from harm. The data that an application is meant to safeguard may be accessible if it is hacked. Effective security starts at the design phase, long before a program or gadget is put into use.

 

Operational security

: Operational security covers the procedures and choices used to manage and safeguard digital assets. This includes the policies that regulate how and where data may be kept or exchanged, as well as the rights people have while accessing a network.

 
Zero Trust

: In order to safeguard specific resources, zero trust employs a mix of micro-segmentation, monitoring, and the execution of role-based access rules. This security strategy is required as company assets leave the premises as a result of cloud adoption and remote work.

 
Type Of Cyber

-security Threats

And Prime Threats:

 
Three types of attacks are fended off by cyber security: 
Cybercrime

comprises lone actors or organizations that attack systems for harm or financial advantage.

 

Cyberterrorism

aims to compromise electronic systems to elicit fear or panic.

 

Information collection for political purposes is a common component of

cyberattacks

.

 
Throughout 2020 and 2021, a number of cyber threats arose and manifested. The study leads us to identify and concentrate on the top threat groupings listed below: 
Ransomware: In reality, ransomware is a form of malware that encrypts data belonging to an organization and demands money to decrypt it. A number of associated policy efforts in the European Union (EU) and throughout the world further demonstrate the importance and effect of the ransomware menace. 
Malware: Malware is software or firmware that is designed to carry out an unauthorized action that would seriously impact a system's confidentiality, integrity, or availability. Relevant threat actors' operations have been influenced by the adoption of new attack techniques as well as a few significant victories for the law enforcement community. 
Phishing: The most frequent and efficient method for thieves to penetrate business environments has historically been phishing attempts. Instead of finding and taking advantage of a weakness in an organization's defenses, it is sometimes far simpler to deceive a user into clicking on a hyperlink or opening an attachment. 
Crypto-jacking: Crypto-jacking or covert crypto-mining is a type of cybercrime where a perpetrator discreetly mines bitcoin using the processing capacity of a victim. A rise in related cybersecurity problems has been noticed with the spread of cryptocurrencies and the general public's rising adoption of them. 
E-mail related threats: Email-related assaults are a collection of dangers that prey on psychological flaws and everyday routines rather than technical flaws in information systems. Interestingly, the threat still exists to a significant extent despite the numerous awareness and education programs against these sorts of assaults.  
Threats against data: This group includes data breaches and leaks. The exposure of sensitive, confidential, or protected data to an unreliable environment is known as a data breach or data leak. Data leaks can happen as a result of a cyberattack, an insider assault, an unintended data loss, or even an accidental data disclosure. Since access to data remains a top target for attackers for a variety of reasons, including extortion, ransom, defamation, disinformation, etc., the threat is still quite high. 
Non-malicious threats: Threats are frequently seen as willing and evil actions brought about by enemies who have a motivation to harm a particular victim. Threats that lack obvious harmful intent fall under this category. 
These often result from user error and system setup issues, but they can also be caused by natural disasters that specifically target IT infrastructures. These risks, which are persistent in the yearly threat landscape due to their nature, are a key issue for risk assessments. 
It is very challenging to keep your data secure since viruses and malware are continually growing, getting more sophisticated and harmful by the second. There is some latest malware detected in the year 2022 which is prominent to be a great threat. 
Dridex malware: In December 2019, the head of a professional cybercrime gang was accused by the US Department of Justice (DOJ). A financial trojan with several features is called Dridex. It can obtain passwords, banking information, and personal data that may be used in fraudulent transactions. 
Clop Ransomware: One of the most recent and harmful ransomware attacks is called "Clop." It is a variation of the well-known Windows user-targeting malware called CryptoMix. The Clop ransomware disables several Windows 10 programs, including Windows Defender and Microsoft Security Essentials.  
Romance scams: In February 2020, the FBI issued a warning to the American people about the confidence fraud that cybercriminals perform through dating websites, chat rooms, and apps. According to the FBI, romantic cyber-attacks in 2019 cost 114 victims in New Mexico a total of $1.6 million in damages.  
Zeus Gameover: The "Zeus" family of malware and viruses includes Zeus Gameover. This malicious software is a Trojan—malware that poses as a trustworthy entity and steals your money by accessing your private bank account information.  
Emotet malware: In 2019, the Australian Cyber Security Centre issued a warning to national entities about the Emotet malware's pervasive worldwide threat which may install other software in addition to stealing data. Emotet thrives on simple passwords, serving as a cautionary tale on the value of choosing strong passwords to protect against online dangers.  
Sources – 1.  Cybersecurity – Worldwide 2. Cyber Security Statistics and Trends 
| Area | Insights |
| --- | --- |
| | With 3531 patent families, 2021 saw the most filings. |
| | US is the top geography. EP and IN are the other favorite Geographies. |
| | Microsoft, IBM are the major players. Huawei and One Trust are next to lead in the cybersecurity. |
| Top IPC/CPC Classification | G06F 21/00 - Security Arrangements for Protecting Computers, Components Thereof, Programs Or Data Against Unauthorized Activity H04L29/06 - Electricity; Electric Communication Technique; Transmission of Digital Information, E.G. Telegraphic Communication; Arrangements, Apparatus, Circuits or Systems, Not Covered By A Single One Of Groups; Communication Control, Communication Processing; Characterised By A Protocol. |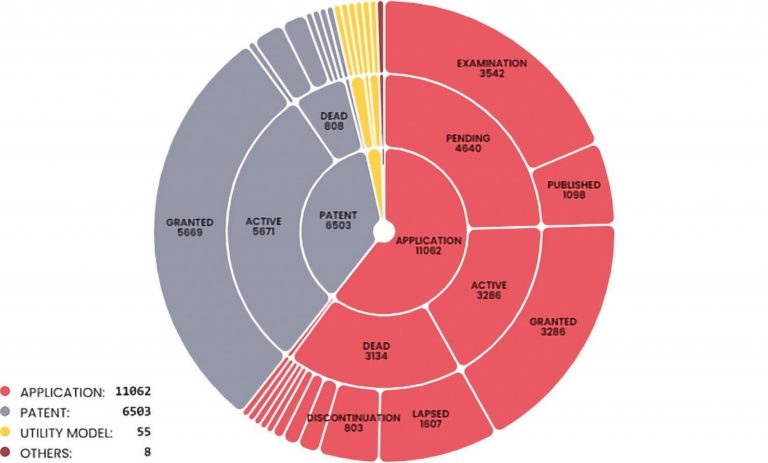 Patent-Application Success Trend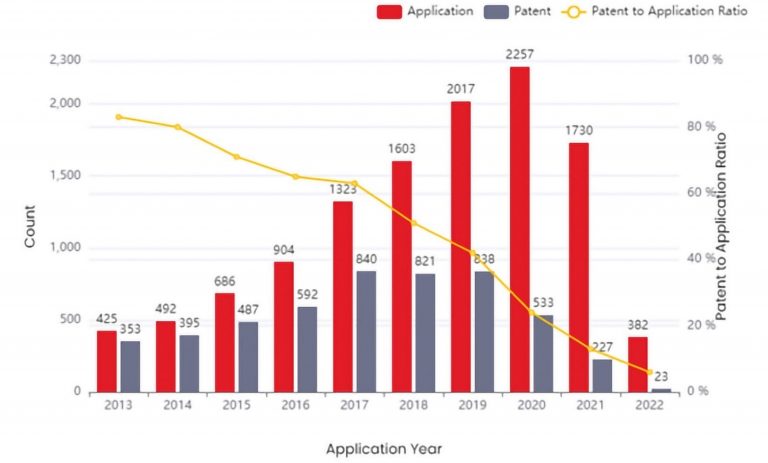 Patent-Application Country Success Trend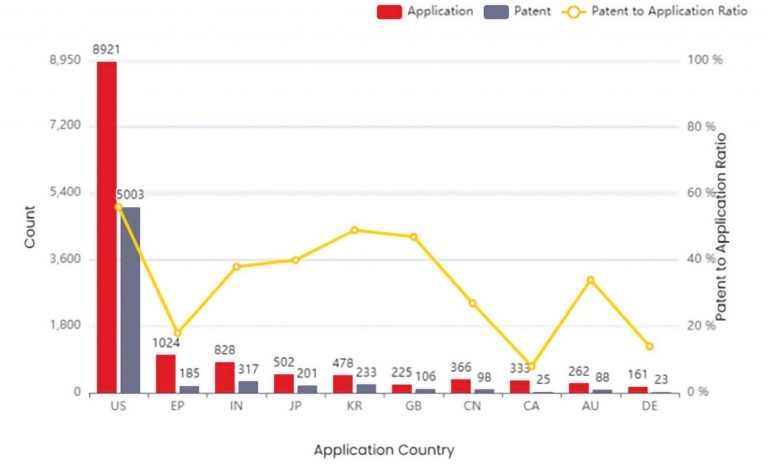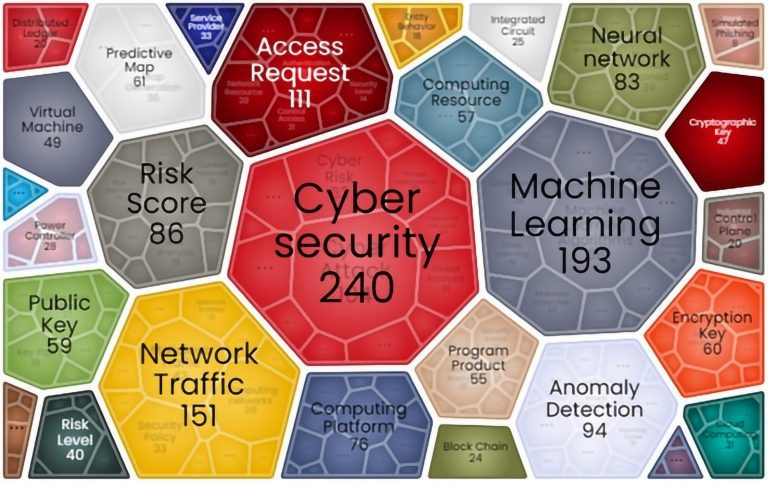 About TTC
We've constantly identified the value of new technology carried out by our pretty skilled executive crew with backgrounds as our professionals. Like the IP professionals we empower, our starvation for development is never-ending. We IMPROVISE, ADAPT, and IMPLEMENT in a strategic manner.
TT Consultants offers a range of efficient, high-quality solutions for your intellectual property management ranging from
and much more. We provide both law firms and corporations in many industries with turnkey solutions.
Contact Us