Metaverse: Harnessing Its Potential Across Various Industries
If there's one catchword the tech world couldn't stop using in 2021, it's metaverse i.e., "Meta (Meta) + Verse (Universe)", "a converged world of the virtual and the real". The Metaverse has and will fundamentally reshape people's productivity, lives, and social relationships, in time creating a new world. The metaverse indeed is a compilation of virtual worlds created with technologies. It might be gaming worlds, virtual concerts, NFT galleries, or digital streets.  
Metaverse is a combinatorial innovation that requires multiple technologies like virtual reality (VR), augmented reality (AR), flexible work styles, head-mounted displays (HMDs), an AR cloud, the Internet of Things (IoT), 5G, artificial intelligence (AI) and spatial computing. A metaverse will be an enhanced digital environment in which users can move seamlessly between work, play, shopping, socializing, and creativity in a single digital landscape.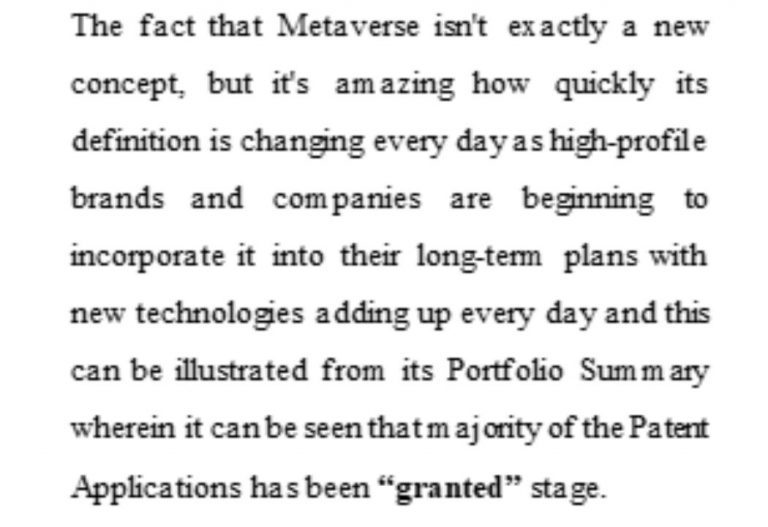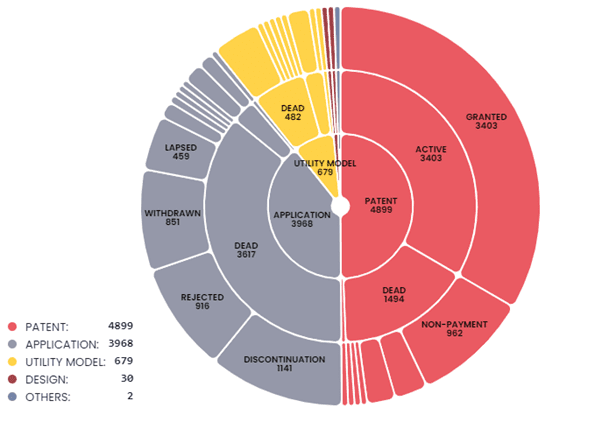 Companies' investment in the Metaverse

 
According to a March 2022 survey of companies that have invested in various businesses of metaverse stated that they highly invested in cryptocurrencies, and NFTs came in second place. Work environment and remote work ranked third with 40% of respondents showing they have invested in projects in this sector. 
Number of filings in various application areas of Metaverse

 
Metaverse is more than just a new emerging technology that is a part of today's world cycle. The use cases of Metaverse can be seen in many industries such as: 
Virtual Real estate 

Metaverse in art and creative design  

Metaverse in Gaming 

Virtual Marketplace 

Metaverse in Manufacturing industries 

Virtual marketing and advertisements 

Metaverse in Fashion 

Metaverse in the Retail industry 

Metaverse in Sports 

Metaverse in the healthcare industry 

Metaverse in banking and finance 

Metaverse in education 

Metaverse in event industry 

Metaverse in Travel & Tourism 

Metaverse in Entertainment 

Metaverse in Telecommunication 

Metaverse in Food & Beverages 

Metaverse in Agriculture 

Metaverse in Social Networking 

Metaverse in Defence 
And many more… 
Considering the dataset of a total of 9578 patent families. Various application areas companies are targeting to build their portfolios in are as shown below. Entertainment areas (including advertisements, Entertainment, Television, speaker, home theatre, social media, etc.) hits the maximum number of patents.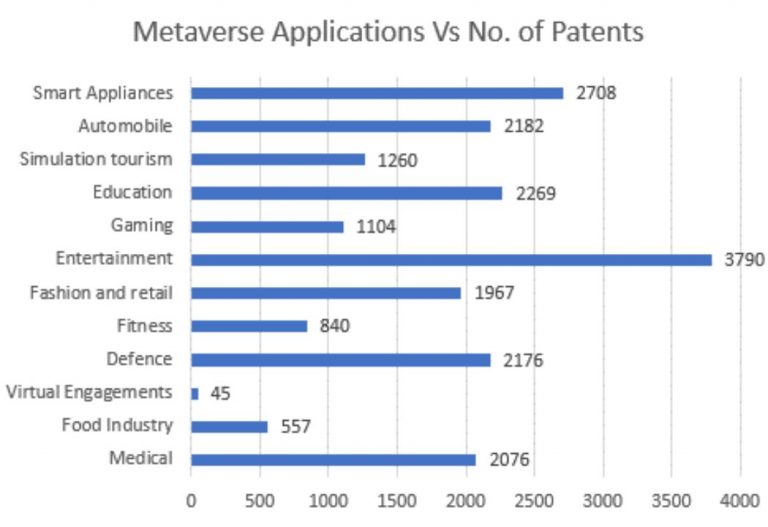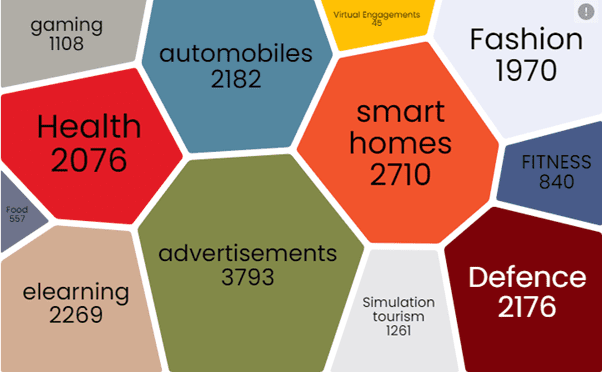 Market Report – Market Growth (Virtual worlds, real money)

 
The projected growth of the metaverse market by segment (2020-2024). This surge in metaverse mergers and acquisitions reflects an increasing belief that real money can be made in virtual spaces. Facebook is responsible for starting the Metaverse buzz. The social media giant rebranded itself. Facebook is now meta, and the company will make great strides in the metaverse world over the next few years.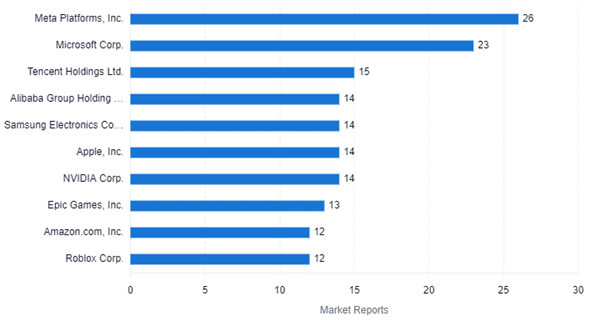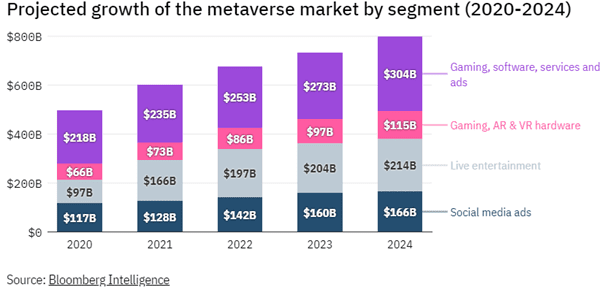 Regarded as the next superfluity of the internet, the metaverse is where the digital and physical worlds come together. The metaverse enables digital representations of people and avatars to interact in a variety of settings. The metaverse provides a space for endless, interconnected virtual communities using virtual reality (VR) headsets, augmented reality (AR) glasses, smartphone apps, or other devices, whether at work, in an office, attending concerts or sporting events, or even trying on clothes. So, hereby aims to contribute to the growth of the sector Viewing the Metaverse as a convergence of four technologies (mixed reality, AI, real-time communications, and immersive digital environments) opens up opportunities for collaboration in specific niches such as:   
Interacting digital twins:   
Companies in industries that build or operate complex machines and environments are already benefiting from the creation of digital twins that enable them to better understand and plan for the real world through testing in virtual simulations.    
Web 3.0 and non-fungible tokens (NFTs) for gamification and collectible marketing are thriving in the Metaverse ecosystem. NFT Collection Drops are used by big companies like Coca-Cola, Nike, and McDonald's to connect with consumers. Utility NFTs can contain various metadata such as Promotional Coupons for Virtual Events, IRL or Whitelisting, and Early Access to Products. This enables businesses to build communities of consumers who are loyal to their brands.   
Hands-free remote assistance: With the integration of Metaverse Technology with the OSRA feature, it will now be possible to perform freehand drawings, comments, and augmented reality information directly in the video stream between the back-end expert and the remote technician wearing the AR glasses.  
The metaverse will be one of the key technologies that will reshape the digital world in the coming years. On one hand where Metaverse presents a huge opportunity, then on another, it also involves major risks. The development of the Metaverse is currently in the early stage when primary applications are spreading rapidly, and a huge number of new enterprises and services are emerging. What we're observing is the very start of what could turn into the kind of metaverse Big Tech promises with their massive marketing campaign efforts and videos hyped on the metaverse. 
About TTC
We've constantly identified the value of new technology carried out by our pretty skilled executive crew with backgrounds as our professionals. Like the IP professionals we empower, our starvation for development is never-ending. We IMPROVISE, ADAPT, and IMPLEMENT in a strategic manner.
TT Consultants offers a range of efficient, high-quality solutions for your intellectual property management ranging from
and much more. We provide both law firms and corporations in many industries with turnkey solutions.
Contact Us