US National Stage Entry Based On PCT Application: What To Know
Under 35 USC 371, the National Stage application is legally protected. An eight-digit number will be assigned to each international application that enters the US National Phase, allowing the applicant to follow the application and speed up the process. 
You must submit a national stage application in each preferred foreign country by the national stage deadline, which is normally 30 or 31 months after the priority date. Initial filings could necessitate a sizable financial investment. Initial submissions that demand translations are typically more expensive. Australia, the European Patent Office (EPO), the Indian Patent Office (IPO), South Korea, and other significant foreign IP agencies are among those with 31-month deadlines. 
When

To File A

US National Stage

Application

?

 
The priority date is the deadline for entering the US national phase. If the delay was inadvertent and the time has already passed, it might still be feasible to submit a late US national stage application. There will be a need for a petition and associated government fees. 
USPTO Filing Fees For A National Stage Application?

 
For a small entity, the minimum USPTO filing fee for a national stage application is $790 and it would be approx. $1600 for a large company with 500 or more employees. This minimum excludes any additional fees that might be necessary, such as those for excess claims, claims with many dependent claims, the size of the application, the submission of signed inventor declarations beyond the deadline, etc. To prevent abandonment, the bare minimum that must be paid with the initial entry is the basic national stage fee which is $140 for a small entity. 
US National Stage Application Checklist

 
Here's a list of the essential qualifications for a US national stage application: 
Copy of PCT application (if the PCT application has not yet been published, required upfront)

 

USPTO fees (basic national stage fee required upfront)

 

Whether the applicant is a big or small entity (required upfront)

 

Names and addresses of the applicants and inventors (required upfront; typically available from published PCT application)

 

Inventor declarations with signatures (after the initial filing, submissions are permitted)

 

Modifications to the claims in the international application filed under article 19 of the treaty, unless informed to the Patent and Trademark Office by the International Bureau, and a translation into English if such revisions were made in another language

 

A Power of Attorney signed by the US representative (may be scanned; original not required)

 

English translation of PCT application (may be submitted after initial filing)

 

Previous art data for submitting an Information Disclosure Statement (may be submitted after initial filing)

 
According to MPEP 1893, if the international application was previously notified by the International Bureau or was submitted at the US Receiving Office, a copy of the published PCT application is not necessary for submitting the US national stage application: "According to PCT Rule 93bis(b), the International Bureau's publication of the international application (and the resulting availability of the published application in a digital library) is considered to effect the required communication of the copy of the international application to the United States. Designated or Elected Office. Consequently, the International Bureau's publication of an overseas application within 30 months of the priority date is considered to meet the criteria of 37 CFR 1.495. (b)." 
US National Stage Entry

From

Foreign PCT

Application

 
An English translation must be submitted with the US national stage application if the PCT application was submitted to a foreign patent office with a non-English specification. An English translation of the international application must be submitted with the initial filing in order to avoid paying a surcharge under 37 CFR 1.492(i) ($70 for a small firm). 
A copy of the PCT application may be originally filed if the applicant does not have enough time to submit an English translation before the 30-month national stage deadline. An English translation of the international application must be submitted within 2 months (or 32 months from the priority date, whichever is later) following the national stage entry, according to a Notification of Missing Requirements under 35 USC 371 that the applicant will receive soon after. 
How Likely Is It That Your US National

–

stage Patent Application Will Be Rejected?

 
A suitable motto for US patent prosecution might be "Expect the worst and hope for the best." Over 90% of first-time applicants will be rejected. A second rejection is 50% likely after responding to the first Office Action on the grounds. Therefore, receiving several rejections for a US utility patent application would not be unusual. 
An additional government fee will probably need to be provided together with a Request for Continued Examination (RCE) that must be filed in connection with an Office Action answer if there is a second rejection, which is normally a Final Office Action. In certain situations, further government fees might be avoided if the Examiner is willing to accept an after-final reply known as an AFCP response. The results of prospective claim modifications and arguments can be evaluated as well as whether an AFCP response would be appropriate with the use of an examiner interview. 
Is The National Stage The Only US Entry Point For A PCT Application?
No, a bypass application is a different way to enter the US than a PCT application. To claim domestic priority to the PCT application as if it were a US parent nonprovisional application, a bypass application is filed as a US continuing application. In other words, the bypass is a US child application whereas the PCT is a US parent application. Two different bypass continuing petitions can be submitted in the US by PCT applicants: 
Bypass Continuation – appropriate when no new matter is being added.

 

Bypass CIP

(

Continuation-in-part) – appropriate when the new matter in relation to the PCT application is being added to the US application.

 
How Is Bypass

Similar

To

PCT National Stage?
Bypass applications share many similarities with US national-stage applications including: 
Same deadline (30 months from the priority date)

 

Initially, file using the PCT published application.

 

Preserve the same priority dates

 

The term of a patent expires (unless you claim only foreign priority and not a domestic priority, in which case the patent term will be longer)

 
The Patent Cooperation Treaty (PCT) was established in the 1970s to offer inexpensive and convenient ways for filing patent applications across many nations. The need for such a pact has only grown as the reach and importance of patent protection have expanded over time. However, as companies strive to request global patent protection under PCT, the benefits and drawbacks of the agreement have also come to light. More than 150 countries have ratified the agreement, which is overseen by the World Intellectual Property Organization (WIPO) and is referred to as PCT Contracting States.  
By submitting PCT patent applications, one can simultaneously obtain legal protection for an invention from patent law in more than 150 nations. Universities, research organizations, and major multinational firms seek patent protection under PCT. It protects applicants from unintentional mistakes that are much more likely to happen if separate applications are submitted for each target country. 
Advantages Of The Patent Cooperation Treaty (PCT)

 
The PCT is quickly becoming the backbone of the global patent system since it makes managing and processing patent applications simpler.
The treaty's advantages include: 
Parallel Patent Protection

 

Comprehensive International Patent Search

 

Time-effective Application Process

 

Strong Grounds for Patenting Decision

 

Opportunity to amend applications

 

PCT delay works

 
Disadvantages Of Patent Cooperation Treaty (PCT)

 
Only utility patents can be obtained through PCT patent applications. Through this procedure, a design cannot be patentable. 

 
Additionally, the method causes inspection delays and extends the time required to get a patent through the PCT route. The PCT also makes the patent process a bit expensive as it requires an applicant to pursue the application separately in each nation.

 
Procedure To File PCT Application

 
As an international system for granting patents to protect inventions, PCT has its own set of policies and procedures. Among them, some are mandatory (including the application filing, the international search, the international publishing, and the national phase), while others are optional (such as supplementary international search and international preliminary examination). When the applicant submits a PCT application through a regional patent office or directly to an international authority, the application is reviewed by the International Search Authority (ISA) to determine whether or not it is patentable and published in international journals so that the invention is known worldwide and oppositions may be submitted from any location. 
Even while international authorities handle the examination and publishing, it is still the country or regional patent offices' responsibility to grant patents during the so-called "national phase."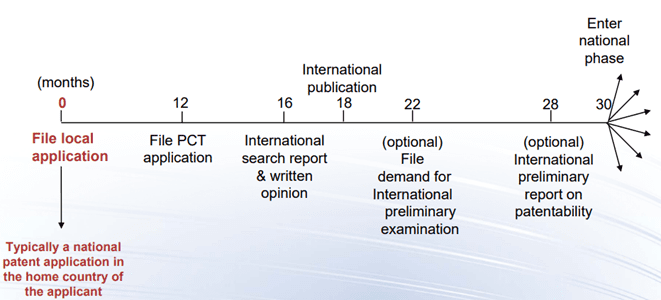 About TTC
We've constantly identified the value of new technology carried out by our pretty skilled executive crew with backgrounds as our professionals. Like the IP professionals we empower, our starvation for development is never-ending. We IMPROVISE, ADAPT, and IMPLEMENT in a strategic manner.
TT Consultants offers a range of efficient, high-quality solutions for your intellectual property management ranging from
and much more. We provide both law firms and corporations in many industries with turnkey solutions.
Contact Us