How do Apple's New Products Have A Backbone Of Patent Technology?
Introducing An All-New Products Line-Up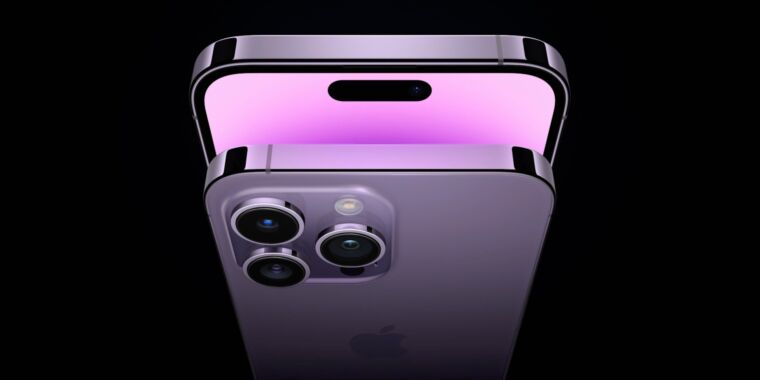 iPhone 14 Series
Airpods Pro Gen 2
iWatch Series 8
iPhone 14 Series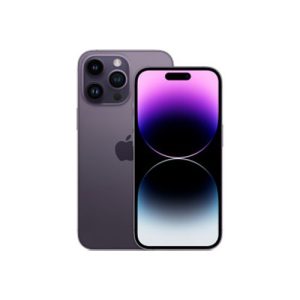 A magical new way to interact with iPhone. A vital safety feature designed to save lives. An innovative 48MP camera for mind-blowing detail. All powered by the ultimate A16 Bionic smartphone chip.
Processor – A16 Bionic Chip & Software – iOS 16
Durability – Surgical-grade stainless steel
Display – Super Retina XDR Display
Main Camera – 48MP Main camera with an advanced quad-pixel sensor.
Telephoto – 3x optical zoom, ƒ/2.8 aperture, 3% Focus Pixels, 6-element lens, OIS.
Ultrawide – 120° field of view, ƒ/2.2 aperture, 100% Focus Pixels, 6-element lens, Lens correction.
Airpods Pro Gen 2
iWatch Series 8
What's new in Latest iPhone 14 Series? 
Apple has recently revealed its new iphone 14 series at the Far-Out Event held on 7th September in Cupertino. iPhone 14 series has 4 variants including iPhone 14, 14 Plus, iPhone 14 Pro, and iPhone 14 Pro Max. These models include a Super Retina XDR display. They continue to offer industry-leading durability features with the Ceramic Shield front cover that gives protection from common spills and accidents with water and dust resistance. Also, they offer a new camera technology, "Photonic Engine" that enables better images in low-light conditions. Photonic Engine is a computational photography technology that uses hardware, machine learning, and software to boost your photos, mainly those shot in less-than-ideal lighting. It uses machine learning to process photos on a pixel-by-pixel basis, which optimises the texture, details, and noise throughout an image. 
iPhone 14 series comes with ios 16 that has features like the new lock screen and iCloud shared photo library,  more workout details in the fitness app with the enhanced workout summary. 
iPhone 14 and iPhone 14 Plus are available in 6.1-inch and 6.7-inch sizes respectively and offers five amazing colors: midnight, blue, starlight, purple, and (PRODUCT)RED. Both of these use A15 chip with a 5-core GPU. Both models offers better thermal performance and impressive battery life. 
iPhone 14 Pro and iPhone 14 Pro Max are available in 6.1-inch and 6.7-inch sizes respectively and offers four beautiful new colors: space black, silver, gold, and deep purple. Both of these use A16 chip with a 5-core GPU.  
Ground-breaking Feature(s)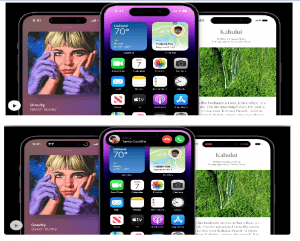 Dynamic Island: This feature makes notch area more useful than before. iPhone 14 Pro line-up has a reduced notch area. Dynamic Island redesigns the TrueDepth camera to take up less of the display space. The notch area can adapt in real-time to show useful info such as alerts, notifications, inviting you to toggle DND mode, monitor the length of your phone calls, check how much life is left in your AirPod batteries, or even pop up a sports score. It maintains an active state to allow users to have easier access to controls with a tap-and-hold. Advanced display algorithms make Dynamic Island responsive wherever you tap, swipe or hold. The Dynamic Island diminishes the line between hardware and software, fluidly expanding into different shapes and sizes to clearly convey important activities like Face ID authentication, alerts, notifications, turn-by-turn navigations etc. Dynamic Island provides a Multi-tasking User-Interface.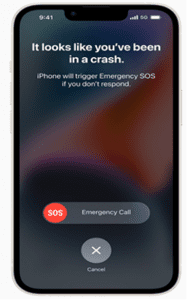 Crash Detection and Emergency SOS via Satellite
iPhone 14 line-up introduces groundbreaking safety capabilities for the first time in industry. Crash Detection uses specialized components like the barometer, which can now detect cabin pressure changes, the GPS for additional input for speed changes, and the microphone that can recognize loud noises typified by severe car crashes paired with Apple-designed algorithms. It will automatically dial emergency services if a user is unconscious or unable to reach their iPhone. Emergency SOS via satellite enables automated messaging with emergency services when outside of cellular or Wi-Fi coverage. Emergency SOS combines custom components integrated with software to allow antennas to connect directly to a satellite. 
Few of the patent filings corresponding to this feature are as follows: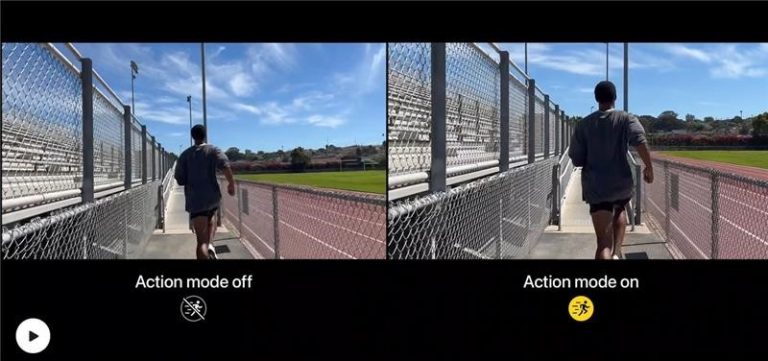 Action mode:  It helps in capturing smooth-looking video that adjusts to significant shakes, motion, and vibrations, even when video is being captured in the middle of the action. It is a new advanced stabilization mode that uses the full sensor with more over scan and advanced roll correction to stabilize your video without any extra hardware. Simply toggle it on for smooth video experience. In this mode, the video can be recorded in 2.8K resolution at 60 fps and the video can be a ultra-stable video even road or track is bumpy or rough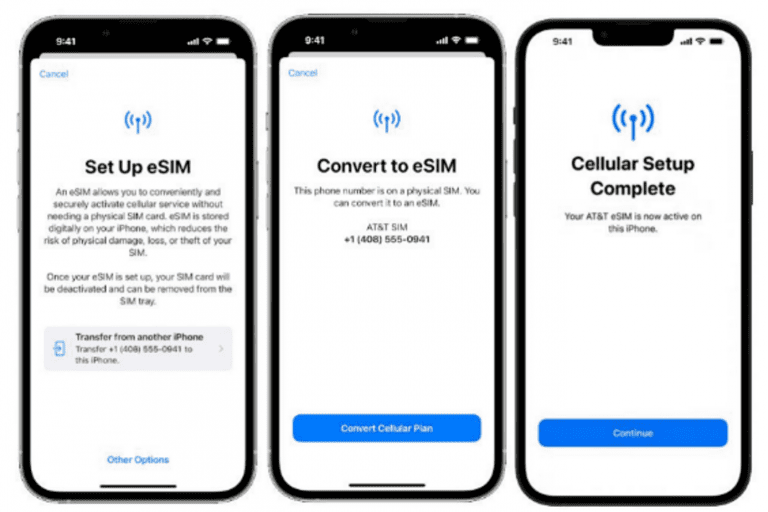 Only eSim Support (Limited to Jurisdiction): iPhone 14 lineup has ditched the SIM tray for US models and only supports e-sim. It can also be beneficial for security since your SIM can't be stolen by anybody. While for other regions, sim tray will be available. eSIM is a digital SIM that allows the users to activate a cellular plan from their carrier without having to use a physical SIM. It enables users to easily connect or quickly transfer their existing plans digitally. Users can install eight or more eSIMs on an iPhone and use two phone numbers at the same time. 
Patent Technology Used in the iPhone - Light Folded Projector
Patent Application Number: US20220268976A1
A light-folded projector to reduce the footprint of components to maximize the display area and thereby decrease the size of the iPhone's notch.
Apple notes of their patent utility that the use of the light-folded projector can reduce the footprint of the imaging and sensing components of a device to increase the display area for the device consisting of a device with bezels.
This can reduce the general size of the imaging and sensing parts, so decreasing size of a notch for holding the imaging and sensing component and increasing the display space of the device.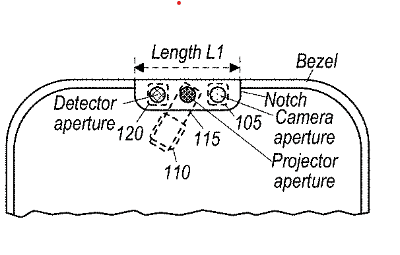 Beyond Apple's iPhone, the new light folded projector could be used in future MacBooks and a host of future devices such as a VR headset, iMac, television and others.
The infamous notch, that cutout at the top of the display of Face ID-enabled iPhone models, houses a bunch of parts that Apple calls the TrueDepth camera.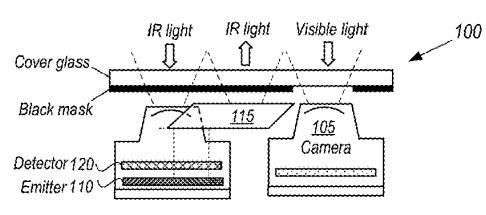 About TTC
We've constantly identified the value of new technology carried out by our pretty skilled executive crew with backgrounds as our professionals. Like the IP professionals we empower, our starvation for development is never-ending. We IMPROVISE, ADAPT, and IMPLEMENT in a strategic manner.
TT Consultants offers a range of efficient, high-quality solutions for your intellectual property management ranging from
and much more. We provide both law firms and corporations in many industries with turnkey solutions.
Contact Us