For decades displays have been simply flat and rigid. However, in past years tech companies like Samsung & LG have come up with curved displays.
 They have release
d
devices with curved displays such as "
Samsung Galaxy Round
" and "
LG G Flex
".
Now, tech companies and manufacturers are looking forward to "bendable displays" which can take tech design to another level.
What is a Bendable Display?
Bendable does not simply imply "curved". 
Although curved displays are interesting, they are not the same as bendable displays.   
Conventional liquid crystal displays (LCD) include many layers such as a backlight, polarizer, thin-film-transistor layer, liquid crystals, color filter glass, and a polarizer. Although, LCDs are flat and rigid, but a couple of tech companies like Samsung have managed to make curved ones. 
In past years, organic light emitting diode (OLED) displays have been extremely popular and provide many benefits such as better image quality and flexibility. OLED displays do not need a backlight source and thus can be slim such that they can be molded into curved displays. 

Both, of the above types of displays, can be manufactured to bend. An Apple supplier "Japan Display Inc." announced the development of a 5.5-inch flexible display by adopting plastic substrates instead of a conventionally used glass substrate that cannot bend. The curved displays which can bend can bring revolution in the tech industry and can take the engineering and material science to next level.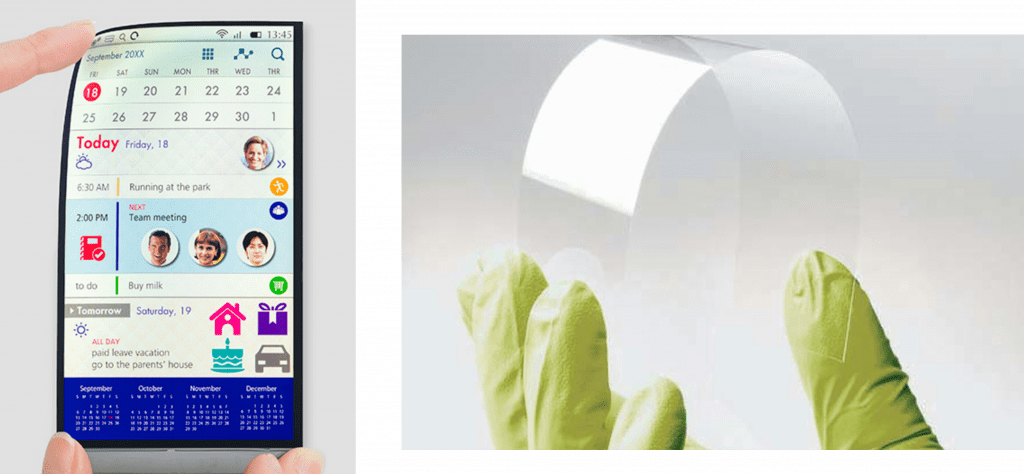 The major advantage of the bendable displays would be durability and it is assumed that plastic substrates would be used instead of glass. However, plastic is also not invincible.
Corning was working on Willow which is a bendable glass. Corning further plans to use this bendable glass in phone displays, TV displays, and even in wearable device displays. But again, Willow can break if bent too much.
Now, the main challenge for engineers is to develop materials that are unbreakable under the stress of flexibility and at the same time, that can show an image across the display with consistency.   
Bendable Displays a Reality!
Recently, in CES 2021 TCL and LG unveiled rollable screens which turned these bendable displays into a reality. LG also revealed a bendable OLED screen with a curvature radius of up to 1,000R. 
Jurisdiction Wise Patent Filings:
Year Wise Patent Filings:
According to a market research report, the Flexible Display Market (Globally) was valued at $ 12.50 billion in 2020, and this is projected to reach $ 65.32 billion by 2026, and a CAGR of 34.23% is forecasted during this time. 
Few Top Players in Market Based on Brief Market Overview
AU Optronics 

BOE Technology Group Co. Ltd 

Cambrios Technologies 

Chunghwa Picture Tubes Ltd 

Corning Incorporated 

Delta Electronics 

E Ink Holdings 

E. I. du Pont de Nemours and Company 

Flexenable 

Guangzhou Oed Technologies Co. ltd 

Huawei Technologies Co. Ltd 

Innolux Corporation 

Japan Display 

Kateeva 

Koninklijke Philips N.V. 

LG Display 

Microchip Technology Inc. 

Microtips Technology 

Plastic Logic 

Royole Corporation 

Samsung Electronics 

Sharp Corporation 

Sony Corporation 

TCL Electronics Holdings Limited 

Visionox Corporation 
Future Possibilities?
In the future, it is possible to develop display devices that can be rolled over just like the sleeves of the shirt or can be folded like paper to fit into any space. But, for this, not just the display should be bendable, but the internal circuitry must be made bendable. Some tech companies like LG are already working on bendable circuits such as bendable battery packs. A bendable display could be used on the dashboards of your cars to digitize the dashboards. The displays can be used in any number of ways, and they can bring a revolution not just in the tech industry but also in other industries.   
About TTC
We've constantly identified the value of new technology carried out by our pretty skilled executive crew with backgrounds as our professionals. Like the IP professionals we empower, our starvation for development is never-ending. We IMPROVISE, ADAPT, and IMPLEMENT in a strategic manner.
TT Consultants offers a range of efficient, high-quality solutions for your intellectual property management ranging from
and much more. We provide both law firms and corporations in many industries with turnkey solutions.
Contact Us