Designing A Product – How Ignoring A Patent Clearance Search Could Be Fatal?
As an entrepreneur or an inventor, one can feel pride in the fact that bringing a new product encompassing a novel idea into the marketplace is a challenging task. Developing a new product needs a great deal of time, as one must work rigorously day and night to complete each step necessary to launch the product into the marketplace. In addition, a huge amount of capital is spent right from developing the product to availing the necessary approvals to launching the product in the public domain.  
However, all the time, effort, and money spent in this phase of product development might prove to be in vain if the launched product is accused of infringing competitors' or third party's intellectual property rights or patents. This usually happens when companies either deliberately or accidentally ignore to conduct an important step known as – Patent Clearance or Freedom to Operate (FTO) search.   
Missing this single but critically important step could be fatal and the organization or individual may face enormous losses which could never be recovered. Therefore, it is essential for an organization to conduct a patent clearance search before launching the actual product in a particular market. The disastrous effects of not conducting a patent clearance search are detailed in the next section.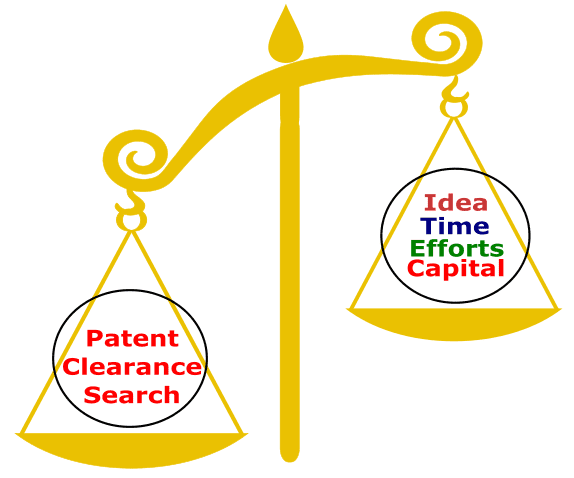 Detrimental Effects

Of Ignoring P

atent Clearance Search

 
The consequences of ignoring patent clearance search are discussed below 
Infringement Lawsuits 
The biggest consequence of not conducting a patent clearance search is the risk of facing infringement lawsuits. It is possible that novel features encompassing a product might be disclosed in a patent owned by a competitor or third party. In the case of ignoring patent clearance search, an organization may release the product into the marketplace without obtaining a license from the patent owner. If it happens, the patent owner or the assignee may sue the organization post launching the product in a specific jurisdiction. The infringement has further consequences right from financial losses to reputational damage to the organization, as discussed in subsequent subsections.   
Moreover, if the company accused of infringing is a start-up, then it could be even more detrimental, as the start-ups have very limited funding and a small product range. Due to small funding, it could be difficult for them to defend the infringement dispute and survive in the marketplace.   
Time And Capital Wastage 
Ignoring patent clearance search could result in a loss of both capital and time if an organization is accused of patent infringement. The infringement might result in the wastage of time and capital in many ways. Firstly, the time and money spent during the product development cycle are wasted. This is because the law prevents the company from sailing its accused product in the specific jurisdiction wherein an unlicensed patent covering product features is enforceable. In this way, the company could not make any profit by sailing its product and as a result, the funding and precious time spent during the product development phase is entirely wasted.  
In addition to this, defending an infringement lawsuit is quite costly, because one has to hire legal counsel for defense which might take millions of dollars for litigation disputes. Furthermore, the time spent on defending litigation could be huge, as infringement lawsuits last longer.  
At last, if the infringement lawsuit does not result in favor of the defendant, the defendant organization may face a huge penalty, which might pull millions of dollars out of the organization's wallet. The losses thus happened could never be recovered.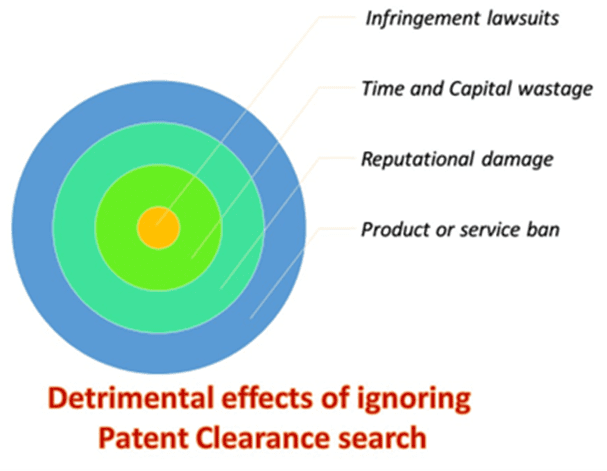 As a consequence of patent infringement, an organization's reputation could be ruined. Due to the loss of reputation, the organization might face a decline in sales and if the organization is active in equity, its share values may fall. Therefore, because of reputational damage, an organization may face losses in the long run.  
This all happens due to missing just one step – Patent Clearance search. 
Product Or

S

ervice B

an
In addition, infringement laws in certain jurisdictions may partially or fully ban services provided by a company in a specific country or region. Due to the ban, the company may not sell its specific products or services. This ban could be permanent or for some specific duration of time. Therefore, the capacity of the organization to expand its services could be restricted, if found guilty of patent infringement. One biggest example in front of us is the ban on OPPO and OnePlus smartphone sales in Germany, and/or other EU countries. The reason behind the ban is a patent dispute with the Finnish technology major – Nokia, where Nokia has a ton of patents in its kitty.
The above-mentioned points prove that missing the step of performing a patent clearance search could have detrimental effects on the company and its services or products. The losses thus happened could result in the downfall of the organization and limit its expansion in different territories or regions.O
Advantages O

f

A

P

atent Clearance Search
Opposite to ignoring a patent clearance search, performing a patent clearance search has many advantages. Firstly, by avoiding infringement risks, a company may save a huge amount of time and capital that could have been otherwise wasted if the company's product faced litigation.   
Furthermore, as a result of an FTO search, if a company finds out that there are live patents and pending applications that cover certain aspects of a product, the product development team always has an opportunity to refine the product or narrow down its features further in a way that the refined product does not infringe other company's patents. In this way, the patent clearance search provides a route for the successful commercialization of a product without any sort of fear.   
Moreover, if the company has already spent a huge amount of money on product development and some patent is found that the product is going to infringe if launched, the organization may avail a license or permission from the patent owner/assignee to use that technology in the identified patent. Using this strategy, the company could at least avoid the penalty it may face post-infringement contentions.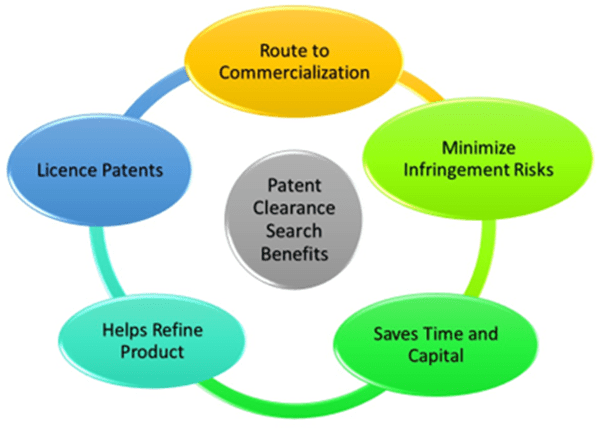 XLSCOUT – As An Important Tool For Performing Patent Clearance Search

 
At TT consultants, the in-house tool XLSCOUT plays an important role in patent clearance search. Using its comprehensive coverage, cutting-edge technology, and efficient query handling, along with the capability to filter out results as per requirements, one may efficiently perform the patent clearance search. Using this tool, XLSCOUT, our highly skilled team has delivered valuable results to our clients across the globe in the past years. 

Conclusion

 
A patent clearance search plays a prominent role in planning an organization's business strategy. Based on the type of results obtained, an organization may modify its product launching strategy. If no infringing patents are found in the search, a company may launch its product without worrying about infringement lawsuits. Similarly, if a patent clearance search identifies potential patents that cover novel aspects of the product, the company may plan to license the patents to avoid penalties or loss of reputation due to infringement contentions. 
About TTC
We've constantly identified the value of new technology carried out by our pretty skilled executive crew with backgrounds as our professionals. Like the IP professionals we empower, our starvation for development is never-ending. We IMPROVISE, ADAPT, and IMPLEMENT in a strategic manner.
TT Consultants offers a range of efficient, high-quality solutions for your intellectual property management ranging from
and much more. We provide both law firms and corporations in many industries with turnkey solutions.
Contact Us