How Electrovibration Brings Haptic Feedback and Adds Texture to Touchscreens
Electrovibration works by recognition of texture using feel receptors of the fingers on a smooth surface. While swiping a finger over an insulating layer on a metallic surface that carries an alternating voltage, a smooth sensation is felt directly proportional to the frequency of the charge. It's the sensation of friction that is imitated by the varying electrostatic attraction between the metal and the deep moist conducting layers of the skin. It's an ability of the human body's propensity to calibrate new sensations to the ones stored in the brain; interpret them and recognize them as familiar ones.
Another interesting application of electro-vibration technology is an Electrovibration Pen (EV-Pen) which combines electro vibration with pen interactions. The EV-Pen provides a variety of tactile feedback modes in addition to exploiting the advantages of traditional pen-based interactions but it does so without any form of mechanical actuator. It simulates a real pen-on-paper feeling and improves the user experience in drawing and handwriting, and also provides feedback while interacting with GUI elements & textures on touchscreens.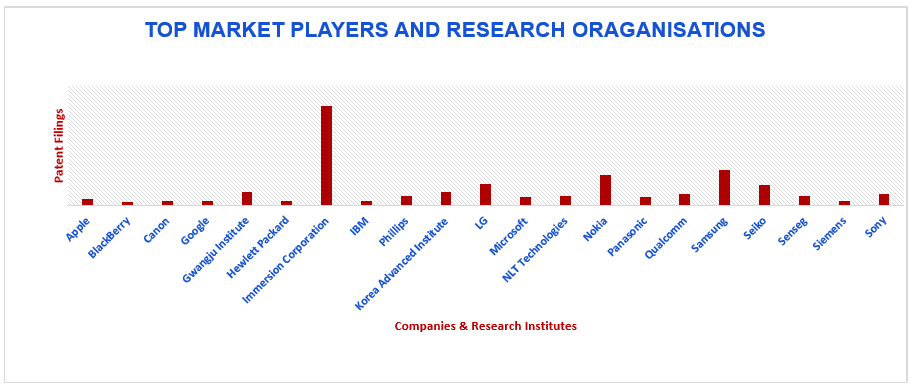 Many tech giants investing in the future of haptic feedback. More and more patents are being filed each year in this technology. Immersion Corporation holds the maximum number of patents in this field followed by other big players like Samsung, Nokia, Sony, LG, Apple, Senseg, etc. Engineers keep experimenting with electrotactile stimulation for commercial purposes. Be it Disney, Senseg, Nokia or Apple, the techies are pushing haptic feedback with various levels of success by their own iterations. It will be interesting to know who is able to realize haptic technology upto its full potential.
About TTC
We've constantly identified the value of new technology carried out by our pretty skilled executive crew with backgrounds as our professionals. Like the IP professionals we empower, our starvation for development is never-ending. We IMPROVISE, ADAPT, and IMPLEMENT in a strategic manner.