How to commercialize IP – Roadmap for Universities to Generate Revenue from IP
Universities are starters in the innovation ecosystem and as a starter, universities follow an ethical cycle that holds early-stage innovations to support education, research and teachings for social benefit. However, participation in this innovation ecosystem requires  patience and investment.
Many times universities face various economically challenging situations. They spend billions to provide superior education and research to the students. To support this, universities depend on student fees and funds which they receive from government/corporations. However, as the government and federal research organizations have been steadily cutting costs on the grants they provide to public universities for research processes, it becomes very important for the universities and other public research organizations to become self-sufficient and start exploring the ways to protect their research activities to further generate more revenue from their resources i.e. Patents through profitable licensing fees, royalties and stock holdings.
Problems that Universities face in IP Commercialization
A lot of universities are investing in protecting intellectual property which is developed through extensive research and development. However, it remains an unvarnished truth that the most of the protected IP remains underutilized and the universities are no exception. 
Below mentioned are some of the reasons that act as a hurdle in commercializing the Intellectual property for the universities.
There are many facts that stand out, however, the major problem remains is the lack of the strategic planning and efforts for the commercialization of the Intellectual Property.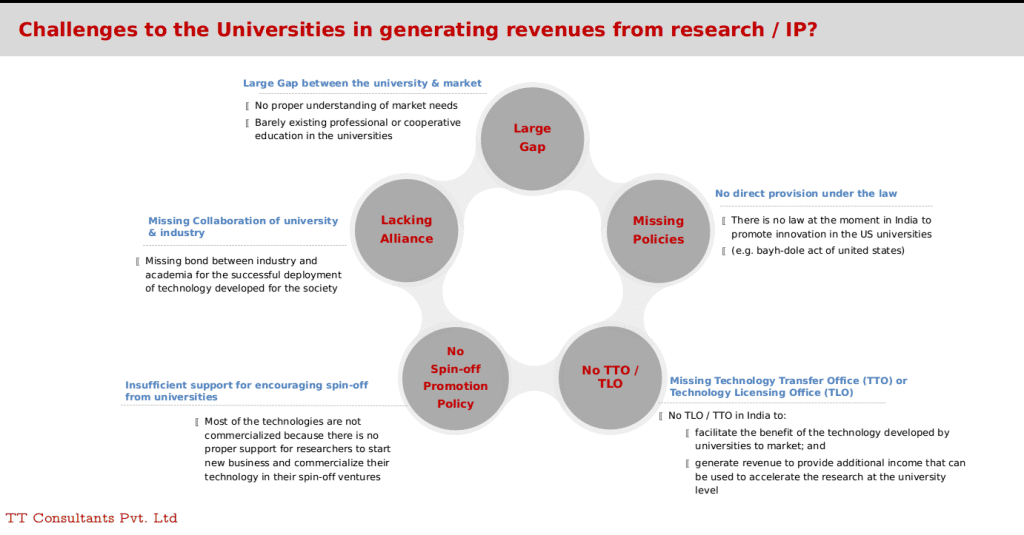 Solutions to commercialize IP – Roadmap for Universities
As noticed earlier , patent commercialization is a cryptic job and it requires diligent efforts to convert IP into value. There are many universities that have been able to utilize their IP efficiently. Thus, if universities strategize the IP commercialization process then it will be possible to generate revenue from IP.
We have listed down some of the ways that may be adopted by the Universities to generate Revenue out of their researches
Ashish Sharma
About TTC
We've constantly identified the value of new technology carried out by our pretty skilled executive crew with backgrounds as our professionals. Like the IP professionals we empower, our starvation for development is never-ending. We IMPROVISE, ADAPT, and IMPLEMENT in a strategic manner.