Reducing Our Environmental Footprint: Global Food Packaging Companies Leading the Way
Are you tired of hearing about the same old market statistics and growth projections? Well, brace yourself for a refreshing twist! Picture this: a soaring global food packaging market, set to reach an astonishing $563 billion by 2032, just like the rocket that propels your taste buds to new heights of delight. But wait, there's more to this tantalizing tale. 
Amidst this lucrative growth, a hidden nemesis lurks, threatening our planet's fragile ecosystems. Yes, you guessed it right—the dreaded environmental concerns that have cast a shadow on the food packaging industry. The conventional materials we've relied on for years, like plastics, have emerged as the culprits behind this predicament. They stick around for centuries, cluttering our landfills and releasing toxic chemicals into our precious surroundings. 
Fortunately, things have been changing recently. A league of extraordinary companies has taken up the challenge to combat these environmental woes head-on. They're innovating, designing, and engineering sustainable food packaging solutions that are both eco-friendly and high-performing. Their secret ingredient? Renewable materials, like the superheroes of the plant kingdom—plant-based plastics that can be recycled or composted. 
Major Sustainable Food Packaging Businesses

 
Tetra Pak: Revolutionizing Packaging with Sustainable Solutions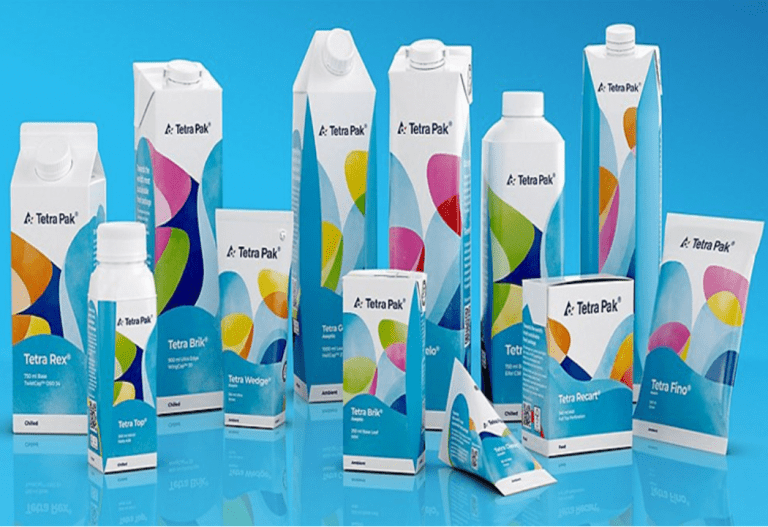 Tetra Pak stands out from the crowd when it comes to environmentally friendly packaging. This pioneering company has been at the forefront of designing innovative packaging solutions that combine utility with consideration for the environment. You may be aware of their characteristic Tetra Pak cartons, which serve as a real emblem of their dedication to sustainability.  
What sets Tetra Pak cartons apart is their clever composition, blending paper, plastic, and aluminum in a harmonious combination. This one-of-a-kind combination not only protects and preserves food and beverages but also allows the cartons to be recycled. Additionally, Tetra Pak is continually pushing the limits by experimenting with renewable resources such as wood pulp to make its cartons, ushering in a new age of environmentally responsible packaging. 
But that's not all. Tetra Pak's expertise in sustainable packaging extends beyond cartons. They've delved into the area of plant-based films, a groundbreaking new way to package food. Tetra Pak continues to offer novel packaging solutions that are both friendly to the environment and necessary for our daily needs by harnessing the power of nature. 
Amcor: Shaping the Future of Packaging with Purpose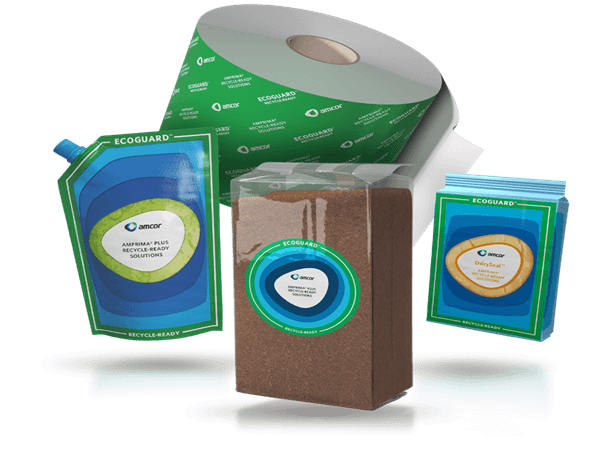 Amcor, a worldwide packaging company dedicated to altering the landscape of sustainable packaging, will amaze you. Amcor has created an extensive lineup of eco-friendly packaging solutions that not only protect our beautiful planet but also attract customers globally, thanks to their unrelenting commitment. 
PrimeSeal™ Eco-Tite® Recycle-Ready Shrink Bag is the crown gem of Amcor's sustainable packaging arsenal. Amcor ANZ invested in local R&D and talent to produce Ecotite R, a new high-barrier shrink bag with comparable performance to existing bags but free of PVDC and other contaminants that prevent recycling, as part of Amcor's plan to ensure their packaging was 100% recyclable, reusable, or compostable by 2025. 
Some other eco-friendly products by Amcor include:  
AmLite HeatFlex Recyclable

 

Amcor P-Plus™ films

 

Löfbergs's bio-based coffee packaging

 
Amcor has expanded beyond cartons to present a cornucopia of sustainable packaging wonders, driven by an uncompromising desire for innovation. Their biodegradable film, a ground-breaking alternative for food packaging, hints at a future in which the packaging itself becomes part of the natural cycle. Amcor has also experimented with paper-based bottles, which have revolutionized the way we carry our favorite beverages. 
Mondi: Unveiling the Power of Paper in Sustainable Packaging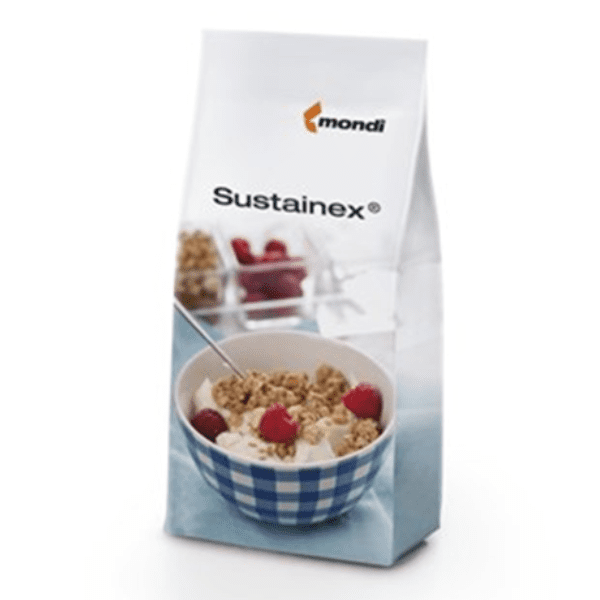 Mondi emerges as an industry heavyweight when it comes to sustainable packaging, specializing in paper-based solutions that redefine the possibilities of eco-friendly packaging. Mondi, with their innovative products at the forefront, demonstrates the potential of paper in driving sustainability and environmental responsibility. 
Mondi's sustainable packaging solutions include: 
Sustainex® biodegradable packaging:

 This packaging is made from biopolymers based on renewable resources instead of PE. It is biodegradable, compostable, and recyclable.

 

Paper-based trays:

 These trays are made from 100% recycled paper and are fully recyclable. They are also lightweight and strong, making them a sustainable alternative to plastic trays.

 

Semi-rigid plastic trays:

These trays are constructed of a combination of recycled and renewable resources. They are recyclable and have good barrier traits, making them suitable for packing fresh foods.

 
Mondi has gone into other areas of sustainability in their effort to find sustainable packaging solutions.  Their inventiveness has led to the development of a biodegradable film that neatly covers food, reducing waste and leaving a smaller environmental footprint. And Mondi doesn't stop there—they've also dabbled in paper-based bottles, altering how we drink without sacrificing sustainability. 
S

EE (f

ormerly

Sealed Air)

: Unlocking the Potential of Sustainable Packaging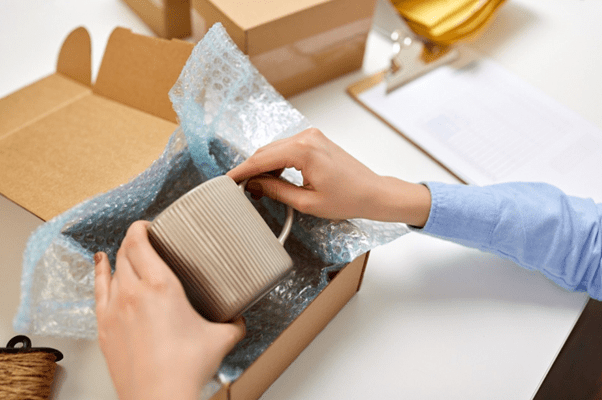 In the realm of sustainable packaging, SEE stands tall as a global powerhouse, unlocking the potential of packaging innovation while prioritizing environmental responsibility. Their diverse range of sustainable packaging options has piqued the interest of both consumers and industry professionals, cementing their position as a driving force in the drive for environmentally friendly packaging. 
At the heart of SEE's sustainability endeavors lies their revolutionary Cryovac Modified Atmosphere Packaging (MAP) system. This ingenious packaging solution not only extends the shelf life of food products but also offers recyclability, making it a win-win for both businesses and the environment. By incorporating renewable materials like wood pulp into its MAP systems, SEE demonstrates its commitment to sustainable practices. 
SEE's dedication to a greener future doesn't stop there. They have expanded their sustainable packaging portfolio to include a multitude of solutions such as: 
Cryovac® Retort Pouches

 

Cryovac® IQF Pouches

 

Cryovac® Trays

 

Cryovac® Stand-Up Pouches

 
Additionally, they have delved into the world of paper-based bottles, presenting an alternative that aligns with their vision of a sustainable packaging landscape. 
Uflex: Pioneering Flexibility in Sustainable Packaging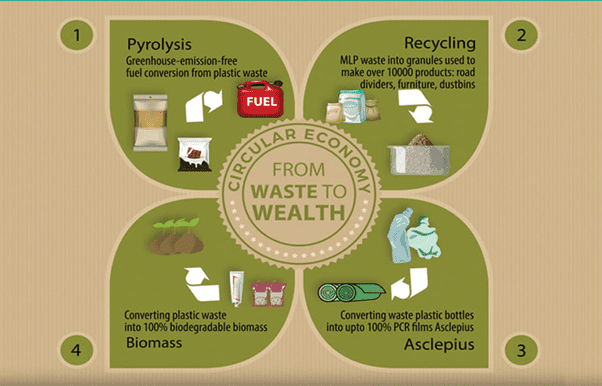 Uflex is a global player in flexible packaging with a strong focus on sustainability. Uflex has been at the forefront of inventing cutting-edge packaging solutions that perfectly mix utility and environmental conscience for many years. In 2019, they debuted their game-changing Eco-Green collection, demonstrating their everlasting commitment to sustainability. 
By integrating renewable materials, Uflex's Eco-Green packaging solutions take a bold step toward a better future. These inventive packaging wonders are not only useful, but also eco-friendly. Uflex has also entered into the field of Biodegradable Films, which are made from materials that can be readily composted in household composting systems, thereby closing the loop of sustainability. 
Huhtamaki: Sustaining Excellence in Foodservice Packaging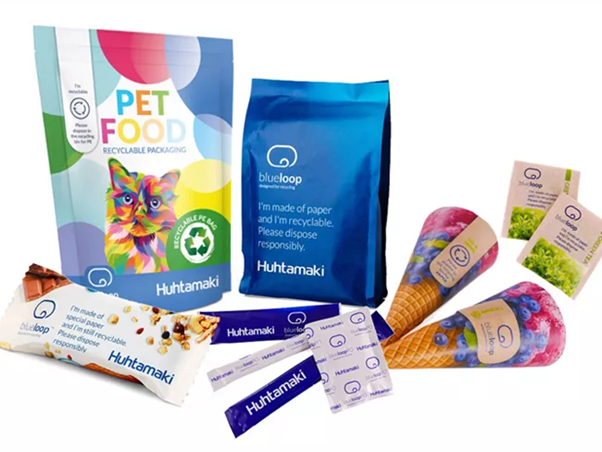 Huhtamaki is a true pioneer of sustainable solutions in the field of food service packaging. The company's commitment to building a circular economy can be traced back to 2010 when they introduced their outstanding Bio-based Cups made of renewable materials. Huhtamaki has expanded its sustainable packaging offering since then, making an everlasting influence on the industry. 
Huhtamaki Future Smart cups are Europe's first plant-based 100% renewable paper cups. The 14C carbon dating method confirms that the 100% renewable plant-based materials utilized in Future Smart products contain no carbon content older than 100 years. Additionally, Future Smart paper cups are 100% GMO-free and constructed from PEFC-certified renewable paperboard.  
By offering sustainable alternatives, Huhtamaki empowers businesses and consumers alike to make choices that contribute to a greener planet. 
Winpak: Empowering the Future with Eco-Solutions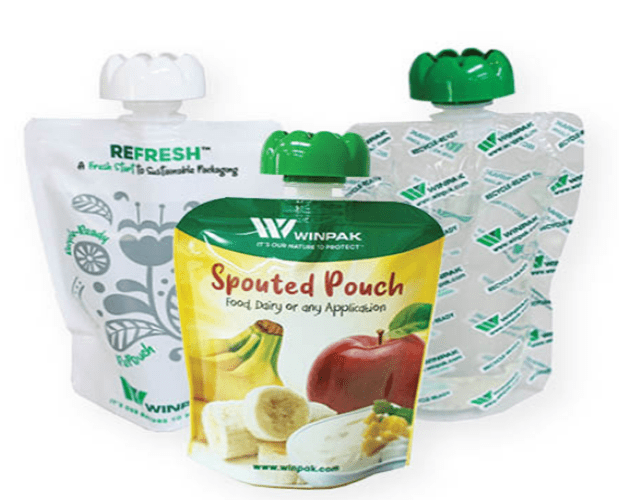 Winpak has long been at the forefront of sustainable packaging solutions as a global pioneer in flexible packaging. With the release of their Eco-Solutions range in 2019, they made a major step ahead. This extraordinary assortment of packaging solutions is made of renewable resources, paving the road for a more sustainable packaging environment.  
Winpak's commitment to sustainability is illustrated further by its Biodegradable Films, which are readily compostable in household composting systems. Winpak embraces the ideas of circularity and sets a high bar for the industry by including renewable and biodegradable materials in their packaging. 
BIOFASE: A Leader in Sustainable Food Packaging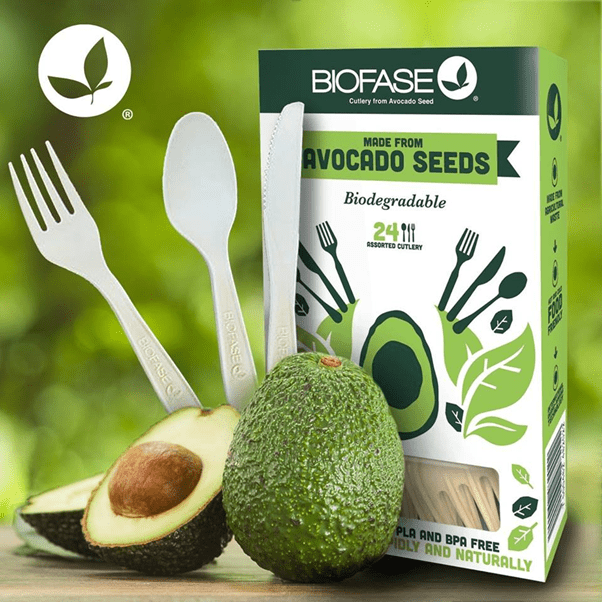 BIOFASE is a Mexican business dedicated to the development of environmentally friendly food packaging. They are using avocado seeds, a waste product from the avocado industry, to create biodegradable and compostable products. BIOFASE's products are a viable alternative to traditional plastics and contribute to lowering the environmental effect of food packaging. 
Some of BIOFASE's sustainable food packaging products include: 
Biodegradable cutlery

 

Biodegradable straws

 

Biodegradable bags

 

Biodegradable food containers

 
BIOFASE is a pioneer in sustainable food packaging and is dedicated to creating new products that lessen the environmental effect of food packaging. 
The sustainable initiatives undertaken by these remarkable companies have not only raised the standard for the whole food packaging sector but also served as a model for businesses worldwide. Their unrelenting search for cutting-edge, renewable, and biodegradable materials has altered the way we think about packaging and given us a glimpse of a world in which functionality and sustainability coexist in harmony. 
As consumers become increasingly conscious of the environmental impact of their choices, these green food packaging companies have emerged as champions of change. By embracing sustainable practices and developing groundbreaking solutions, they are reshaping the landscape of food packaging, paving the way for a more sustainable and eco-friendly future. 
About TTC
At TT Consultants, our distinctive approach is centered around our hybrid solution that blends the power of AI-enabled XLSOUT technology with human expertise. This unparalleled combination allows us to offer top-notch solutions for your intellectual property management requirements.
Our team comprises skilled professionals, including experienced IP professionals, who are passionate about constant innovation and development. We take pride in our ability to IMPROVISE, ADAPT, and IMPLEMENT customized and strategic solutions that cater to the unique needs of our clients.
TT Consultants offers a range of efficient, high-quality solutions for your intellectual property management ranging from
and much more. We provide both law firms and corporations in many industries with turnkey solutions.
Contact Us