How Patent Pruning Helps in Cost Savings
The survival of a business depends on its performance as well as value of assets. In a world of rapidly evolving technology, patents constitute the asset part of a business. However, simply owning a diverse patent-rich portfolio does not add to the value of a patent portfolio and may on the contrary be a burden on the business due to the high maintenance costs involved. The ideal portfolio is lean, focused, and in sync with the organisation's overall goals and objectives. The process of Patent Pruning is key to achieving such a portfolio.  
Portfolio Pruning come under the umbrella of IP Management which is an important tool for the effective management of IP resources. The purpose of pruning is to diagnose a patent portfolio to weed out IP that is no longer relevant to the business. This helps organisations in patent portfolio evaluation, optimising their patent portfolios and free up essential resources.  
The course of Patent Pruning involves identifying and categorising patents into high and low value, and core/non-core groups. This segmentation reveals the contribution of each patent to the organisation. High quality patents are retained while low quality ones may be abandoned and the resources reinvested in R&D, Patent Maintenance, new patent filings etc.  
Importance of Patent Pruning
In order to fully comprehend the importance of Patent Pruning, it is vital to understand how bloated portfolios weigh down on an organisation's resources and inhibit patent portfolio monetization. There are certain costs involved in maintaining a patent in your portfolio, namely: 
Annual patent protection maintenance fee

 
The maintenance fee increases every year and is especially lofty for patents that are older than 10 years as they are assumed to have a high value. Add to this the cost of Patent Management of a large portfolio and it leads to a neat sum of money. This is where Patent Pruning steps in by helping in patent portfolio evaluation and a cost-benefit analysis that helps determine if a patent is worth retaining. Thus, it is extremely useful not in just cutting costs but also in optimising the company's portfolio.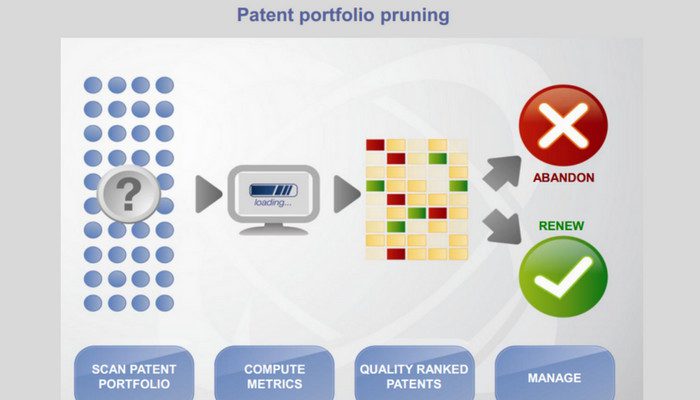 The Patent Pruning Process
 At TT Consultants, we aim to deliver the most accurate results each time with our advanced Tech Scouting Methodology. The technology scouting process involves carefully evaluated steps that promise a sound and consistent delivery of a healthy and evolving patent portfolio.  
The main task in an Objective Analysis is to recognize fundamental patents or patents that are in line with the overall objectives of the company. In order to identify the fundamental patents, patent tags come in handy. All patents in a patent portfolio are tagged or categorised on the basis of IPC/CPC classification codes. Core and Supplementary are the main tagging categories. If a patent is tagged as core, it means that it is related to a technology within the company. The other patents are classified as supplementary. The supplementary patents may be selected for pruning. Once the analysis is complete it can be decided whether to retain or abandon the selected patents.  
Diversity of patent families, rate of forward citations, diversity of IPC/CPC forward citations, and variation of forward assignees are some of the indicators of quality when it comes to objective analysis.  
A subject analysis is the next step in the Patent Pruning Process. Once the supplementary or non-core patents have been listed, the next step is to determine their future. This is a crucial step because it will decide which patents are to stay and which to be discarded.  The quality indicators used to perform a subjective analysis are - scope of claim, market applicability, ease of evidence identification, and its future evaluation.  
The process of subjective analysis involves the following important steps: 
Checking if any third party is employing the technology in their marketed products. If the finding is affirmative, then it is suggested to renew/license the patent. In case the above is not valid then ongoing research needs to be checked to see if anything relates to the patent. 

 

In case there is evidence of research on the subject matter of the patent then it is advised to renew/license it. If not, then the patent any be discarded as it no longer serves any intended purpose. 

 
A combination of Objective and Subjective Analysis is perfect for a true picture of patent portfolio monetization. The above steps allow for a systematic approach towards pruning patents. It is vital that a thorough approach under the guidance of experts be adopted for the process of Patent Pruning. The dangers of losing a valuable patent due to negligence can prove to be as expensive as retaining a non-performing one.  
Conclusion
A tiny step like Patent Pruning can result in huge annual savings for a company. It is a cost-effective activity that must be regularly practiced for a company to maintain an optimised portfolio. Patent Pruning comes under the ambit of the Patent Portfolio optimisation process that helps businesses evaluate the true potential of patents in their portfolio and take timely decisions to identify risks and opportunities in the quick changing landscape of Intellectual Property.  
At TT Consultants, we offer our clients comprehensive assistance in patent filing and maintenance decisions. A methodical process is followed to achieve optimised portfolios which involves extensive mapping of patents to end products. Subject-experts from diverse backgrounds and a rich experience use a variety of quality metrics to assess the potential of patents. With our systematic approach we are able to help clients save money and resources and direct them to more optimal usage in the other crucial areas.  
About TTC
We've constantly identified the value of new technology carried out by our pretty skilled executive crew with backgrounds as our professionals. Like the IP professionals we empower, our starvation for development is never-ending. We IMPROVISE, ADAPT, and IMPLEMENT in a strategic manner.
TT Consultants offers a range of efficient, high-quality solutions for your intellectual property management ranging from Patentability Search, Invalidation Search, FTO (Freedom to Operate), Patent Portfolio Optimization, Patent Monitoring, Patent Infringement Search, Patent Drafting & Illustrations, and much more. We provide both law firms and corporations in many industries with turnkey solutions.
Contact Us