Pharmaceutical R&D And Profits In Correlation ?
Introduction
For years pharmaceutical companies have featured in the list of the top profit making companies. Even in 2016 they were predicted to have the highest profitable margin. And with the increasing population, a shift towards a sedentary lifestyle has taken place and healthcare becoming more and more accessible to humankind, the scope for sales and need for new medicines is ever increasing. This fact is easily cashed in by the pharmaceutical companies, who generate large revenues by catering to this ever growing disease market. 
A higher profit margin allows them to be more flexible with their spending on various important aspects like marketing, branding and distribution etc. Which ultimately results in greater spending on research and development of new therapeutic agents, which is the most crucial investment of them. The budget analysis of leading global pharmaceutical companies reveals that out of the billion dollars revenue generated by the companies only a small percentage (around 18% on average) was devoted to their R&D departments.
R&D Investments and Revenue Comparison
It is evident that the proportion of the R&D in the major leading pharmaceutical companies is far less from their net profit. It can be seen from Fig.1, that the highest grosser in 2016 was Johnson & Johnson with a $70 billion revenue , but only around 18% of its revenue was invested in drug development. Similarly Bayer dedicated only 6% of their $51.4 billion revenue to research and development budget. In fact, the trend indicates that the higher revenue generating players have been investing less rigorously in their respective R&D departments, while companies on the lower end of revenue generating spectrum shelled relatively more in that regard. Also, AstraZeneca and GlaxoSmithKline brought in just $24.7 billion and $23.92 billion respectively in 2016,but devoted 24% and 19% of their revenue on R&D.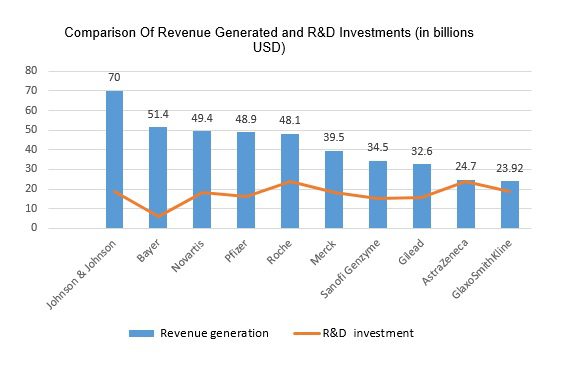 Fig.1. Shows the R&D investment and the corresponding Revenue Generation of top ten bio-pharmaceutical companies in 2016.
Some giants like Pfizer were already investing in the generic drug manufacture and now other major players of drug manufacture are moving in the generic drug field as well. Merck only recently in july launched its first ever biosimilars. Generating revenues from investing in biosimilars and generic drugs, might be another reason affecting the research novelty of the drug companies. Fig 2. explains the application filling trend of the top 10 bio-pharmaceutical companies. A remarkable decrease can be seen over the years. A possible causation could be that the companies are increasingly investing in biosimilars and generic drugs to prevent decline in their profit margins. And innovative research investment is misdirected in these motives.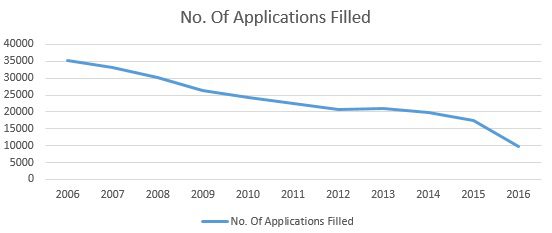 Fig.2. Number of application filed by the top ten bio-pharmaceutical companies over the last 10 years.
TT Consultant
We've constantly identified the value of new technology carried out by our pretty skilled executive crew with backgrounds as our professionals. Like the IP professionals we empower, our starvation for development is never-ending. We IMPROVISE, ADAPT, and IMPLEMENT in a strategic manner.