Will Smart Appliances prove to be the Next Big Thing?
Smart appliances connect with your smartphone to do things smartly and in an easier way. A user can control and monitor operations of numerous devices such as refrigerator, oven, washer, heater, aircon and other home/office appliances from anywhere with a smartphone or from any wireless device/network.
This technology is enabled through wireless communication for e.g., Wi-Fi®, Bluetooth, PLCM, NFC or Zigbee® technology.
Enhanced Mobility Experience:
With smart appliances you can do the following things:
Start your air conditioner prior to your arrival to cool your place;
Ask your refrigerator to prepare ice for you before you arrive home;
Preheat your oven by a remote command and prepare it for cooking;
Unlock Home doors while you are parking the car in your garage;
Track your dishwasher to let you know over an email when it's done doing dishes.
Monetary Reliefs:
Smart appliances will enable users to reduce electrical bills by delaying operation when energy costs are at its peak. Additionally, devices can also notify about service alerts, changing filters which will help in smooth operation of appliances hence avoiding additional repairing costs.
Let's Have a Glimpse On The Filing Trends:
The market is continuously growing with the smart appliances market estimated to reach USD 37.2 Billion by 2020, at a CAGR of 15.4% between 2015 and 2020.
Many global innovations are taking place in the smart appliances field. As shown in FIG.1,there are many countries with considerable patent filings in smart appliances/smart home technology led by the US.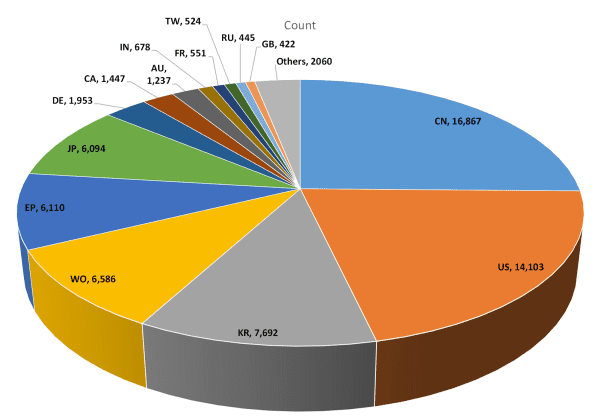 Reliability and Security Concerns:
What if someone hacked your automatic garage doors, or got illegal access to various smart equipment in your house?
We are living in a world full of networks, automated operations, wireless transmissions wherein companies try their best to protect the product/appliances from any sort of outside harm. Yet the news/stories of cyberattacks, hackings are very common.
Smart appliances send and receive data remotely hence security needs to be reliable.
Do We Really Need a Smart Appliance Right Now?
We need to ask ourselves.
Smart appliances need more definition and more features rather than just sending notifications. Appliance life cycle, after sales support, energy consumption, device reliability needs special attention from the appliance manufacturers.
Chetan Sharma
We've constantly identified the value of new technology carried out by our pretty skilled executive crew with backgrounds as our professionals. Like the IP professionals we empower, our starvation for development is never-ending. We IMPROVISE, ADAPT, and IMPLEMENT in a strategic manner.